CHIPOTLE SWEET POTATO SOUP WITH AVOCADO FROM HEALTHY HAPPY VEGAN KITCHEN COOKBOOK
This quick and easy recipe for sweet potato soup, topped with buttery avocados from my new cookbook Healthy Happy Vegan Kitchen is a must-try!
Sweet potato lovers will adore this creamy, feisty blend.
For this simple recipe for sweet potato soup, you can try adding additional spices like ginger, turmeric, paprika, pepper, and cinnamon to amp up the flavor without upping the calories or sodium!
I love this soup served extra thick and creamy, but you can easily thin things out simply by adding more vegetable broth, non-dairy milk, or water.
Garnish this spicy sweet potato soup with slices of avocado and enjoy!
You can definitely blend this soup up in a "regular" blender and then heat further on the stove otherwise quickly whip this up and heat with friction in a high powered blender, such as a
Blendtec or Vitamix. Be sure to 
join our community
for more easy healthy soup recipes
and tips from Blender Babes and our friends! If you try this soup let us know by rating it in the comments. HAPPY BLENDING! 🙂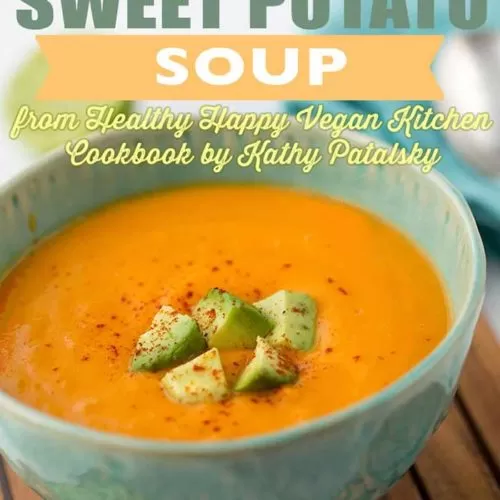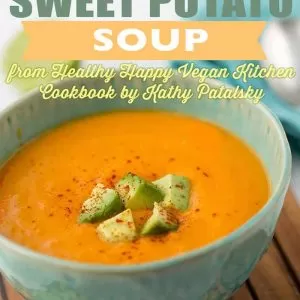 Chipotle Sweet Potato Soup with Avocado from Healthy Happy Vegan Kitchen Cookbook
Ingredients
1

large or 2 small sweet potatoes

3

⁄4 to 1 cup vegetable broth

1

cup

plain non-dairy milk

1

teaspoon

grade B maple syrup

1

teaspoon

chipotle powder

1

teaspoon

virgin coconut oil

optional

Sea salt and freshly ground black pepper

1

⁄2 avocado

diced and tossed in fresh lime juice, for garnish
Instructions
Preheat the oven to 400°F.

Poke a few holes in the potato using a fork. Bake the sweet potato until tender, sticky, and sweet, about 60 minutes. Remove the skin and place the flesh in a high-speed blender.

Add 1 cup water, 3⁄4 cup of the broth, the nondairy milk, maple syrup, chipotle powder, coconut oil, and salt and pepper to taste and blend until smooth.

For

Blendtec

: Blend on High Speed. Blend for about 30 seconds if potatoes are hot and 4-6 minutes if cold, until steam escapes the lid.

For

Vitamix

: Start on Variable Speed 1. Turn the machine on and slowly increase to Variable Speed 10/High. Blend for about 30 seconds if potatoes are hot and 4-6 minutes if cold, until steam escapes the lid.

For thinner soup, add a few more splashes of the broth or any of the liquids.

Transfer the soup to a saucepan and simmer over low heat until ready to serve.

Serve with the avocado over the top.

Spice It Up! Make things extra spicy by adding a pinch of any of these: cayenne, ground turmeric, grated peeled fresh ginger, paprika, and/or ground cinnamon.

All done! Enjoy!! Now take a photo, rate it, and share your accomplishments to enter our

weekly photo contest

! 🙂 Tag @BlenderBabes & #BlenderBabes
Nutrition
Serving:
1
g
Calories:
261
kcal
Carbohydrates:
40.6
g
Protein:
3.4
g
Fat:
10.2
g
Saturated Fat:
3.1
g
Polyunsaturated Fat:
0.8
g
Sodium:
660
mg
Fiber:
7.4
g
Sugar:
3
g
HEALTH BENEFITS OF SWEET POTATOES
Sweet potatoes are an excellent and inexpensive staple to have on hand.
These deep orange-fleshed nutritional powerhouses add weight management benefits to your diet that ordinary white and yellow-fleshed potatoes do not.
Great Fiber Content:
Sweet potatoes contain 7 grams of fiber per serving, almost twice as much fiber as other potatoes.
The high fiber content causes the caloric energy in them to be used more slowly and efficiently than a low-fiber carbohydrate like pasta or rice.
Heart Healthy:
Sweet potatoes contain a large amount of vitamin B6, which breaks down a substance called homocysteine that contributes to hardening of the arteries and blood vessels.
Thus, vitamin B6 helps keep the walls of important blood passageways flexible and healthy.
Wonderful Source of Manganese:
Manganese is a little-discussed trace mineral that has some great health benefits.
It is a pivotal component in the metabolism of carbohydrates which helps support healthy blood sugar levels and sustained energy.
Image & recipe excerpted with permission from Healthy Happy Vegan Kitchen by Kathy Patalsky. Published by Houghton Mifflin Harcourt.