Get Free Gifts for Your Health!
ROASTED CARROT AND PARSNIP SOUP RECIPE
Thick soups like this are perfect when the weather is cold or when you're just craving something comforting!
Not to mention all of those vitamins that will ward off any encroaching illness. 😉
This soup is hearty, healthy, and tasty and either the perfect appetizer to your family gathering or the main dish!
This bab-e-fied comfort soup is low calorie, low sodium, and high in fiber and protein!
Also, you can easily make this vegetarian (like I did since I'm vegan) by using a flavorful vegetable stock instead of chicken stock.
This recipe makes ten (10) servings, so make sure to half it if you're serving fewer people and be careful doing batches in your Vitamix or Blendtec blenders.
If you're doing a smaller version, you can just let the blender heat the soup, but if you're doing a big batch, it will be better to heat it on the stove.
Be sure to  join our community for more hearty, healthy soup recipes!
If you try this recipe at home, share your thoughts by rating it below.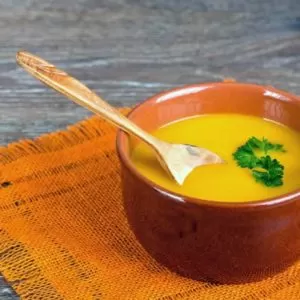 Roasted Carrot and Parsnip Soup
Ingredients
2

pounds

parsnips

peeled and cut into 1 inch slices

2

pounds

carrots

peeled and cut into 1 inch slices

1

large yellow onion

chopped

2

tablespoons

olive oil

1

teaspoon

Celtic salt

8

cups

low sodium chicken or vegetable stock

or more for a thinner soup

Olive oil non-stick spray
Instructions
Spray sheet pan with nonstick spray. Toss the parsnips, carrots, and onions in olive oil and celtic salt. Place parsnips, carrots and onions on the sheet pan.

Roast vegetables for approximately 35 to 40 minutes, turning half way through, and allowing them to become tender and caramelize (the onions should be translucent).

Fill your blender jar halfway with the vegetable mixture and fill the other half with the stock. You may have to do this only once, or multiple times, depending on whether you are doing the full recipe or a lesser amount.

For

Vitamix

: Start on Variable/Speed 1 and ramp up to Variable/Speed 4 for approximately 10 seconds, then up to Variable/Speed 7 for 40 seconds or until well combined and smooth. Repeat as necessary in batches, pouring the blended mixture into a soup pot to heat on the stove. If doing only one jar's worth of soup, blend for 4-5 minutes to heat the stock, stopping when a thick steam starts to escape the lid.

For

Blendtec

: If doing large amounts, do in 2 or 3 batches, and run the SOUP cycle once, then pour blended mixture into a soup pot and heat on the stove, repeating in batches. If doing only one jar's worth of soup use the SOUP cycle 3 times.

If warming the soup on the stove, bring it to a simmer over Medium-High heat.

Pour into bowls, serve warm, and enjoy!

All done! Enjoy!! Now take a photo, rate it, and share your accomplishments! 🙂 Tag @BlenderBabes & #BlenderBabes
Nutrition
Serving:
2
g
Calories:
124
kcal
Carbohydrates:
24.5
g
Protein:
3
g
Fat:
2.3
g
Saturated Fat:
0.2
g
Polyunsaturated Fat:
1.1
g
Sodium:
348
mg
Fiber:
6
g
Sugar:
8.5
g
PARSNIP HEALTH BENEFITS 
Parsnips are members of the carrot family and have a variety of nutrients, including considerable amounts of potassium, folate, dietary fiber, and vitamin C.
A half cup of parsnips (approximately what would be in one serving of this soup) contains 13% of your recommended daily allowance of Vitamin C, which supports bone, skin, blood vessel, immune system and teeth health.
Further, Vitamin C fights free radicals in the body, fighting osteoarthritis, hypertension, and heart disease.
Make sure to use fresh parsnips within a few days of purchase to maintain these health benefits.
By roasting and not boiling parsnips, you will maintain more of their nutritional content.