PINEAPPLE ZUCCHINI BREAD RECIPE
This is a tasty and hearty whole grain pineapple zucchini bread recipe that you can make quickly with the help of your power blender!
You will blend your dry ingredients, including hearty healthy walnuts and add to a mixing bowl.
You will then use your blender as a mixer to quickly combine the wet ingredients.
Finally you will pulse in the apple and zucchini, which add moistness, a delicious flavor, and is also a great way to sneak in vegetables for picky eaters! A healthy indulgence that the whole family can enjoy. 🙂
Blend this pineapple zucchini bread up today in your power blender (or stand mixer if you don't have one) and remember to join our community to get new healthy blender recipes and updates from Blender Babes and our friends!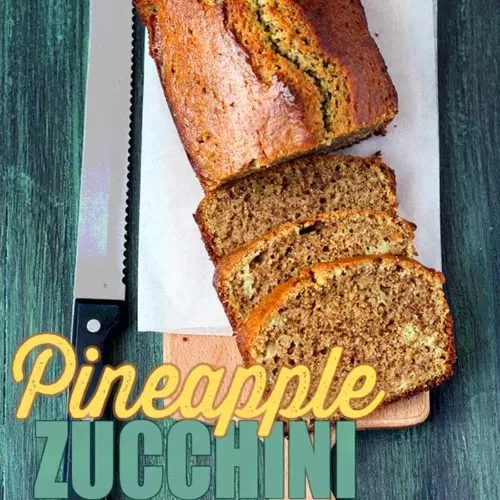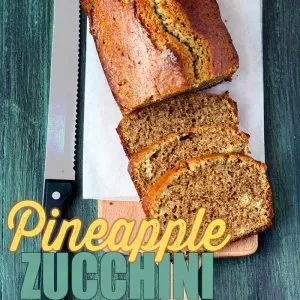 Pineapple Zucchini Bread
Ingredients
1

⁄2 cup walnuts

3

cups

all-purpose flour or white whole wheat flour

2

tsp

baking soda

1

⁄2 tsp baking powder

1

tsp

kosher salt

1

tbsp

ground cinnamon

1

⁄2 tsp ground nutmeg

3

large eggs

11

⁄4 cups sucanat OR coconut sugar

1

apple

cored and quartered

2

tsp

vanilla extract

11

⁄2 cups pineapple chunks

1

medium zucchini

quartered
Instructions
Preheat the oven to 350°F.

Grease two 8" x 4" loaf pans

Add walnuts, flour, baking soda and powder, salt, cinnamon, and nutmeg blender jar and secure lid.

For

Blendtec

: Blend on Low speed for 50 seconds.

For

Vitamix

: Blend on Variable Speed 1, slowly increase Variable Speed 5 and blend using the tamper for 30 sec or until nuts are ground.

Dump dry ingredients into mixing bowl.

Add eggs, sucanat, apple and vanilla to blender and secure lid.

For Blendtec: Press the Batters/Salsa button OR Blend on Medium-Low speed for 30 seconds.

For Vitamix: Blend on Variable Speed 1 for 30 sec.

Add pineapple chunks and zucchini to blender and secure lid.

For Blendtec: Press Pulse 15-20 times until pineapple and zucchini are finely graded.

For Vitamix: Blend on Variable Speed 1, increase to Variable Speed 3 and blend for 20 sec or until pineapple and zucchini are grated.

Pour into mixing bowl and using a spatula, incorporate all ingredients.

Pour into two 8" x 4" greased loaf pans. Bake for 50–60 minutes or wooden toothpick inserted in center comes out clean.
Nutrition
Serving:
1
g
Calories:
150
kcal
Carbohydrates:
24
g
Protein:
3
g
Fat:
5
g
Saturated Fat:
0.5
g
Polyunsaturated Fat:
0.6
g
Sodium:
219.2
mg
Fiber:
3
g
Sugar:
12
g
BLENDER BABES RECIPE TESTER NOTES
"This is a tasty quick bread with a hearty feel (from the walnuts and white whole wheat flour).
The spices give it great flavor and the apple and zucchini lend a good moistness.
My daughter and husband enjoyed them.
They freeze well."
"Very easy to make. Loved that the blender was able to chop up all the fruit and veggies for the bread for me.
That cut down on time a lot! 
My second batch I also made it with pecans instead of walnuts and I liked it more than walnuts."
"I did sub honey for the sunacat. Mostly because I had honey, but also because I figured I'd have to go to a healthfood store to get sunacat and the nearest one is 30+min away. 
Also, I only have one bread pan, so I made a larger loaf and 6 extra-large muffins.
I think it makes better muffins."
"Smells amazing! Very moist and sweet.
Tastes great! Husband likes it and my mom likes it.
Didn't try it on anyone else.
I like the fact that it is a healthier indulgence."
HEALTH BENEFITS OF SUCANAT
Sucanat is an alternative sweetener made by crushing stems of sugar cane, extracting the plant's juice, and then turning the juice in a vacuum tunnel at high temperature to evaporate the water content.
It is then milled to a powder retaining the same vitamin and mineral content as the original juice.
Most brands of evaporated cane sugar are cooked to some extent but sucanat is the only truly raw cane sugar product.
Both sucanat and evaporated cane products are healthier than refined sugar, which is further treated with lime or phosphoric acids, filtered, deodorized and bleached so that all nutrients are removed as molasses and only the simple sucrose remains.
Also, both conventionally refined and alternative cane sugars contain about 570 calories per cup and are nutrient empty.
In contrast, one cup of whole raw sugar contains 1 g of protein, 1,125 mg of potassium, 1,600 IU of vitamin A, 49.5 mg of vitamin C, 165 mg of calcium, 6.5 mg of iron, 0.2 mg of niacin and 48 mg of phosphorus.