AMAZING GLUTEN-FREE ZUCCHINI CARROT MUFFINS RECIPE
Long story short, I gave up wheat several months ago. It wasn't that hard… so long as I didn't go walking past one of my favorite bakeries.
So here I sit, the daughter of a home economics teacher, yearning to open up my oven again to a dessert… a pizza… or perhaps, a MUFFIN! So I thought, why not make my own?! These gluten-free muffins are light, tender, and stay moist for days.
Full of delicious carrot and zucchini flavor, this recipe shows you how to make your own gluten-free flour blend quickly and easily, however, you can also use store-bought gluten-free flour.
These muffins are also extremely filling, with a protein boost from the organic yogurt, quinoa, and almonds. Don't be put off by the long list of ingredients, as these heart-healthy muffins come together quickly with the assistance of a Vitamix or Blendtec.
Put that high-speed blender to work and save some mess, time and cleanup; giving you more time to spend with your loved ones and sit down to a warm gluten-free muffin!
These high fiber muffins are certain to have you subscribing for more delicious blender baking recipes! Don't forget to leave us a comment about these gluten-free muffins and share your rating below!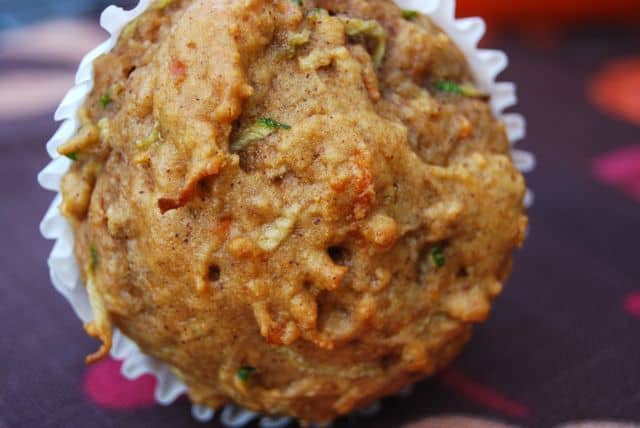 HEALTH BENEFITS AND FUN FACTS ABOUT ZUCCHINI
Zucchini is a great source of key nutrients, such as the carotenoids lutein and zeaxanthin. It is also an excellent source of copper and magnesium, and a good source of vitamin C.
Compared to other grains and ground flours, quinoa is in a league of its own; it provides a significant amount of complete protein, is a good source of healthy omega-3 fatty acid and nutrients like manganese and phosphorus.
To top it off, carrots have long been revered for their beta-carotene content, after all, one cup contains 673% of our daily value of vitamin A. And new research indicates that they're a great defense against cardiovascular disease. What a combo!