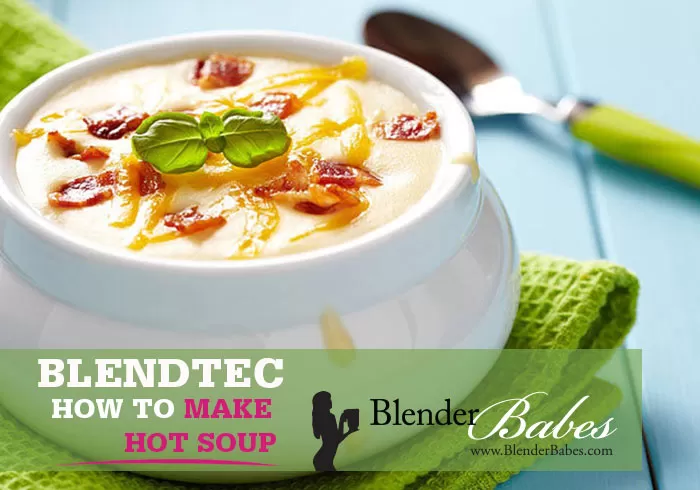 How To Make Blendtec Soup Recipes
Are you looking for Blendtec soup recipes?
Are you wondering HOW to make soup in your Blendtec blender??
It's simpler than you think! Blender Babes will show you! 🙂
If someone told you you could make delicious, hot soups in only a few minutes in your Blendtec blender, would you need to see it to believe it!
I sure did!
Several years ago during a Blendtec demonstration, I saw a soup heat up right before my eyes! I watched the simple ingredients go in and less than a couple minutes later a HOT and DELICIOUS tortilla soup touched my lips.
I was amazed. Needless to say, I went home with my first Blendtec blender that day and have never looked back!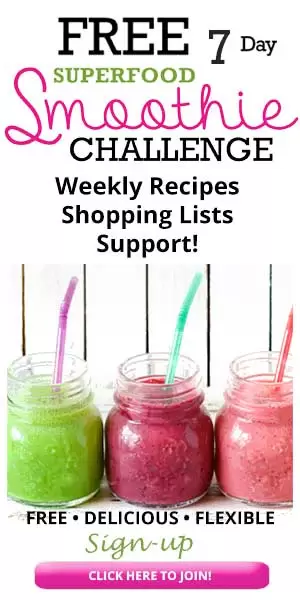 A Blendtec blender heats the soup with the friction caused by the blades spinning over 300 miles per hour!
The friction creates so much heat in such a small space that you can increase the temperature of your liquid by around 30 degrees every 90 seconds.
You can turn cold liquids, vegetables and some seasoning into HOT soup by using either the SOUP cycle (no guesswork!) or your Blendtec's highest manual speed, and blending for 3 to 5 minutes.
You can make chilled or raw soups, hot soups, and even chunky soups! Check out our quick video tutorial, and we'll show you how easy it is to make soup in your Blendtec! 🙂
Blendtec Raw Soup Recipes

To make raw soups with your Blendtec blender (or any high power blender) you want to start with cold liquid as your base.
You will basically only want to pulverize and liquify your ingredients, so you will only need to run the blender for about 90 seconds at the highest manual speed OR 1 soup cycle.
This will ensure that the mixture is creamy but not steamy!
It will keep your soup from heating to more than 118 degrees, and keep maximum nutrition intact.
You'll get more nutritional intake by eating your soups raw because none of the nutrients get lost from cooking the ingredients.
Ask any raw foodist and they'll tell you raw is healthier… AND that a high powered blender is a MUST in their kitchen!
We like to try and offer recipes for all different types of diets – and even if you're not 100% raw, we've got some super tasty raw soup recipes you're sure to love!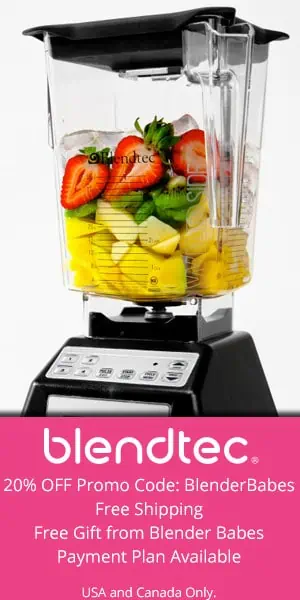 Here are a few RAW Soup recipes on BlenderBabes.com : Raw Vegan Zesty Corn Chowder Soup, Raw Creamy Beet Soup, Raw Savory Basil Soup, Raw Mediterranean Soup, Raw Cauliflower Cream Soup
Blendtec Hot Soup Recipes

To make your Blendtec soup recipes soup HOT, you'll need to run the blender on it's highest speed for a few minutes!
Make sure to follow the instructions on the recipe, since sometimes you can throw everything in the blender, push the button and walk away, and other times you have to sauté or roast the vegetables and then add them to the blender afterwards.
The pre-programmed SOUP cycle automatically bring the Blendtec blender to it's highest speed, which will pulverize your ingredients as wells heat the soup from friction.
The Blendtec soup cycle is set to run for 90 seconds, which means if you're starting with cold liquids and raw ingredients, you will have to push the button again or add more time to get it hot.
Usually 3 cycles is enough time to make it nice and hot, if you aren't using cooked ingredients. When using pre-cooked ingredients, it will be perfect in 1 to 2 cycles (or 1.5 to3 minutes).
IMPORTANT: Blendtec and Blender Babes recommends only filling your container halfway to make sure that the lid doesn't fly off due to steam pressure. There are special vents in the lid which will let steam out, however it's important to be careful when removing the lid. Note that you can stop the blender any time you feel the consistency and temperature is right for you.
Here are a few of our favorite HOT Soup Recipes on BlenderBabes.com: Creamy Irish Potato Soup, Kabocha Squash Cashew Soup, Kimberly Snyder's Asparagus and Leek Soup, Easy Homemade Roasted Tomato Soup, Creamy Cauliflower Soup with Shiitake Mushrooms, Southwest Roasted Pumpkin Soup, Apple Butternut Squash Soup, Shiitake & Oyster Mushroom Soup, Roasted Carrot and Parsnip Soup, White Bean and Pumpkin Bisque with Sage Pesto, Instant Can't Tell It's Vegan Pumpkin Soup, Super Easy Sweet Potato or Yam Soup, Dr Weil Curried Cauliflower Soup, Butternut Squash Soup
Blendtec Chunky Soup Recipes

You are NOT limited to purely liquid soups!
It's EASY to make your Blendtec soup recipes chunky. 🙂
All the Blendtec models come with a pulse feature, which is mostly used for chopping.
In order to make a chunky soup, add your desired additional ingredients AFTER you've blended and/or heated your soup to your liking. We like to add cooked meats, beans, cooked veggies, cheese, pasta, chips, etc.
Once you add your additional ingredients to the container, secure the lid and gently press the PULSE button 2 to 5 times, or until a desired chunkiness is reached.
If you like big chunks, pulse it 1 or 2 times, for smaller chunks pulse it 3 to 5 times. You will see little chunks floating around in the jar. Make sure to save some as toppings or garnish!
Here are a few CHUNKY soup recipes on BlenderBabes.com : Vegetarian Tortilla Soup, Chunky Chicken Tortilla Soup, Easy Gluten-Free Bacon Cheddar Potato Soup
THANKS SO MUCH FOR JOINING US!
Want to Order A Blendtec Blender with FREE SHIPPING + FREE GIFTS? Click Here.
CLICK HERE FOR MORE GREAT HOW TO TIPS USING YOUR BLENDER!