BOBBY FLAY'S CRANBERRY MARGARITA RECIPE

Cranberry is the pumpkin spice of the future! This seasonal super-healthy berry will soon be added to every recipe you can imagine, so we're going to get started with a cranberry margarita from Bobby Flay.
The dry sweetness of a good cranberry juice, when combined with tequila and lime, produces a festive red cocktail for a wintery version of this sunny lime classic. Let us know how you like to mix your margaritas in the comments!
The ice in this will be rapidly pulverized into a frozen margarita consistency with a Vitamix or Blendtec blender, but you could also quickly pulse and then strain for a stronger drink.
Be sure to join our community for more delightful beverage recipes! And let us know what you think about this one by rating it below.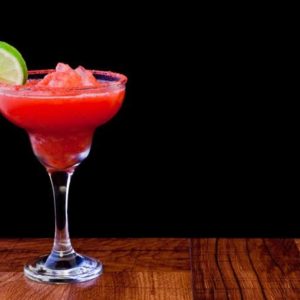 Adapted from Bobby Flay's Cranberry Margarita
Ingredients
2

cups

silver tequila

1 1/3

cups

cranberry juice cocktail

1

cup

orange liqueur

such as Cointreau or Grand Marnier

2/3

cup

freshly squeezed lime juice

2

cups

ice
Instructions
Place the tequila, cranberry juice, orange liqueur, lime juice, and 2 cups ice into your blender jar.

For

Vitamix

: Start on Variable Speed 1, turn the machine on and slowly increase to Speed 10, then flip to High. Blend for 25 seconds or until desired consistency is reached.

For

Blendtec

: Press the ICE CRUSH button or use Speed 3 for 25 seconds.

Pour into glasses and serve immediately with lime or cranberries to garnish.

All done! Enjoy!! Now take a photo, rate it, and share your accomplishments! 🙂 Tag @BlenderBabes & #BlenderBabes

HEALTH BENEFITS OF TEQUILA AND CRANBERRIES
Tequila, along with other liquors, is healthy when consumed in moderation because it can be stress relieving, so the occasional drink after a hard day's work will keep your spirits high (pun intended)! Despite many recent articles claiming health benefits in agave would also be in tequila, the fermentation process impedes any benefit and the drink is no better than another cocktail.
Cranberries, however, are very healthy, especially when it comes to urinary tract health. For sufferers of chronic UTIs, cranberry juice is still prescribed as a preventative measure and as part of treatment.
Eating or drinking cranberries will produce acidic urine, which then prevents the formation of alkaline stones in the urinary tract by fighting bacterial infections.