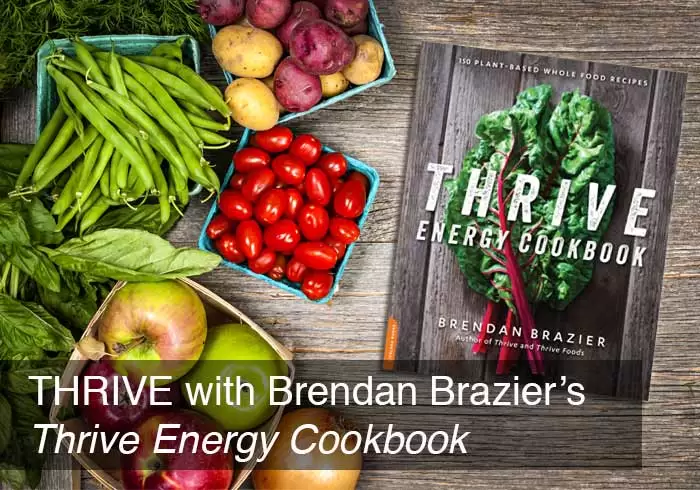 THRIVE ENERGY COOKBOOK REVIEW

We have great news Blender Babes! The visionary behind the Vega line of nutritional products that has revolutionized the health and wellness industry is back with more amazing nutritional knowledge. Brendan Brazier introduces 150 chef-created functional whole food recipes in the Thrive Energy Cookbook. Brazier's Thrive journey to plant-based nutrition has created a call to action, a call to THRIVE.
Nutrition with a Purpose
The Thrive Energy Cookbook follows his book The Thrive Diet and his free online guide Thrive Forward, which introduced everyone to his purpose-driven, clean, plant-based nutritional recipes.
What we really loved about his new cookbook, is it presents tasty recipes to spice up the diet of already health-conscious consumers AND, for those of us who are transitioning into a healthier lifestyle, he also created transitional recipes – giving us the tools to eat cleaner.
Brendan has become an inspiration for everyone; his Thrive philosophy is now a lifestyle for athletes, health-conscious consumers and Blender Babes everywhere! We have made informed food choices enhancing our meal plan by following Brazier's three basic nutritional objectives and so can you!
3 Steps to the Thrive Energy Philosophy
1.

High-Net-Gain Nutrition.
Digestion is tiring, that's why a bigger lunch results in more afternoon siestas (wink, wink).
You get more energy from whole foods because they contain more micronutrients even if they have fewer calories.
Brazier explains that high-net-gain nutrition is the energy left in your body by the foods you consumed once the digestive energy loss is spent.
2.

Alkaline-Forming Foods.
These foods have a greater concentration of micronutrients helping your body maintain an alkaline state. A low body pH (too acidic) causes kidney stones, loss of bone mass and reduction of growth hormones which in turn cause your body to lose lean muscle tissue and increase body fat – what we call OBESITY.
According to frac.org obesity is a major health issue present in the United States, with more than two-thirds of adults being overweight or obese. Unfortunately now American children are also experiencing this trend! Make sure to eat many foods from this list of top alkaline forming foods.
3.

Elimination of Biological Debt.
Brazier describes this state using an everyday moment experienced by many of us: "'Biological debt' is the term I use to describe the unfortunate energy-depleted state that North Americans frequently find themselves in. Often brought about by eating refined sugar or drinking coffee to gain short-term energy, biological debt is the ensuing energy crash."
But there's good news! There is a simple solution to this: acquire energy through nourishment, not stimulation. Stimulators, such as coffee and sugars, simply treat the fatigue, which is only a symptom of an illness – malnutrition. A steady supply of energy will nourish the body as you incorporate a nutrient-dense whole food foundation to your diet. Your body will have so much energy accumulated that it won't need these short-term boosts! We help accomplish this by replacing coffee with our green smoothie recipes, right Babes!
CONCLUSION
The Thrive philosophy is present in every recipe of the Thrive Energy Cookbook, each ingredient has a nutritional purpose. The Thrive Energy Cookbook's recipes vary from simple make-in-minutes meals to complex dinners that require a couple of hours of preparation.
In 20 minutes you can enjoy a delicious gluten-free, mineral-rich and alkaline-forming Carrot, Avocado and Coconut Soup or a gluten-free, super nutrient-dense Coconut Lemongrass Soup. If you are not a soup person, you can enjoy a couple of Blender Babes' favorite! The Summer Rolls with Mango Lime & Mint Dipping Sauce, this raw, gluten-free and super nutrient-dense recipe is the perfect summer time appetizer (recipe coming soon)!
Whether you are transitioning to Brazier's clean eating plan or an athlete looking to improve your results, the Thrive Energy Cookbook is for you! Each recipe is labeled for easy recognition: Transition, Raw, Gluten-Free, Protein-Rich or Super Nutrient-Dense. The transition recipes will help your new way of eating become habit; Brazier wants the Thrive way to become a lifestyle as opposed to a short-term diet. He even prepares MEAL PLANS for all Blender Babes! Transitional, Standard or Athletic, these plans are meant to help you absorb maximum nutrition to reach your lifestyle goals! Once again Brazier delivers exactly what we need to START or CONTINUE to THRIVE!!
Join our community to enjoy Blender Babes' favorite recipes from the Thrive Energy Cookbook!
Get a sneak peek with this gluten-free, super nutrient-dense Acai Berry Pre Work Out Energizer and a post-work out Cookies and Cream Recovery Smoothie, which is also gluten-free, super nutrient-dense and protein-rich. The delicious nutrition will blow you away!