GREEN MARGARITA RECIPE
This is an UNBELIEVABLY refreshing margarita that's a MUST TRY.
Why?
Because this "healthy margarita" also contains natural vitamins and minerals, thanks to 2 cups of SPINACH!!
Huh?
Our first reaction at the thought of spinach in a margarita was probably very similar to what YOU are thinking… but honestly when we tried it we were AMAZED at how good it was!
Your Blendtec or Vitamix or other high powered blender will provide complete pulverization mixed with restaurant quality blended frozen goodness!
Now you can get your party on AND be healthy at the same time!
Perhaps it will counteract a possible hangover?
We know plenty of Blender Babes out there are happy to test the theory!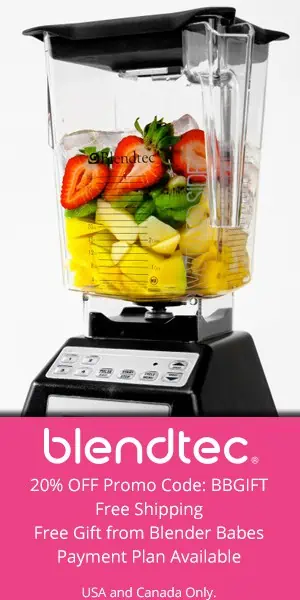 Are you on of them? 😉
We highly recommend trying this out for your next Fiesta or Summer Fling…
It will become your NEW go-to skinny margarita.
Be sure to join our community for more healthier cocktail recipes! Share your rating if you tried this recipe. We love to hear your thoughts 🙂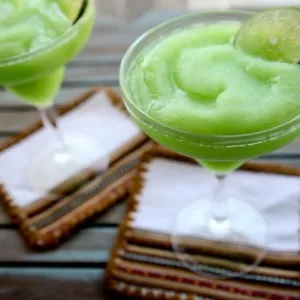 Green Margarita by Blender Babes
Ingredients
2

cups

of white grape juice

1/4

cup

tequila

1/4

cup

triple sec

Dash of lime juice

2

cups

of spinach

4

cups

of ice
Instructions
Add the ingredients in the order listed to your jar

For

Blendtec

: Press the ICE CRUSH button

For

Vitamix

: Start on Variable Speed 1, turn the machine on and slowly increase to Speed 10, then flip to High. Blend for 45 seconds or until desired consistency is reached.

All done! Enjoy!! Now take a photo, rate it, and share your accomplishments! 🙂 Tag @BlenderBabes & #BlenderBabes
SPINACH HEALTH BENEFITS & TEQUILA FUN FACTS
Spinach is a beauty green it supplies the body with key minerals, enzymes and vitamins.
Spinach is also one of the 12 "Dirty Dozen"  which is product that contains the most pesticide residue.
The Environmental Working Group estimates that you can reduce your pesticide exposure by a whopping 80 percent if you switch to organic when buying these twelve foods.
TEQUILA "Being someone with blood sugar sensitivities," Sue Torres, chef of Sueños in New York City says, she believes that tequila is better for the body than other alcohols. "The sugars are simple sugars, so they break down easily in your body."
Studies have shown that tequila can break down dietary fat, which can indeed help lower LDL levels, the bad cholesterol.
Of course we all know that moderation is key. Any person who can no longer tolerate the smell of a certain liquor will caution that overdoing any alcoholic beverage is harmful. (Source: Forbes)