HANGOVER SMOOTHIE RECIPE
With another festive weekend right around the corner, we are looking out for you with this hangover smoothie recipe!
Alcohol, though fun, can cause stomach irritation, drops in blood sugar, dilation of blood vessels (that's your headache), and we're just guessing that you probably don't sleep that well – or that much – when you're too busy dancing!
This easy fruit smoothie recipe from The Blender Girl's Smoothies cookbook (featuring 100 gluten-free, vegan and paleo recipes) gets you some much needed hydration and electrolytes without overloading you with sugar or anything heavy, in case your stomach is still sensitive.
It's the tastiest hangover smoothie we've ever tried!
Hydrating, cleansing, and energizing, the flavor of this dimensional blend explodes in the mouth (add the cayenne!) and kick-starts metabolism while replenishing minerals and vitamins scared off by alcohol.
Antioxidants in strawberries reduce damage to the stomach lining, the quercetin in apple skins protects brain cells, and cranberries foster intestinal balance.
Use a high speed blender, like a Blendtec or Vitamix for the best consistency, and join our community for more nutritious recipes from Blender Babes and our friends! Did you try this smoothie recipe? Tell everyone what you think in the comments below and rate it!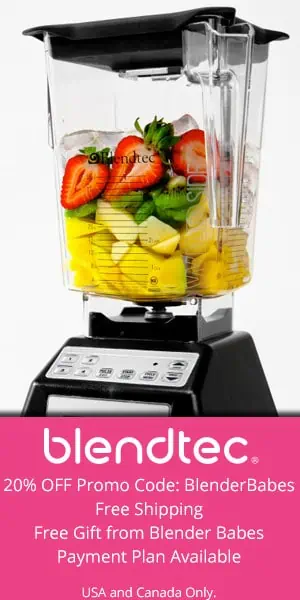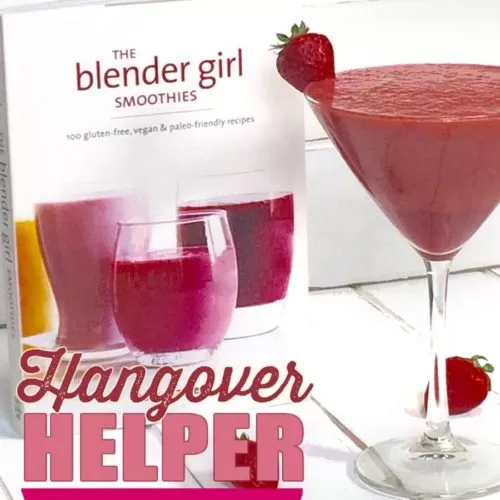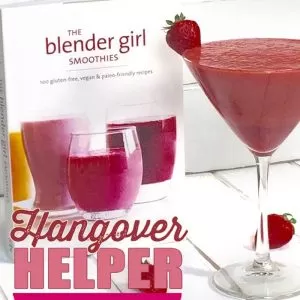 Hangover Helper Smoothie from The Blender Girl Smoothies Book
Ingredients
1 1/2

cups

unfiltered apple juice

1/2

cup

unsweetened cranberry juice

2

cups

frozen strawberries

1/2

cup

frozen mango

1

teaspoon

minced ginger

OPTIONAL BOOSTERS

1

cup

loosely packed baby spinach

1

teaspoon

camu powder

pinch

of cayenne pepper
Nutrition
Serving:
2
g
Calories:
190
kcal
Carbohydrates:
47
g
Protein:
1
g
Sodium:
10
mg
Fiber:
4
g
Sugar:
38
g
HEALTH BENEFITS OF UNFILTERED APPLE JUICE
Unfiltered apple juice is kind of like apple cider vinegar – a bit scary to look at, as it's cloudy and unlike typical juices that we make.
However, unfiltered juice includes all of the nutritional goodness of the apple skins in addition to apples, so it's worth a try!
Unfiltered apple juice has more pectin, malic acid, and tartaric acid than conventional apple juice.
Pectin slows the absorption of food and binds to toxins and heavy metals to help flush them out of your body.
Malic and tartaric acids protect the liver and aid in digestion – even better after a night out!
An added bonus – if you're looking for something to sip after a  long night or to ward off some cravings as you prepare whole food meals, a sip of unfiltered apple juice has just enough sugar and substance to keep you going without making another easy fruit smoothie recipe!