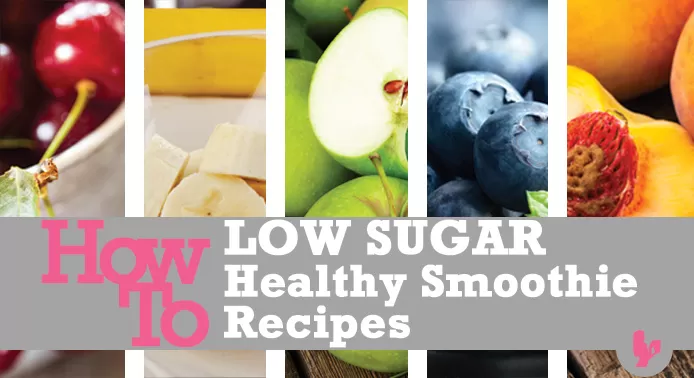 How To Make Low Sugar Smoothies
CUT OUT the High Sugar
1. Liquid Base: Don't use juice as your liquid base, use filtered water or your favorite milk substitute.
2. No Added Sugar: Don't add sweeteners, even if they are natural such as honey, maple syrup, agave, or even dates.
3. Use Approved Sweeteners: You can sweeten your smoothie with low glycemic stevia, xylitol or erythritol if necessary. We highly recommend flavored stevia, the vanilla flavor is delicious.
4. 60/40 Greens to Fruits Ratio: Reverse the green smoothie 60/40 fruits to greens rule. Instead use 60% greens and 40% fruits. This is usually 3 cups of leafy greens and 2 cups of low sugar fruit to make 2 servings of green smoothie recipes.
5. Fruits: Make sure to use low sugar fruits making up no more than 40% of your smoothie. If you use a higher sugar fruit such as banana – make it your ONLY fruit. You will notice berries used a lot in low sugar healthy smoothies. They mask flavors well with minimal sugar and lots of fiber as well as other health benefits. You can then add 1 other low sugar fruit such as apple or another type of berry.
Why Make Low Sugar Smoothies
Regular Smoothies
Often times, although nutritious, "healthy" smoothie recipes – are high in carbs and sugar.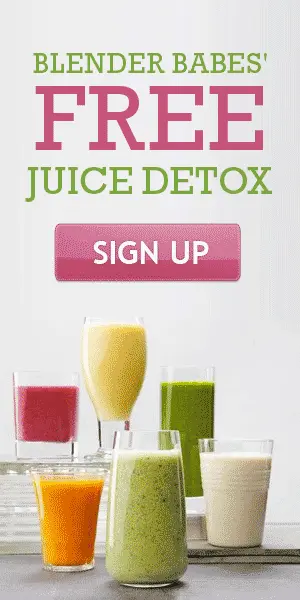 Adding juice, as well as LOTS of fruit and natural sweeteners such as raw honey, maple syrup or agave (learn why we don't recommend agave) to recipes which is a great option for better taste BUT we must remember that these sweeteners possess high sugar content.
These are the types of smoothies you find in most regular smoothie shops. Many times they add sorbet/sherbert as well!
These smoothies aren't a good option for people with diabetes or just following a low sugar/low glycemic, low carb, paleo or ketogenic diet plan.
Note: These users should add protein and healthy fats to their smoothie recipes in order to slow the digestion of sugar. Sources of protein and healthy fats include avocados, coconut oil, almonds, cashews and flaxseeds or flax oil.
Green Smoothies
A daily green smoothie is the easiest, fastest, freshest way to obtain maximum nutrition from fruits and veggies, especially if you are using a Blendtec or Vitamix or other high-powered blender!
Green smoothies are really the only kind of smoothies that someone on a low sugar or low carb diet should have, since regular fruit smoothies are too high in sugar.
Most green smoothie recipes, however add extra fruit or juice to mask the "green" flavor, otherwise they may not necessarily be DELICIOUS. Of course – Blender Babes has tested ALL of our green smoothie recipes, and only those with the best ratings by our recipe testers make it to our menu! 🙂
Our usual green smoothie recipe rule of thumb is 60% fruit and 40% greens however, this may be too high of sugar content for those who's diet need low sugar, low carb recipes.
Low Sugar Fruits for Your Low Sugar Smoothies

♥ Blackberries: No need to worry about a sugar crash, blackberries only provide 7 grams of sugar per cup. Blackberries are important to maintain a healthy digestive system, one cup of blackberries has an average of 7.6 g of fiber and contains half the daily recommended dose of Vitamin C.
Plus they surprisingly have MORE antioxidants than any other common berry! Start your Blackberry craze with Dr. Ben Kim's Longevity Smoothie or our Blackberry Vanilla Green Smoothie.
♥ Blueberries: Known as one of the "World's Healthiest Fruits", blueberries are high in antioxidants essential to optimize health and contain 15 grams of suger per cup. To maximize the health benefits of blueberries, we recommend buying organic. Blueberries mask the taste of green smoothies and makes them very kid friendly recipes.
♥ Cranberries: This Thanksgiving treat should be in your year-round meal plan, with only 4 grams of sugar per cup and the best natural UTI prevention fruit, cranberries are a great addition to any diet.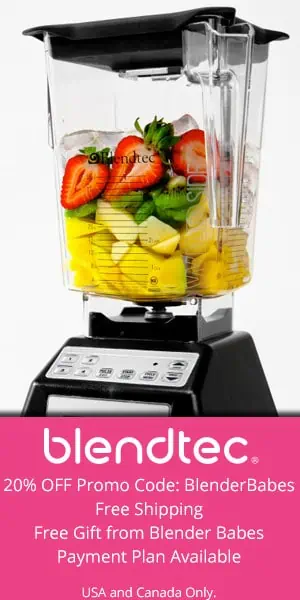 ♥ Granny Smith Apples: Naturally low in sugar content and high in antioxidant levels, 1 medium Granny Smith Apple contains only 10 grams of sugar. This fruit is also high in fiber and potassium, therefore it is recommended for healthy and weight-loss diets. It is one of the top ingredients in many low sugar smoothies.
♥ Peaches: You will find the best peaches during Peach Season running from June to the end of August. Be sure to add peaches to your grocery list! 1 medium peach contains only 13 grams of sugar and are also a good source of fiber, protein, potassium and Vitamin A & C.
Peaches contain natural alpha hydroxy acids to exfoliate and cleanse your skin, as well as Vitamins A and C to strengthen and protect it – both eating and topical application will have benefits, so dig in during peach season and give your skin a glowing boost.
♥ Pears: Pears are a good source of fiber and Vitamin C and 1 medium pear has 17 grams of sugar. Most of the Vitamin C, as well as the insoluble fiber, is contained within the skin of the fruit making it a good laxative.
Pears are less allergenic than many other fruits, therefore pears are one of the first fruits introduced to infants. Although it has more sugar than other lower sugar fruits, the high fiber ratio helps slow the digestion of the sugar which is why it made this list!
♥ Raspberries: This Blender Babes favorite provides more fiber than any other berry while containing only 5 grams of sugar per cup. Try our Light Pre-Workout Raspberry Smoothie, it will definitely fill you up!
♥ Strawberries: With only 7 grams of sugar per cup, strawberries remain as one of the most popular fruits in the world and one of our most popular smoothies! This low carb fruit also surpasses the recommended daily dose of Vitamin C with 85 milligrams.
Higher Sugar Fruits – You Can Still Enjoy but in Moderation

♥ Bananas: We LOVE bananas in smoothies, especially green smoothies because 1) they are cheap and easy to peel 2) they are very sweet and do a good job masking the green flavor and 3) they provide a nice cream texture to smoothies and shakes, especially when used frozen.
However there's many people out there who don't like them and in terms of sugar, 1 medium banana adds 14 grams of sugar. Despite sugar, bananas add extra nutrition including potassium, fiber and Vitamin C.
So if you use a banana for your low sugar smoothies, make sure there's no other fruits and keep it simple with water or milk sub as a liquid and more greens – like our Kid Friendly Beginner Green Smoothie.
♥ Cherries: One cup of sweet cherries (with pits) contain 18 grams of sugar. No wonder we can drink our Very Cherry Banana Smoothie in only a few minutes! Cherries are one of the only natural sources of melatonin, a hormone that helps regulate your sleep cycle.
♥ Figs: This luxury fruit is great for your "cheat" days! We always enjoy The Doctors Pre-Sex Shake. While raw figs contain 27 grams of super per cup, they also provide hearty nutritional doses of fiber and potassium.
♥ Grapes: Red and green grapes have 15 grams of sugar per cup. Red grapes also add a punch of nutritional value with hefty amounts of fiber and heart healthy resveratrol. The Red Grape Heart Healthy Green Smoothie will give you plenty of energy to get up and going!
♥ Lychees: This exotic fruit packs a kick with 29 grams of sugar per cup. Although lychees are high in sugar content, it is OK to consume them in moderation! With 136 milligram of calcium contained, lychees are great for bone and teeth health exceeding the daily recommended intake (75 milligrams).
♥ Mangoes: Who doesn't LOVE mangoes? This summer fruit contains a generous dose of sugar with 23 grams per cup but it also maintains your eyes health by providing over a third of the daily recommended amount of Vitamin A. Everything in moderation :).
♥ Pineapples: Choosing to add raw pineapple over canned to your low sugar smoothies is key! Canned pineapple contains heavy syrup.
Pineapple is measured medium on the glycemic index, 1 cup contains 16 grams of sugar, so we recommend adding only 1/2 cup to make your healthy low sugar smoothies. Start with the delicious I AM SWEET recipe from our free 1 day whole foods Juice Detox!
If you are just starting with green smoothies, we recommended to follow the 60/40 fruit/greens rule for a couple of weeks to give your body the opportunity to adjust, otherwise the high fiber in the smoothies could bother your digestive system, not to mention the "green" taste!

Our 3-step guide will help you create super healthy green smoothies for your daily nutrition. After this period feel free to try the flipped rule. Going from healthy to healthier might be a challenge worth taking! 🙂
Let us know what YOUR favorite greens + fruit combo is in the comments! HAPPY BLENDING!