DR. FUHRMAN'S FAMOUS ANTI-CANCER SOUP
We know members of our community also like to make Dr. Fuhrman's recipes from his books, such as Eat To Live. So we just had to try Dr. Fuhrman's Anti-Cancer Soup recipe, since we knew it would be something important for everyone to be able to make for themselves and their loved ones.
This smooth and flavorful soup is perfect for cold winter nights and oozing with healthy ingredients. We recommend cutting this recipe in half, otherwise it makes enough for a large family, or several days (Eight 2 cup servings!) so their will be plenty to share with your favorite people. Invite some over, share at work, or plan to freeze some for later! A high speed blender, like a Blendtec or Vitamix will quickly and easily blend this recipe in batches, however a "regular" blender will also be able to do the job since the vegetables are so soft. You will just need to chop ingredients prior to cooking (not whole as described), work in even more batches and be careful with hot liquids, letting the steam out as you puree this soup.
Be sure to join our community for more Dr. Fuhrman recipes and other nutritious recipes brought to you by Blender Babes! Did you try this, be sure to let our community know by rating it!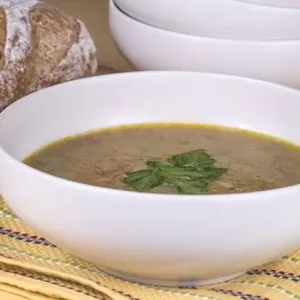 Dr. Fuhrman's Famous Anti-Cancer Soup
Ingredients
1

cup

dried beans

4

cups

water

4

medium onions

about 4 cups

6

medium zucchini

about 6 cups

3

leek stalks

2

bunches of kale or collard greens

about 6 cups

5

lbs

carrots or 4-5 cups of carrot juice

about 15 cups

2

bunches of celery or 2 cups of celery juice

10 celery stalks

2

tablespoons

no-salt seasoning*

1

cup

raw cashews

1

package mushrooms

chopped (about 6 cups)
Instructions
NOTE: Will blend in 3-4 batches using a 64oz our larger jar.

Place the beans and water in a very large stock pot and cook, covered, on the lowest heat possible. Peel onions and place whole into the covered pot. Add whole zucchinis.

Cut the bottom roots off leaks and slice them up the side so each leaf can be thoroughly washed. (Leeks have lots of dirt hidden inside.) Throw away the last inch at the green top. Place the entire leek in the pot.

Strip the leaves from kale or collard stems. Discard the stems. Chop the leaves and add to the soup pot.

To prepare carrot juice, place carrots in 4 cup batches with 1 cup water into blender and secure lid.

For

Blendtec

: Press the WHOLE JUICE button OR blend on MEDIUM for 10 seconds, then HIGH for 40 seconds.

For

Vitamix

: Start on VARIABLE Speed 1. Turn machine on and slowly increase speed to VARIABLE Speed 10/HIGH. Blend for 30-45 seconds using the tamper to press the celery into the blades.

Strain through a nut milk bag.

Repeat the previous instructions to prepare celery juice, with only 1/2 cup water.

Add juices to the pot along with the no-salt seasoning*.

While the soup is simmering, chop up the mushrooms (if desired). By the time you get to this stage, the onions and zucchini should be soft.

Ladle liquid in batches into the blender then add the soft onions, zucchini, leeks, and raw cashews and secure lid.

For

Blendtec

: Press the SAUCES button OR blend on HIGH for 30 seconds.

For

Vitamix

: Select VARIABLE Speed 1. Turn machine on and slowly increase speed to VARIABLE Speed 10/HIGH. Blend for 30 seconds or until smooth.

Repeat with remaining onions, zucchini, leeks, and rest of liquid.

Return the blended mixture to the pot. Add the mushrooms and simmer another 20 minutes.

All done! Enjoy!! Now take a photo, rate it, and share your accomplishments! 🙂 Tag @BlenderBabes & #BlenderBabes
Notes
* Recipe may require more no-salt seasoning, to taste.
Nutrition
Serving:
2
g
Calories:
303.3
kcal
Carbohydrates:
49
g
Protein:
12.3
g
Fat:
8.4
g
Saturated Fat:
0.6
g
Polyunsaturated Fat:
0.8
g
Sodium:
239.9
mg
Fiber:
16.2
g
Sugar:
16.3
g
BLENDER BABES RECIPE TESTER NOTES
"I made it and then separated in two batches after blending. I added mushrooms to only one batch due to husband's allergy to mushrooms. I thought it tasted better without mushrooms, which surprised me, as I love mushrooms." and "This recipe seemed to be a long process, because there were several batches to blend. However, it was an easy process because the vegetables were soft. This soup reminded me and my husband of pea soup, the texture and look of it. There was a lot of tweaking with the spices. I thought it was good. My son loved it (and he is a picky, healthy eater) and couldn't get enough! I have at least a gallon in the freezer!"
HEALTH BENEFITS OF CARROTS
Carrots have strong cleansing properties that are effective in detoxifying the liver, thus very effective for acne that is caused by toxins from the blood. Carrots are also useful for treating uneven skin tones due to pigmentation. The vitamin A and other nutrients contained in carrots efficiently nourish the skin, prevent dry skin and other skin blemishes. Chewing carrots can help clean your teeth, and is the best way to keep your mouth clean after meals. They act as natural abrasives that help in eliminating the dirt and plaque from the teeth and gums.  They also trigger a lot of saliva, which helps to scrub away stains on your teeth. Minerals in carrots helps to kill germs in the mouth and prevent tooth damage.