Swimsuit by: Syrup Swimwear 
GLUTEN-FREE WAFFLE AND PANCAKE BATTER RECIPE
Whether it is for breakfast-in-bed or a quick weekday breakfast, enjoy this fluffy tender gluten-free waffle and pancake batter recipe, made in a high powered blender.  If you make your own gluten free baking mix/flour first, it will save you time and money!  We love it with a healthy fresh blueberry or strawberry syrup.  Start your day with a plate of delicious and healthy pancakes or waffles, made with our gluten-free waffle and pancake batter recipe!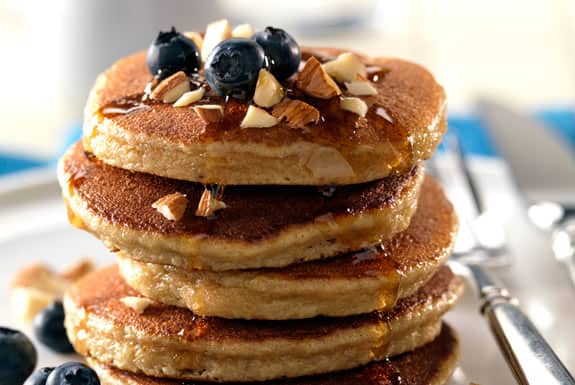 Gluten-Free Pancakes or Waffles
Instructions
Add ingredients to jar in order listed and secure lid.
For Blendtec: Press the BATTERS button.
For Vitamix: Select Variable 1. Turn machine on and slowly increase speed to Variable 4 or 5. Blend for 5-10 seconds until mixed.
Let batter rest for a few minutes.
Heat griddle and coat with cooking spray. Pour ¼ cup batter per pancake (or about ⅔ cup for an 8-by-8-inch waffle iron). Cook until bubbles break the top surface of the pancake and the underside is golden brown. Flip and cook until done. (For waffles cook until golden brown and crisp, about 4-5 minutes)
Nutrition Information
Serving size:
2 pancakes
Calories:
320
Fat:
12g
Saturated fat:
1.5g
Carbohydrates:
48g
Sugar:
7g
Sodium:
230mg
Fiber:
3g
Protein:
8g
Cholesterol:
70mg
HEALTH BENEFITS & FUN FACTS
The health benefits of oats are countless. Oats are a health benefit rich superfood! Millions of Americans enjoy the health benefits of oats in steaming bowls of all natural rolled oats for breakfast, but they may not realize it's not just delicious, all natural healthy oats are one of the best breakfasts you can possibly eat.
Oats are a great source of vitamins and minerals, including magnesium, selenium, manganese and phosphorous. Oats are also a good source of vitamin B1, dietary fiber and protein, so it's the ideal food to start the day with.  Researchers also found that diets rich in fiber from whole grains like oats offer significant protection against breast cancer for pre-menopausal women — a 52 percent lower risk of breast cancer than women with low fiber diets.