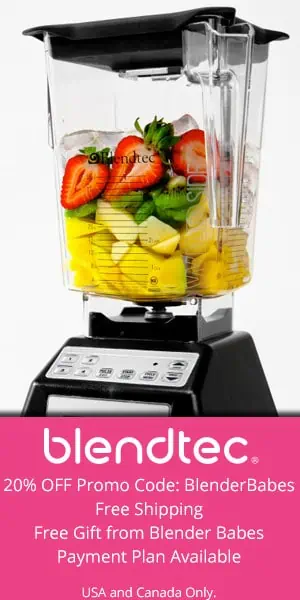 SKINNY LOW FAT BUFFALO CHICKEN DIP OR SAUCE RECIPE
Oh the healthy humanity! The high calorie insanity that is "Normal" Buffalo Chicken dip recipe (55 calories and 2 grams of fat – PER TABLESPOON!!) has been Blender Babes healthified – and it's PERFECT for your next gathering! Don't you worry your waistline over it one more minute, we present to you the new norm. This recipe for buffalo chicken dip is made easy (as usual!) using a high speed blender, like a Vitamix or Blendtec. The Buffalo sauce has the perfect kick, and we made it low fat by using our very own Skinny Blue Cheese Dressing, which provides that spice with a nice cooling compliment. All in one bite! This flavorful high protein dip is great for appetizers on its own, or try it as a main dish by tossing in penne pasta. Either way, this zesty sauce will have you subscribing for more delicious healthy blender recipes!
Be sure to join our community for more healthy blender recipes! And share your rating with us if you give this one a try!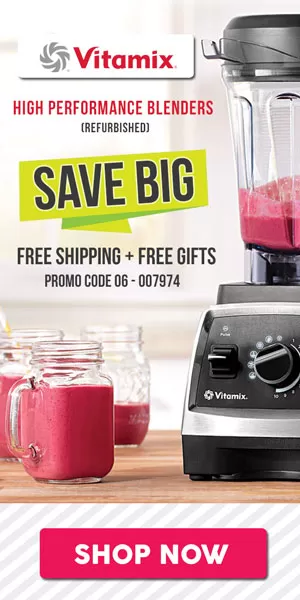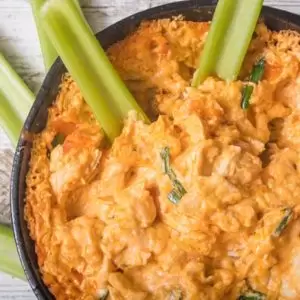 Skinny Low Fat Buffalo Chicken Dip or Sauce
Ingredients
2

cups

shredded chicken breasts

boil or pressure cook 1 pound of chicken and shred

One 8 ounce package light cream cheese

1/3

cup

Buffalo Sauce

1/2

cup

chicken broth

1

teaspoon

paprika

1

teaspoon

garlic powder

1/2

teaspoon

black pepper

1/2

teaspoon

kosher salt

3/4

cup

skinny blue cheese dressing or your own

12

ounces

uncooked penne pasta

(for a pasta dish)
Optional toppings
Green Onions

chopped

Crushed Red Pepper Flakes
Instructions
Add cream cheese, buffalo sauce, chicken broth, paprika, garlic powder, peper, salt and bleu cheese dressing to your container.

For Vitamix: Use Variable Speed 1 and slowly increse to Variable Speed 10/High until ingredients are well blended.
For the dip:
Hand mix your blended sauce and the shredded chicken in an 8" by 8" baking dish, and bake at 400°F (204°C) for 10-15 minutes.
For the pasta sauce:
Add chicken, sauce, and an extra 1/4 cup chicken broth to saucepan, cook for an additional 10 minutes over low heat.

In the meantime boil a large pot of water and cook the penne pasta for 10-12 minutes, drain.

Next, combine the cheesy buffalo chicken sauce with the penne pasta.

Add toppings and serve.

All done! Enjoy!! Now take a photo, rate it, and share your accomplishments! 🙂 Tag @BlenderBabes & #BlenderBabes
HEALTH BENEFITS AND FUN FACTS
Healthy chicken is full of vitamin b, protein, and selenium, which may help protect against bacterial and viral infections. This recipe is also high in protein thanks to the greek yogurt used in the skinny blue cheese dressing. 🙂