NO-BAKE GLUTEN FREE AND VEGAN CHAI SPICED PUMPKIN BAR RECIPE
I am a huge fan of raw desserts so I was excited to try this recipe. The smell alone was enough to make my mouth water!
It smells just like traditional pumpkin pie. This recipe is sure to be a hit with anyone, regardless of dietary preference or age. 🙂 My very proper boss licked the bowl!
If you're looking for a gluten-free version, just use gluten-free oats, and if you do want the protein boost, you can use VEGA One Vanilla Chai plant-based protein powder instead of coconut flour. This is definitely a good snack recipe for kids and a healthy alternative to all of those tempting holiday cookies!
Use your Blendtec or Vitamix to make both the crust and filling in two easy steps.
Be sure to join our community for more healthy kid-friendly recipes.  Share your rating with us if you try this at home!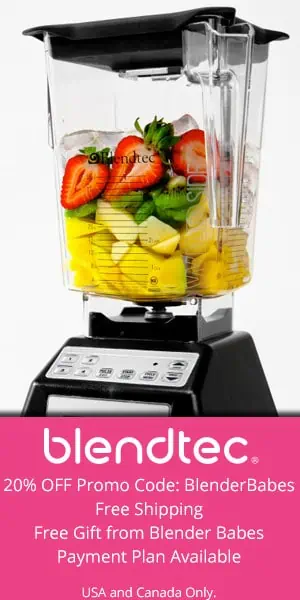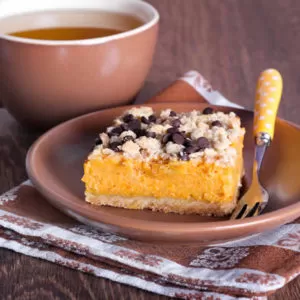 No-Bake Gluten-Free Vegan Chai Protein Pumpkin Bars
Ingredients
For the crust:
1/2

cup

old-fashioned gluten-free rolled oats

1/2

cup

pumpkin seeds

1/2

cup

unsweetened shredded coconut

1/2

teaspoon

cinnamon

1/8

teaspoon

salt

2/3

cup

pitted dates

chopped — plus a few more if needed
For the filling:
1 1/2

cups

pumpkin puree

1/3

cup

maple syrup or coconut nectar

or to taste

1/4

cup

melted coconut oil

1

teaspoon

vanilla

1/4

teaspoon

salt

1 1/2

teaspoons

cinnamon

3/4

teaspoon

cardamom

3/4

teaspoon

ginger

1/4

teaspoon

cloves

1/8

teaspoon

black pepper

2

tablespoons

Vega One Vanilla Chai protein powder OR coconut flour
Instructions
Line an 8 by 8-inch square baking pan with parchment paper so you can lift the bars out for cutting.
Make the crust
Place the oats, pumpkin seeds, coconut, cinnamon, and salt into your jar.

For

Vitamix

: Blend on Variable 6 until ground, approximately 15 seconds. Then add dates and blend until mixed, approximately 25 seconds. You may want to scoop the contents of the jar towards the middle when adding the dates for optimal mixing.

For

Blendtec

: Pulse the mixture three or more times until ground. Add 2/3 cup dates and pulse until well combined and sticky.

The crust mixture may look crumbly, but it should hold together when pinched between your fingers. If necessary, add more dates to get the right consistency.

Press the dough firmly and evenly into the baking pan. Place the pan in the freezer while you prepare the filling.
Make the filling
Rinse out your jar and then place the pumpkin puree, maple syrup, coconut oil, vanilla, salt, and spices in it.

For

Vitamix

: Blend on Variable 8 for approximately 25 seconds until smooth.

For

Blendtec

: Pulse for 15-30 seconds until smooth.

Add the coconut flour and pulse again until well combined. Adjust sweetness if desired by adding dates, maple syrup, or coconut nectar.

Remove the pan from the freezer and pour the filling on top, spreading it out evenly. Cover and refrigerate for at least 6 hours or overnight.

Lift the bars out of the pan using the parchment paper edges. Use a chef's knife to cut the bars, wiping the knife clean between cuts. Serve chilled and garnish with granola, chocolate chips, and/or coconut flakes!

All done! Enjoy!! Now take a photo, rate it, and share your accomplishments! 🙂 Tag @BlenderBabes & #BlenderBabes


HEALTH BENEFITS & FUN FACTS
Pumpkin is a winter squash that is great to take advantage of when it's in season!
Cheap, packed with nutrients, and a lovely bright orange combines to make this a great ingredient. Pumpkins are low-calorie and still manage to contain vitamin A, flavonoid poly-phenolic antioxidants such as lutein, xanthin, and carotenes, which will protect the eyes, skin, and mucous membranes.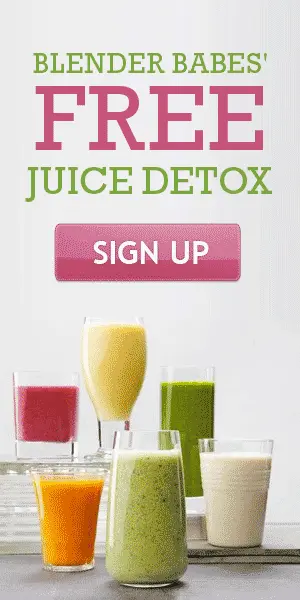 Dates provide the crust with a nice sweetness and density reminiscent of a traditional crust but also contain fiber, potassium, copper, manganese, magnesium, and Vitamin B6, which combine to aid digestion, relieve constipation, reduce blood pressure and risk of stroke, and even prevent colitis and colon cancer.