Vegan & Gluten-Free Chia Doughnuts & Whipped Coconut Cream from Oh She Glows Cookbook
Enter to WIN our latest Blender Giveaway!

VEGAN CHIA SEED DOUGHNUT RECIPE WITH WHIPPED COCONUT CREAM
This vegan and gluten-free chia seed doughnut recipe with whipped coconut cream from The Oh She Glows Cookbook by Angela Liddon is proof that not all doughnuts have to be the unhealthy kind.
Packed with antioxidants, omega-3 fatty acids, protein and fiber, these baked doughnuts will have you feeling ready to conquer your day (or the world?).
Unlike common light and fluffy fried doughnuts, these baked doughnuts are dense, filling and a bit crunchy thanks to the generous amount of chia seeds.
The whipped coconut cream works great as frosting or even as a dip!
Surprisingly, this healthy doughnut recipe is simple and easy.
And thanks to your Blendtec or Vitamix blender, you can make your own oat flour AND almond milk.
Plus the clean up is minimal! Just they way Blender Babes likes it. 🙂
Vegan, gluten-free and oil free, Blender Babes recipe testers loved this as a snack, dessert AND breakfast! Let us know how you liked this recipe in the comments below by sharing your rating with us! If you want to be periodically updated with more amazing recipes like this one, come and join our community!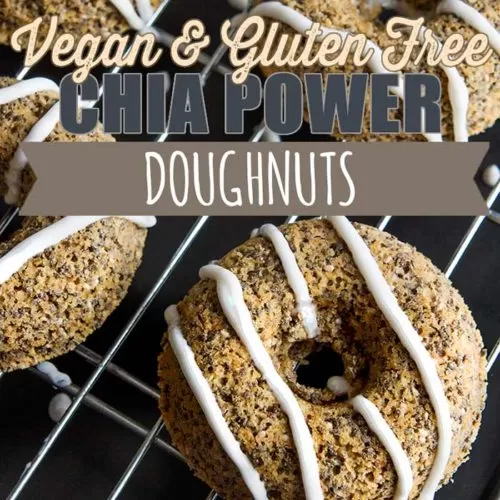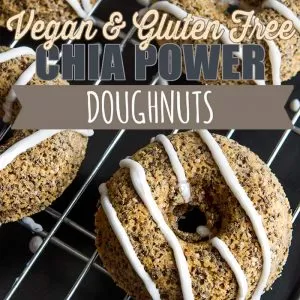 Out-the-Door Chia Power Doughnuts
Ingredients
FOR THE CHIA POWER DOUGHNUTS
3

⁄4 cup

175 mL gluten-free oat flour

1

⁄2 cup

125 mL chia seeds

1 1

⁄2 teaspoons

7 mL baking powder

1

⁄4 teaspoon

1 mL fine-grain sea salt or celtic salt

1

⁄4 teaspoon

1 mL ground cinnamon

1

⁄3 cup

75 mL pure maple syrup or other liquid sweetener

1

⁄3 cup

75 mL non-dairy milk

1

teaspoon

5 mL pure vanilla extract
Instructions
FOR THE CHIA POWER DOUGHNUTS:
Preheat the oven to 300°F (150°C). Lightly grease a 6-cavity doughnut pan with oil. Set aside.

For

Blendtec

: Place the oat flour, chia seeds, baking powder, salt, and cinnamon in your blender and then add the maple syrup, milk, and vanilla. Secure the lid. Use the BATTERS/SALSA Button OR Manual Speed 4/Medium until incorporated.

For

Vitamix

: Add all wet ingredients into blender, blend on Variable Speed #1 for 10 seconds and turn off. Add dry ingredients except chia seeds and blend on Variable Speed #1 for 10 sec and turn off. Add chia seeds and blend on Variable Speed #1 for 5 sec.

The batter will be very runny, but this is normal. Spoon the batter into the prepared doughnut pan, filling each cavity to the top.

Bake the doughnuts for 22 to 26 minutes, until firm to the touch. A toothpick inserted into a doughnut should come out clean.

Cool the doughnuts in the pan for about 10 minutes, and then carefully invert the pan onto a cooling rack. The doughnuts should pop right out—if they don't, let them cool a bit more and gently run a butter knife along the edges of the wells to loosen them. Cool the doughnuts completely on the rack.

Drizzle Coconut Whipped Cream over top and enjoy. You can also use the whipped cream as a dip if you prefer a travel-friendly option.
*You can also use a muffin pan if you would like a non-traditional doughnut. Make sure you fill at least 8-9 wells.
Nutrition
Serving:
1
g
Calories:
329.7
kcal
Carbohydrates:
36.2
g
Protein:
8.3
g
Fat:
19.6
g
Saturated Fat:
11.4
g
Sodium:
230
mg
Sugar:
16.5
g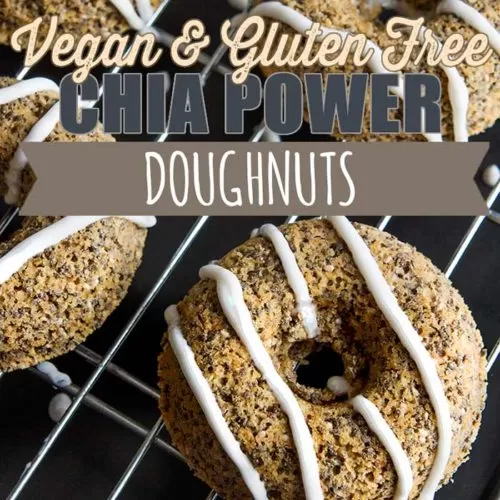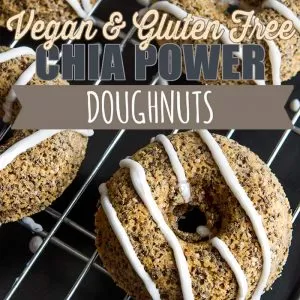 Whipped Coconut Cream
Ingredients
FOR THE WHIPPED COCONUT CREAM
1

14-ounce/396-g can full-fat coconut milk

1 to 2

tablespoons

15 to 30 mL sweetener, to taste (maple syrup or raw sugar)

1

vanilla bean

seeds scraped OR 1⁄2 teaspoon (2 mL) pure vanilla extract
Instructions
FOR THE WHIPPED COCONUT CREAM
Chill the can of coconut milk in the fridge overnight (or for at least 9 to 10 hours).

About 1 hour before making the whipped cream, chill a bowl in the freezer.

Flip the chilled can upside down and open it with a can opener.

Pour off the coconut water (you can reserve it for smoothies if you'd like).

Scoop the solid coconut cream into your blender* and secure the lid.

Blendtec

: Use the Pulse button until combined. Add the sweetener and the vanilla and pulse again until smooth.

Vitamix

: Blend on Variable Speed 3 for 30 seconds. Place blender jar with contents into fridge until well chilled (several hours). Remove blender jar and blend on Variable Speed 1, increase to Speed 3 and blend until the cream appears whipped about 30-45 seconds.
Make sure you don't over-blend. The heat from the blender will prevent it from whipping.
Put the cream in a bowl and return the whipped cream to the fridge until ready to use. It will firm when chilled and soften at room temperature. The whipped cream will keep in a sealed container in the refrigerator for 1 to 2 weeks.
FOR COCONUT-LEMON WHIPPED CREAM:
Blend the coconut cream and add 1 tablespoon (15 mL) fresh lemon juice and 2 tablespoons (30 mL) sweetener of choice.
FOR CHOCOLATE FUDGE WHIPPED CREAM:
Blend the coconut cream and add 3 to 4 tablespoons (45 to 60 mL) sifted cocoa powder, 2 tablespoons (30 mL) sweetener of choice, ¼ teaspoon (1 mL) pure vanilla extract, and a pinch of fine-grain sea salt.

All done! Enjoy!! Now take a photo, rate it, and share your accomplishments to enter our weekly photo contest! 🙂 Tag @BlenderBabes & #BlenderBabes
Notes
* You can also use an electric hand mixer and beat just to combine.
BLENDER BABE RECIPE NOTES 
"I made my own oat flour and almond milk with my Vitamix.
I also used a muffin tin since I didn't have a doughnut pan, I only filled halfway and made 8 servings.
My husband said that the combination of the whipped cream and the donut was a "10".
The cinnamon and vanilla give it great flavor and I enjoyed the crunch of the chia seeds. 
Healthy breakfast or snack that is easy to make too!"  
Another tester's little niece found the Whipped Cream in the fridge, ate it and loved it!! "Bonus: know that it is healthy unlike cool whip and won't make your kid's tummy sick!!
The Muffin itself is really ahhhhhamazing already without the Whipped Cream when I used Peanut Butter with Honey."
FUN FACTS ABOUT COMMON DOUGHNUTS
No one truly knows who or where doughnuts originated from. One theory is that the Dutch settlers brought their "oil cakes" to America.
As much as today's common doughnuts are tempting, they are as equally unhealthy. The common doughnut is one of the top 5 worst foods to eat.
They are packed with processed flour, sugar, oil and are full of trans-fats. Starting your day off with a common doughnut can throw your blood sugar off track and has no nutrients so you'll be hungry again in no time.
Thank the blender gods for this healthier chia seed doughnut recipe!
Recipe & Image Reprinted by arrangement with Avery, a member of Penguin Group (USA) LLC, A Penguin Random House Company. Copyright © Glo Bakery Corporation, 2014.