HEALTHIER CHOCOLATE ICE CREAM RECIPE

An oldie but goodie, you can't go wrong with almost everybody's favorite – chocolate ice cream!  We are giving you several different options for chocolate – depending on how healthy you want to go and what you have in your cupboards! We try to use
healthier chocolate syrup
, or the
sugar free kind
for diabetics. To be super duper healthy, try raw cacao and adding a sweetener of choice. You can even make this a vegan chocolate ice cream by using full fat coconut milk! Only difference between our healthy chocolate
ice cream recipe
vs your regular chocolate ice cream, is a nice (can't even taste it!) addition of spinach! Note: This recipe makes a soft serve ice cream! If you want a hard chocolate ice cream like the photo, use the instructions for a "regular blender". Check out our
Blendtec
and
Vitamix
helpful
Ice Cream Tips
. If you have a
regular blender
, not to worry – go ahead and make this without the ice, blend until smooth and then add it to your ice cream maker or freeze it for a couple hours for a hard version (pictured). Load up the bowl and give it to the kiddos, they won't even know they're having a dessert that you greatly approve of.  Shhh!  It will be our secret.
Be sure to join our community for more healthy blender recipes! Share your rating with us if you give this one a try.
Swimsuit by: Victoria's Secret Swimwear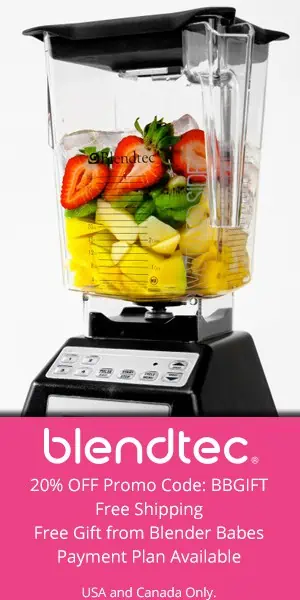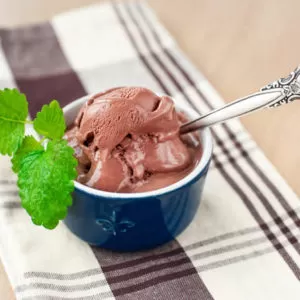 Chocolate Ice Cream
Ingredients
6

ounces

half and half OR full fat coconut milk from can

chilled in fridge overnight, the cream part only

2

tablespoons

raw cacao* OR 1/2 cup hot chocolate mix OR 2 tablespoons chocolate syrup

1

cup

spinach

optional

1/2

teaspoon

vanilla

4

cup

ice
Instructions
Place all ingredients into the blender in the order listed and secure lid.

For

Blendtec

: Press the ICE CREAM button.

For

Vitamix:

VARIABLE, speed #1. Turn machine on and slowly increase speed to VARIABLE, speed #10, then to HIGH. In about 30-60 seconds, the sound of the motor will change and four mounds should form. Stop machine. Do not over mix or melting will occur.

For a REGULAR BLENDER: Omit the ice and blend the rest of the ingredients.

To firm to an ice cream consistency, place mixture in the freezer for at least 30 minutes.
Notes
*If you use raw cacao (healthier) be sure to add sweetener of choice to taste such as 2-3 pitted/soaked dates, 1-2 Tbsp of maple syrup or raw honey, etc.
HEALTH BENEFITS & FUN FACTS ABOUT SPINACH
Spinach originated in ancient Persia and then was transported to China and down through Europe. Catherine de Medici, wife of King Henry II so loved spinach that she always made sure she had cooks who could prepare it especially for her. The term "a la Florentine," which refers to any dish prepared on a bed of spinach, is attributed to her.
Spinach is a powerhouse of nutrition rich in many vitamins and nutrients. Experts have identified at least thirteen different compounds in spinach that provide antioxidant and/or anti-cancer benefits. Spinach rich in calcium and magnesium, helps prevent osteoporosis. It is also an excellent source of iron, which is critical for women in menopause and for people who have anemia or chronic fatigue syndrome. Spinach contains vitamin E, which helps slow mental decline and memory loss.