VEGAN CREAMY MUSHROOM STROGANOFF RECIPE

My friend Stacey demanded I turn the mushroom gravy we made into a main dish.
"This isn't an accompaniment," she said, "this is a star!"
This mushroom stroganoff is quick and easy, creamy and delicious without all of the fat.
Use a variety of exotic mushrooms to kick this into mind-blowing territory.
This creamy vegan mushroom stroganoff recipe's savory mushroom flavor will give you the feeling that you are eating a dish that is much like the rich and decadent stroganoff recipes you grew up with.
If you want to "impress" a non-vegan, serve this and wait until after they've polished it off to tell them that they just devoured a vegan meal!
This vegan dish is also great for anyone wanting to try more delicious and high-protein tofu recipes.
Use a high speed blender, like a Blendtec or Vitamix for the best consistency, and join our community for more nutritious recipes from Blender Babes and our friends! Did you try this vegan recipe? Tell everyone what you think in the comments below and rate it!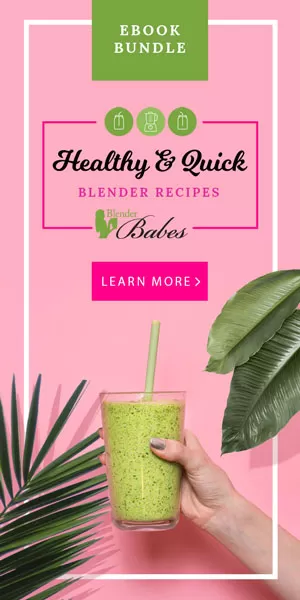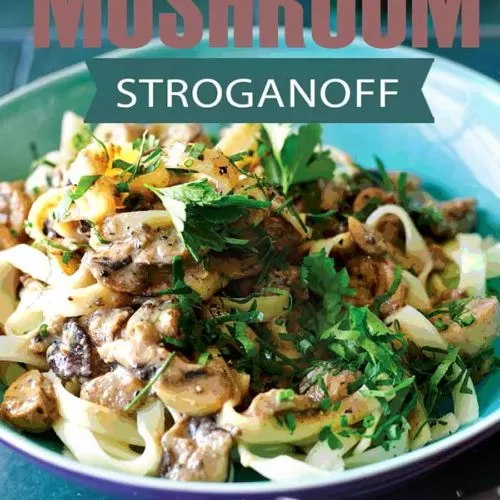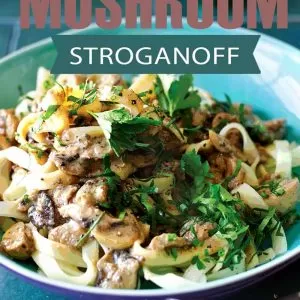 Vegan Creamy Mushroom Stroganoff
Ingredients
3

Tablespoons

olive oil

1/2

cup

diced yellow onion

2

teaspoons

minced garlic

6

cups

sliced white button and cremini mushrooms

2

cups

vegetable broth

12

oz.

firm silken tofu

3

Tablespoons

wheat-free tamari or soy sauce

2

teaspoon

chopped fresh thyme

1/8

teaspoons

fresh ground black pepper

Sea salt to taste

12

oz.

Gluten-free fettuccini

1/4

cup

chopped fresh flat-leaf parsley

2

Tablespoons

finely chopped chives
Instructions
Heat 1 tablespoon of the olive oil in a large saucepan over medium heat. Add the onion and sauté until soft and translucent, about 10 minutes.

Reduce the heat to low and add the remaining olive oil. Add the garlic and mushrooms to the pan, and sauté for about 15 minutes, until the mushrooms are soft. Remove from heat and set aside.

Put one cup of the vegetable broth and the tofu into the blender and secure lid.

For

Blendtec

: Press the SAUCES/BATTERS/SALSA button OR blend on a Medium to Medium-Low speed for 30 seconds..

For

Vitamix

: Start on Variable Speed 1, turn the machine on and slowly increase to Variable Speed 10/High and blend for 30 to 60 seconds or until smooth.

Add one cup of the sautéed mushroom mixture into the blender and secure lid.

Pour the blended tofu-mushroom mixture into the saucepan and stir in the tamari, thyme, and pepper. Bring the mixture just to a boil over medium-high heat. Reduce the heat to medium or medium low and simmer, stirring often, for about five minutes, until the sauce thickens.

Increase the heat to high and add 1/2 cup of the remaining broth. Bring the sauce just to a boil, reduce the heat to medium, and simmer for about 10 minutes, until reduced by half.

Increase the heat to high again and add the remaining broth. Bring the sauce just to a boil, then reduce the heat to medium, simmering for 10 minutes more until creamy. Cover and keep warm.

Cook the pasta according to package instructions. Drain the pasta and add it to the mushroom sauce. Add the parsley and stir to combine. Season to taste with salt and pepper and serve family-style in a big bowl garnished with chives and parsley.
Notes
* If your Vitamix does not have a pulse feature, turn machine to variable speed 3 and turn machine on and off quickly to equal 1 pulse.
1. Coconut amino acids can be used instead of soy sauce or tamari.
2. If cremini mushrooms are unavailable, try baby portabello mushrooms.
3. Also good over spiralized zucchini or steamed vegetables.
Nutrition
Serving:
1
g
Calories:
414.2
kcal
Carbohydrates:
62.2
g
Protein:
14.7
g
Fat:
12.8
g
Saturated Fat:
1.9
g
Sodium:
1059
mg
Fiber:
5.9
g
Sugar:
2.2
g
BLENDER BABES RECIPE TESTER NOTES
"This would be good over spiralized zucchini or steamed vegetables. 
Coconut amino acids could be used instead of soy sauce or tamari.
" and "This has a creamy, savory mushroom flavor that is good over the pasta.
The herbs provide good undertones. My sister, who regularly eats vegan dishes, enjoyed it.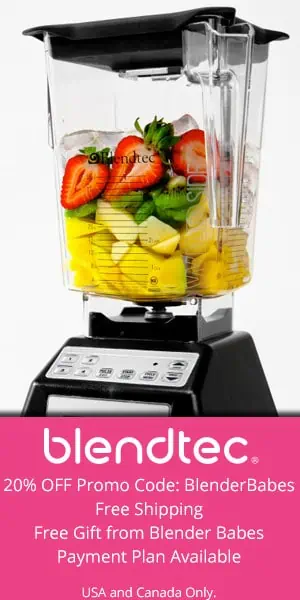 " and "I loved everything about this recipe!
I've never cooked with tofu before and was really surprised at how easy it was to use and how well it turned out.
It had a great taste and my family loved it, my husband and I had my parents over for supper and they all really enjoyed it."
HEALTH BENEFITS & FUN FACTS OF CRIMINI MUSHROOMS
The ancient Romans described crimini mushrooms as the "food of the Gods" and believed they were created by the lighting bolts thrown to Earth by the god Jupiter during thunderstorms.
Cremini mushrooms are very low in calories at only 16 calories per cup, however they are extremely nutrient dense.
The phytonutrients help support the immune system by promoting the functioning of white blood cells, helping lower the risk of arthritis, development of cancer, and development of cardiovascular disease.
They also a high concentration of selenium, a powerful antioxidant. Crimini mushrooms have anti-inflammatory benefits, and appear to be a better blocker of certain pro-inflammatory molecules than shiitake and maitake mushrooms.
They also promote heart health being rich in B vitamins B2, B3 and B5.
Recipe excerpted with permission from The Blender Girl by Tess Masters. Published by Ten Speed Press. Image courtesy of Anson Smart