MORNING SUNSHINE BABY FOOD RECIPE
An easy and quick deliciousness for baby.  To make a perfect batch of homemade baby food, steam your sweet potato, skin your apple, drop in your high powered blender, puree and there you go! It doesn't get any easier that this to make homemade goodness baby food for your little sunshine. 🙂 Check out our tips for making homemade baby food and our other baby food recipes!
Be sure to join our community for more healthy blender recipes. And share your rating with us if you try this one at home! 🙂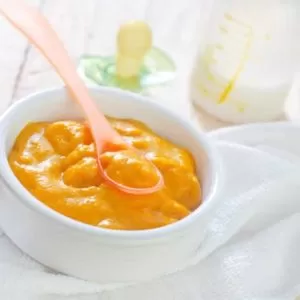 Morning Sunshine Baby Food
Ingredients
1/4

cup

filtered water

formula, or breast milk

1

sweet potato

large (skinned & boiled or steamed)

1

Granny Smith apple

skinned and cored
Instructions
Add ingredients to blender in order listed and secure lid.

For

Vitamix:

Select Variable 1. Turn machine on and slowly increase to variable 4. Blend for 20-30 seconds. Increase speed as needed, to achieve the desired consistency.

If mixture is too thick, remove the lid plug and add additional water, formula or breast milk, 1/4 cup (60 ml) at a time through the lid plug opening. Continue blending to achieve desired consistency.

Serve immediately or freeze excess baby food in ice cube trays.

All done! Enjoy!! Now take a photo, rate it, and share your accomplishments! 🙂 Tag @BlenderBabes & #BlenderBabes
HEALTH BENEFITS & FUN FACTS
Sweet potatoes are one of the oldest vegetables known to mankind and it is little wonder that they are still a delicacy in today's world. This fat free vegetable carries an abundance of healthy minerals such as Vitamin A, C, and E, potassium, beta-carotene, magnesium and is also rich in antioxidants. Sweet potatoes can be introduced to your baby's diet from six months as they are high in Vitamin A, Potassium and beta carotene. Baking is highly recommended when preparing them for babies as it brings out the good flavor and natural sweetness while retaining most of its nutrients. All in all the sweet potato is a wonderful healthy addition to a diet whether it's for a baby or an adult.