HOW TO MAKE RICE FLOUR
Rice flour is a wonderful alternative for those sensitive to gluten (found in products such as wheat and rye) and who are living a gluten free lifestyle.  Additionally, making your own flour is both fast, inexpensive, and healthy.  While various types of rice flour are used internationally, long grain white and brown rice are the most popular.  With a high powered blender, you can grind rice into fresh flour, and use for bread, muffins, cookies, and other baked goods.  We like to use in our pancakes, tortillas, and for breaded cutlets and other frying.  Try including brown rice flour in soups & casseroles to add more fiber.
Note: When grinding hard grains, it may pit the BPA free jar interior, resulting in a "fogged" appearance.  Blender Babes uses and recommends keeping one jar specifically for dry goods and one for all else – since cosmetic alterations are not covered under warranty.
Be sure to join our community for more healthy blender recipes. Share your thoughts with us by rating this recipe below if you give it a try! We love to get your feedback. 🙂
Swimsuit by: Victoria's Secret Swimwear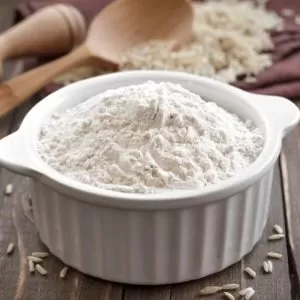 How to Make Rice Flour
Instructions
Place ingredient in the jar

Blendtec

: Press the SPEED UP Button to Speed 9 and run for 50 seconds (full cycle)

Vitamix

: Use special dry grains jar. Select VARIABLE, speed 1. Turn on machine and quickly increase speed to Variable 10, then to high. Grind to desired degree of fineness, about 1 minute.

All done! Enjoy!! Now take a photo, rate it, and share your accomplishments! 🙂 Tag @BlenderBabes & #BlenderBabes
HEALTH BENEFITS & FUN FACTS
Rice flour is high in protein.  Flour from brown rice contains a higher level of B vitamins. The primary difference between brown and white rice is the husk, however the husk of brown rice is left intact during milling, making it a good selection when considering fiber, vitamins, and nutrients such as calcium and zinc.
Dietary fiber is an essential part of any eating plan and rice contains insoluble fiber, the substance that helps waste material move through the intestines. A diet high in fiber will lower cholesterol, improve blood sugar levels, and promote regular bowel movements. Brown rice contains more fiber than does white due to the husk. Substituting brown rice flour for wheat may help with weight loss — a diet rich in fiber helps you feel fuller and reduces hunger. By adding more fiber to your daily meal plan with rice flour, you may lower your risk for developing some medical conditions, such as diverticular disease, colon diseases, type-2 diabetes and hypertension. (Source: Mayoclinic)