FRESH SOY MILK RECIPE
Homemade soy milk is much healthier than commercial versions which have significant amounts of additives (sugar) and are pasteurized.  The best part about making homemade soy milk with a high powered commercial blender, is that you save A LOT of time.  Specialized (and expensive) soy milk makers require the soybeans to be soaked overnight.  This process takes approximately 20 min, and then it must be filtered.  With a Blendtec or Vitamix blender NO soaking or filtering is necessary, and it takes only a few minutes!  Another great reason to make soy milk at home, is it's extremely inexpensive.  We buy a bag of soybeans at a local Asian food market for around $1, and it produces about 10 gallons of soy milk!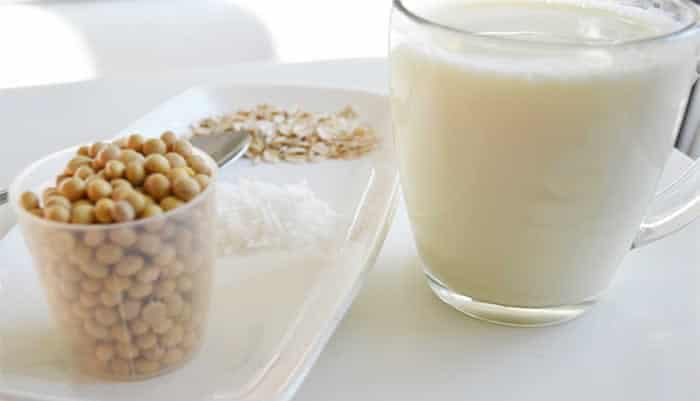 Soy Milk Recipe Quick & Easy
Ingredients
2 ounces uncooked soy beans
2 cups hot filtered water


Sweetener Suggestions
Honey
Sugar
Brown Sugar
Sugar substitute such as Stevia


Flavor Suggestions
Pure vanilla extract
Pure Maple extract
Nutmeg
Cinnamon
Chocolate
(Other favorite flavor)
Instructions
Add above ingredients to jar and secure the lid.
Blendtec: Press the SOUP Button two (2) times (3 min total)
Vitamix: Select VARIABLE, speed #1. Turn on machine and quickly increase speed to #10; then to HIGH. Run for 6 minutes.
Add your favorite sweetener and/or flavor and run for 10 seconds.
Drink hot or store in fridge in glass jar for up to 3 days.
Notes
Some people like to add a little salt.
The vanilla flavor is also a favorite and is known to neutralize the "beany" taste pretty well.
To make a creamier (thicker) soy milk, use more soybeans. We use a general ratio of 1 oz of soybeans per 1 Cup of water.
MAKE SURE you use HOT water to make proper soy milk. The high powered blender will take it to boil, which is important for the process.
HEALTH BENEFITS & FUN FACTS
The oldest evidence of soy milk production is from China where a kitchen scene proving use of soy milk is incised on a stone slab dated around AD 25–220. Soy milk (also called soya milk, soymilk, soybean milk, or soy bean juice) and sometimes referred to as soy drink/beverage has about the same amount of  protein (though not the same amino acid profile) as cow's milk.  Soy milk contains about the same proportion of protein as cow's milk: around 3.5%; also 2% fat, 2.9% carbohydrate. Soymilk contains no lactose, which makes it a good alternative for lactose-intolerant people.  (Source: Wikipedia)