EASY CHOCOLATE PALEO BLENDER BROWNIES RECIPE
A little while ago, I finally invested in a blender and it has completely transformed my cooking. I mean, I'm making paleo blender brownies now! While it might seem like a cheat to have something so easy and convenient to use… isn't eating healthy all about finding the easiest way to do things?
From coffee banana smoothies, to protein-packed hummus, to chili paste, I've been going blender crazy with my new toy. The real revelation came though when I realized that I could make muffins with this thing.
I'd long been put off baking because of the mess it creates and, well, it all just seems so unhealthy. Not with this paleo-friendly blender brownies recipe that I stumbled upon.
While I'm not paleo in the strictest sense, I do adhere to a lot of the diet's main principles. I'm an avid cyclist, and since cutting down on a great number of non-paleo foods (mashed potato, I'm looking at you), I've noticed my endurance and fitness levels go through the roof, as well as my mood in general.
Unfortunately, the amount I cycle makes me prone to hypoglycemia. Obviously for someone who spends a lot of time out on the road, this is dangerous, so I still make (brown) pasta a large part of my diet, but everything else I've managed to find ample substitutes for. 
This is why this blender brownies recipe is such a life saver. Out goes all the sugar and flour associated with baked treats, and instead I use a healthy amount of banana, honey and even an egg to give this the volume, sweetness and moisture that it needs.
These blender brownies are gluten-free, low-carb and dairy-free and still moist and DELICIOUS! The perfect snack!
I also throw in a spoon of plain protein powder, because why not?
I hope you enjoy this recipe as much as I do (I think I'm on my third batch of the week), and if you have any comments be sure to let me know!

This recipe makes 6 generously sized muffins, but if you have small muffin cases then you might be able to get 14 or so. The more the better, right?
Quickly whip these easy chocolate paleo brownies in your blender today!
We hope you enjoy this recipe as much as we do, and if try this be sure to let us know by rating it in the comments!
Be sure to join our blending loving tribe for more healthy baking recipes and tips from Blender Babes and our friends!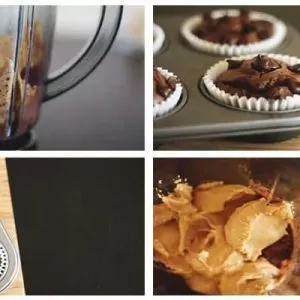 Easy Chocolate Paleo Blender Brownies
Ingredients
1

large ripe and peeled banana

1

large egg

⅓

cup

cacao powder

½

cup

almond butter

3

tablespoons

honey

1

tablespoon

vanilla extract

¼

teaspoon

baking soda

pinch

salt

optional

½

cup

dark chocolate chips
Instructions
Preheat the oven to 400°F.

Place all ingredients (except chocolate chips) into the blender in the order listed and secure lid.

Blend on Low to Medium for about 30 seconds with a power blender, a little longer with a regular blender.

Stop when smooth and thick (do not overblend).

Pour mixture into muffin cups, all placed on a baking tray, filling about ¾ full. Next, top off with a few chocolate chips.

Bake for 10-12 minutes making sure to watch the muffins closely. Once done, remove from the oven and allow to set and cool for 15 minutes.

Enjoy!

Now take a photo, rate it, and share your accomplishments to enter our weekly photo contest! 🙂 Tag @BlenderBabes & #BlenderBabes
Notes
1. What's great about these is that they actually taste better on the second or third day, so consider making these a day or two in advance!
2. These little delights will keep for the best part of 4 or 5 days.
Nutrition
Serving:
1
g
Calories:
156
kcal
Carbohydrates:
16.9
g
Protein:
3.4
g
Fat:
9.5
g
Saturated Fat:
2.4
g
Polyunsaturated Fat:
5
g
Cholesterol:
18.8
mg
Sodium:
55.1
mg
Fiber:
2.1
g
Sugar:
11.6
g
HEALTH BENEFITS OF CACAO POWDER
The much touted nutritional benefits or raw cacao range from reducing cataracts to improving heart function to alleviating stress.
The theobromine naturally found in raw cacao is a mild, non-addictive stimulant that some believe can treat depression. It may cause the brain to produce more of a neurotransmitter called anandamide which would account for the euphoric sensation some feel when indulging in chocolate. (Source: About)