Swimsuit by: Victoria's Secret Swimwear
MAKE CORN MEAL
Making your own cornmeal in a commercial blender is fast, inexpensive and healthy.  The boxes you buy at the grocery store are costly, and contain preservatives. With a Blendtec or Vitamix blender you can grind regular popcorn into fresh corn meal or corn flour, and use for baking such as corn bread, muffins, polenta, tortillas, tamales, or frying.  Remember to minimum cover the blade of your blender, and make up to 2-3 cups at a time.  If you make more than a recipe requires and wish to keep, store in a Ziploc bag in the freezer.  Blender Babes recommend soaking your fresh ground grain before use, which breaks down the phytates and makes them more digestible.  Just make sure they are dry before grinding them in your Blendtec or Vitamix blender.
Note: When grinding hard grains, it may pit the BPA free jar interior, resulting in a "fogged" appearance.  Blender Babes uses and recommends keeping one jar specifically for dry goods and one for all else - since cosmetic alternations are not covered under warranty.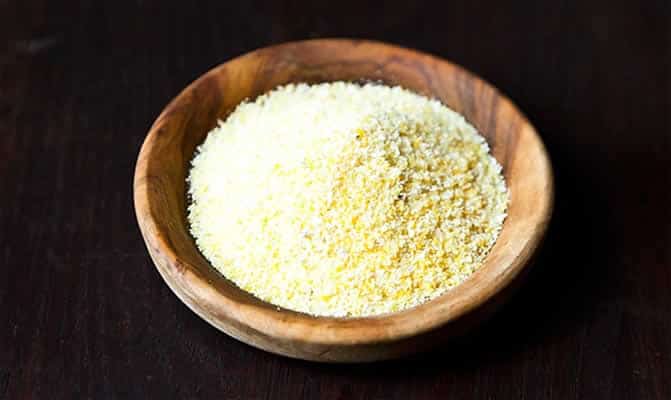 How To Make Cornmeal
Instructions
Place popcorn in the jar
Blendtec: Press the SPEED UP Button to Speed 10 and run for 50 seconds (full cycle)
Vitamix: Use special dry grains jar. Select VARIABLE, speed 1. Turn on machine and quickly increase speed to Variable 10, then to high. Grind to desired degree of fineness, about 1 min.
HEALTH BENEFITS & FUN FACTS

Many indigenous people used lime (the mineral, not lemon's cousin) water in preparation of corn meal. This was the tradition of early peoples, who probably had no idea what the many health benefits of doing so entailed.
Cornmeal is packed with many nutrients. This whole grain is a good source of riboflavin, pantothenic acid, folate, niacin, thiamine,  and vitamins B-6, E and K. Cornmeal also contains 18 amino acids and  minerals such as iron, magnesium, phosphorus, potassium, zinc, copper, manganese and selenium.