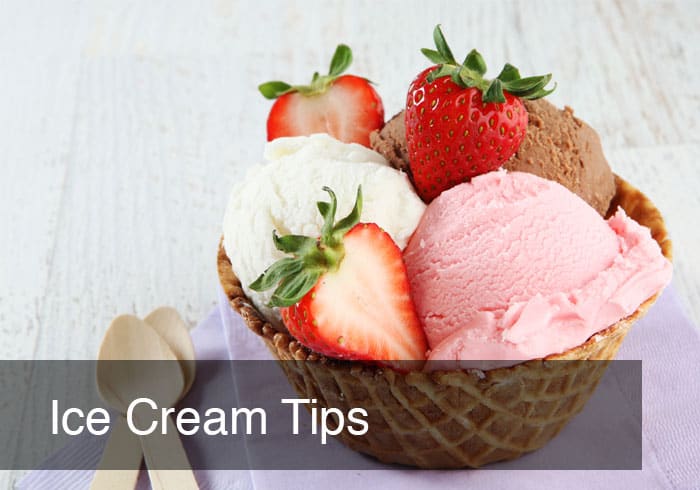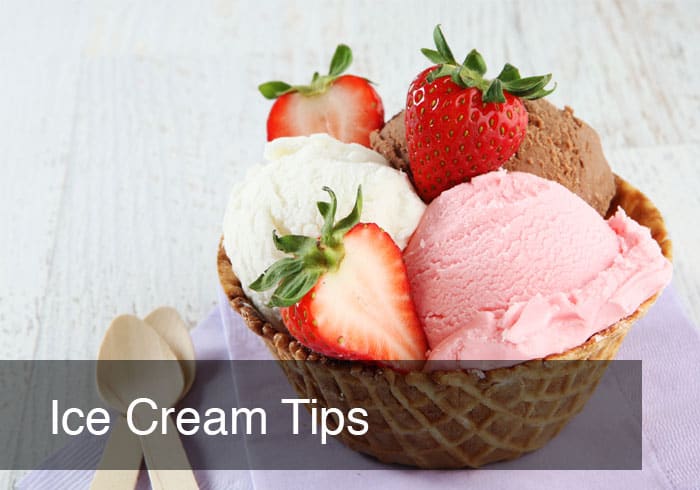 ♥ Enter our latest Blender Giveaway! ♥

HOW TO MAKE ICE CREAM IN YOUR BLENDTEC OR VITAMIX BLENDER:
The trickiest thing to make in your blender is when you use it as an ice cream maker. Once you get it down, it's a BREEZE!
FOR EITHER BLENDER
We prefer using mostly frozen fruit, such as bananas, to make rich and creamy ice creams. Also, many of our community members want to create the SAME texture as store-bought ice cream. You can do this by adding your blend to an ice cream maker and following it's instructions. You can ALSO add your blend to a freezer safe container, place in freezer and stir every half an hour. (This is recommended for recipes that are mostly frozen fruit, not mostly ice.)
Remember One Thing – KNOW YOUR ICE!!
FOR BLENDTEC & VITAMIX ICE CREAM: We usually add wet ingredients and/or fruit, then finish by filling with ice near the top of the 64oz blending jar – usually around 4 cups of ice. That is if NO FROZEN FRUIT is used.
USE LESS ICE IF USING FROZEN FRUIT! 
Our recipes assume that you will be using crescent- shaped ice cubes (the kind from your ice cube tray or maker). If using different kinds of ice, you may need to adjust the amounts of ice used in each recipe.
♦ Crushed Ice: Increase amount of ice by ½ cup
♦ Tray Ice: Allow ice to sit out for 5 minutes before using
♦ Wet/melted ice (such as store bought OR long sitting home ice): Increase amount of ice by ½ cup
Keep in Mind: Ice Cream is similar to baking – measurements matter! Meaning: 4 oz of liquid means 4 oz – too much liquid and it will be runny, too little it will have ice crystals

For the Twister Jar: It's much easier to make thicker blends such as ice cream with the standard sized twister jar (we prefer it over the mini twister jar – see our review). However, you can't make as much ice cream with the twister jar. We prefer it when making our favorite "nice cream" ice cream recipes.
For the Fourside and Wildside Jars: If you have too much ice, the ingredients freeze up in the blending jar – forming an air pocket around the blade also known as "cavitation".  If this occurs, stop the machine, pick the jar up off the base ad shake out the air pocket. You can also use a spatula to push the ingredients into the blade. Then replace jar onto base and use the speed up key to speed 3 for a few seconds, then to speed HIGH until a star shape forms at the top.  Stop machine once star shape forms, do not let it run the full timed cycle or it will start to melt the ice cream.
If you have too little ice, the blend will be runny.  If this occurs, add 2 oz of ice and follow steps as above.

You will definitely need to use the tamper to push the frozen fruit and/or ice down into the blade to crush it.  The tamper should prevent any cavitation, just keep blending until you see the swirl shape form at the top and it's a thick consistency. Do not overblend.
SUBSTITUTION TIPS
1) To change an ice cream recipe into a lowfat/no fat recipe, substitute the cream with any of the following options: non-dairy creamer (we like healthy So Delicious), lowfat or skim milk, or milk substitutes such as coconut milk, almond milk, rice milk or soy milk.
2) When the recipe calls for sugar, you may use any kind of desired sweetener (we recommend keeping it natural with honey, stevia, or dates)  If you are using a liquid sweetener, such as honey, then use only 1/3 the amount that the recipe calls for.
Let us know if our tips helped your ice cream making or if you have questions in the comments! Be sure to join our community for free access to healthy blender recipes, tips, and giveaways! As always, HAPPY BLENDING! :)
Free Recipes, Tips, and Giveaways