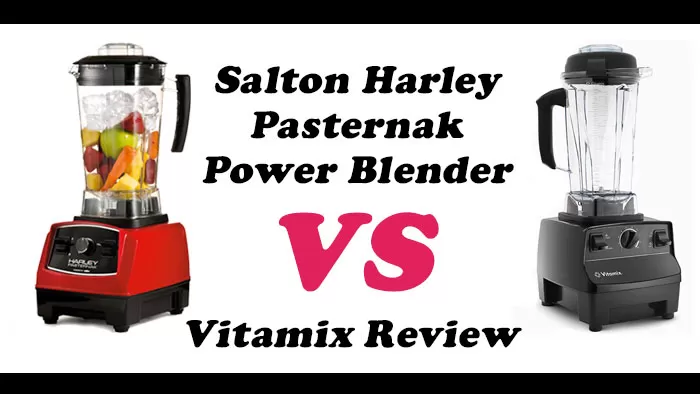 LIMITED TIME OFFER! $50 Off using Promo Code "BlenderBabes50"! Get the Harley Pasternak blender for $149 (USA) or $179 (CANADA) + Free Shipping + Free Gifts!!
Salton Harley Pasternak Blender Review
Harley Pasternak is a cutting-edge fitness/nutrition guru to some of Hollywood's most talented stars. His Super–Hot clientele include Lady Gaga, Halle Berry, Robert Downey Jr., Katy Perry, Robert Pattinson, Rihanna and Jessica Simpson (just to name drop a few).
He holds a Master of Science in Exercise Physiology and Nutritional Sciences from the University of Toronto and is a New York Times Bestselling Author whose books have been featured on every major daytime talk show and popular print publication imaginable (we really enjoyed the insights and recipes from Body Reset Diet).
In his first book Harley told followers to go and buy Vitamix or Blendtec, stating you need a really good blender.
He then received a bunch of fan mail advising they couldn't afford the higher end units on the market.
So he reached out to Salton to help create a powerful machine that is comparable to the other high end units in the market but at an affordable price.
So Harley teamed up with Salton to create this Professional Grade High–Powered Blender, which today Blender Babes is going to reveal the results from our thorough testing of this blender, including top tests comparing to the popular Vitamix 5200 —one of their tried, trusted and true Certified Reconditioned Vitamix models…
Currently the Harley Pasternak Blender can be purchased direct from Salton Group and the price is $199.99. Canadian buyers, click here for the Canada website with a price of $229.99
BENEFITS OF PURCHASING THROUGH BLENDER BABES

Blender Babes is proud to be able to offer exclusive discounts to our tribe on many of the healthy lifestyle products we discuss. Get $50 Off using Promo Code "BlenderBabes50" so the Harley Pasternak blender by Salton is $149 (USA) or $179 (CANADA) + Free Shipping + Free Gifts!

1) FREE SHIPPING: You will receive FREE SHIPPING for purchasing blenders from Blender Babes using the links from our website. Shipping is free to both the USA and Canada and is valued up to $25!

2) EXCLUSIVE FREE GIFTS: By using the links from our website just before making your Harley Pasternak Blender purchase, and Promo Code BlenderBabes50 you will receive $50 in free gifts*** exclusively from Blender Babes! Learn More about our current free gifts offer.

***Make sure to forward your confirmation purchase email from the Salton to FreeGift@Blenderbabes.com to redeem (it is not automatic)!

3) PAYMENT BY CREDIT CARD OR PAYPAL: Salton offers several options to pay if you're in the USA or Canada.

ORDERING INSTRUCTIONS: To purchase any color Harley Pasternak blender with free shipping: add your desired item to your shopping cart and upon checkout use our special Harley Pasternak Promo Code: BlenderBabes50. This will apply FREE GROUND SHIPPING to the USA & CANADA!
So if you're on a super tight budget but still need and want a high-powered blender to dramatically reduce the time it takes to prepare healthy meals at home (while rocketing your diet and exercise routine to the next level!) this sleek new affordable creation just may be the One for you!
But as the Blender Babes community knows all too well, ya need ta craft a pretty solid machine – AS WELL AS price it well enough – to stand any chance of competing with Blendtec and Vitamix's awesome engineering, staggering versatility and legendary dependability
So let's see just how well Mr. Hollywood's invention actually measures up!
Straight outta the box it's clear lots of thought went into this machine; you don't get the sense at all that some weird random company just paid Harley gobs of cash so they could slap his high-profile name all over their inferior product.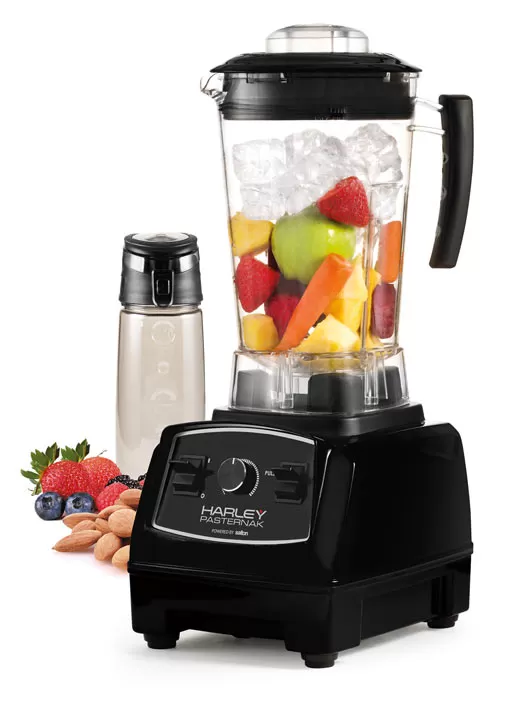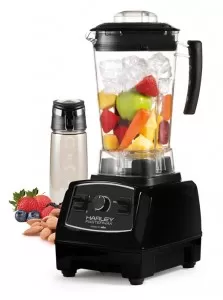 The box is sturdy and secure. The Stylishly Chic yet Totally Cute Candy Apple Red blender came outta the tightly-packed box cleanly, looking every bit as sharp as it does in its picture. Right away we felt its powerful center of gravity, though at just over 9 lbs. it does weigh less than standard Vitamixes…
We noticed how similar each blender looked next to each other, from the base with variable speed control and pulse, the mounting, the drive socket, the tall BPA free jar and the tamper.
Immediately the Babes fired the HP Power Blender up (without any ingredients thrown into the sturdy jar with its tight-fitting lid) just to hear how well it roared to life – and we could all hear right away that it ran just as loud as our other high power blenders.
But to be fair it also sounded like one hell–of–a well-oiled, finely-tuned machine that was ready for any recipe we threw into it…
So at this point our hopes were running on high!
The Motor: 2-Peak Horsepower 1,500 Watt Motor hitting a maximum 30,000 RPMs.
The Dimensions: 7.3 Inches Wide by 19.9 Inches High by 8.6 Inches Deep
The Container: 2 Liter/Quart (64oz) BPA Free Triton Jar with Cup & Millimeter markings.
The On-the-Go Bottle: 24 ounces of Super Sleek Convenience with a Spill-Proof Flip-Top Lid.
The Blade: Eight (8) Stainless Steel Multipurpose Blades for consistent blending—which connect to the Hardened Metal Drive Socket & Motor Base via a Locking Nut for reliable dependability.
The Controls: Variable Speed Control & Pulse Switch, giving you complete control of the machine.
The Tamper: Perfectly designed for safe effective use for all of your tougher/thicker recipes—rounding out every high-powered blending accessory you'll need to handle any creation you can imagine!
The Color: 12 FUN colors were just released at Salton.com including pink, mint, purple, tangerine and more! (YAY! SO EXCITED ABOUT THIS!)
Some Observations on the Salton Harley Pasternak Blender Design vs Vitamix Design
The Motor: This powerful motor has a high RPM, however it does not have the same low RPM that the Vitamix has. A low RPM allows for more control when blending on low.
The Dimensions: The Vitamix is a little taller than the HP Power Blender.
The Container: The clover shaped container has a wider base than the Vitamix 64 oz tall standard jar – which is to help eliminate pockets of unblended food. It also made it a little easier to get all ingredients out of the bottom, however it does make it harder to blend small amounts.
The Blade: 4 of the 8 blades have serrated/sawtooth edges and the other 4 are angled. This helps to pulverize ingredients, however need to be careful when cleaning around the blade.
The Controls: Both have a Variable Speed Control Dial. The HP Blender has a separate PULSE feature while the C-Series (Vitamix 5200) does not. (Note: Vitamix can still pulse by turning the machine on and off to equal one pulse.)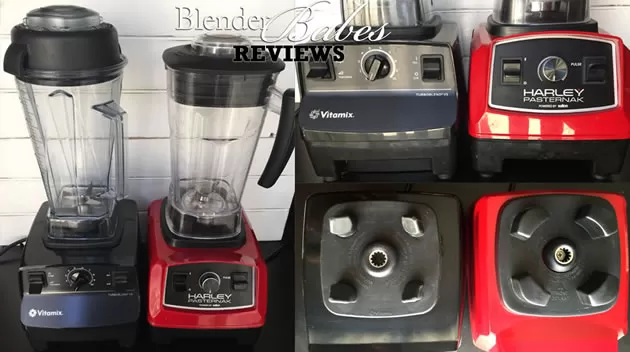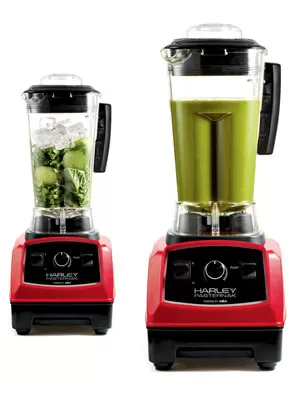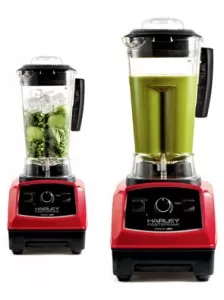 First up we wanted to see how the Harley Pasternak blender handled a highly fibrous Green Juice Recipe. Since most people want to be able to blend kale, celery, carrots, etc. into a smooth liquid, this is the first test we do with a blender.
As expected Vitamix obliterated everything Super Fast – yielding a Silky Smooth delicious glass of pure green energy! Just like we knew it would.
The Harley Pasternak Blender took a few moments to finds its rhythm as it adjusted to the weight of the ingredients, but as soon as it did with a little help from the tamper, it whipped all of veggies and water into a Beautifully Smooth juice, which was clearly seen with both a smear test and after having been poured through a sieve.
Note: Both blenders created green smoothie foam from the insoluble fiber in the ingredients. This is normal for high power blenders, however the HP Power Blender did produce more foam than the Vitamix.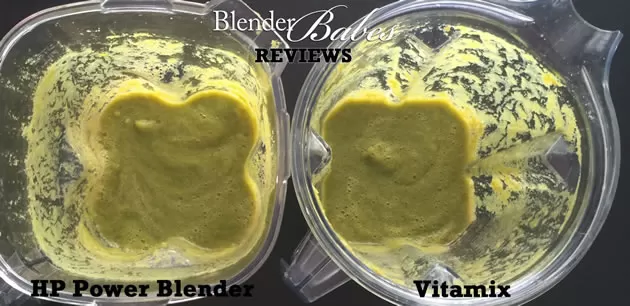 Conclusion: It took a bit more time to create the same silky smooth green juice consistency, however the result of this test were pleasantly surprising! Some other mid-tier blenders we've tested didn't even come close.
Easily one of the most jaw dropping features high-powered blenders possess, the ability to create HOT soups just from the friction generated by their amazingly powerful blades. The Babes were thoroughly impressed with how efficiently Harley Pasternak's Power Blender produced delicious and piping hot soup!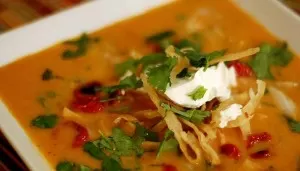 The HP Power Blender took just a little over six (6) minutes to transform our hearty Tortilla Soup Recipe, which features nourishing broth, raw unchopped carrots and tomatoes combined with fresh cilantro and seasonings, into a hearty soup…
And just like more expensive Vitamix blenders, the billowing savory aroma flowing outta the jar the moment we opened the lid not only had us instantly salivating, but our energizing blend registered a near perfect 143.3 degrees Fahrenheit!
Based on these remarkable results, we then added hearty black beans, rotisserie chicken and crunchy tortilla chips, and quickly pulsed to create a chunky soup!
Conclusion: It took the same amount of time to turn cold ingredients into a piping hot soup as our Vitamix! (Sorry, we didn't get a photo of this!)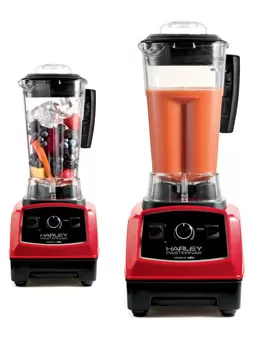 Next up we subjected Mr. Hollywood's blender to 90 seconds of Blender Babes' telling Berry Seed Test, which given how difficult raspberries, strawberries and blackberry seeds are to fully blend – makes for one of the toughest high-powered blender smoothie challenges there is…
But not for the Vitamix 5200, which created a Silky–Smooth Smoothie almost instantly! Within 60 seconds our Vitamix produced a berry rich smoothie with only minor traces of seeds remaining – and at 90 seconds rendered a Seed Free (and Lusciously Delicious!) Smoothie with the consistency of practically pure juice…
The HP Power Blender fared much better with this test, but couldn't match Vitamix's superior performance pulverizing 2 cups of berries. Though its 8 Stainless Steel Blades sliced through all the ingredients with fast impressive force, at 60 seconds the HP Power Blender's smoothie we tasted shards of seeds. At 90 seconds, we used a sieve which clearly showed more berry seeds left with the Harley Pasternak Blender.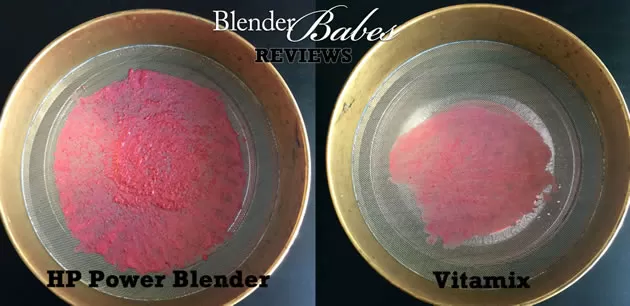 Conclusion: The Harley Pasternak Blender left some berry seeds but otherwise yielded virtually the same juice consistency as our Vitamix. If berries are in your smoothie, expect a few pieces of seeds.
Though still considered somewhat of a niche feature, having the ability to make your very own nutritiously decadent spreads in minutes is rapidly increasing in popularity – and is an absolute necessity for many health enthusiasts… So to determine how well the HP Power Blender fared with the nut butter challenge, we used two (2) cups of roasted peanuts—that's it!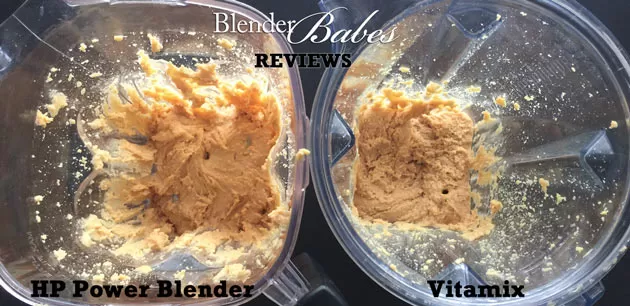 The HP Power Blender needed just over three (3) minutes to turn these crunchy protein powerhouses into amazingly fresh butter… But given that less than 3 cups of nuts were used, we clearly saw that the tamper couldn't reach the jar's corners to easily push the ingredients toward the blades (much like our ice cream test).
So two and a half (2.5) minutes into the blend, though it was almost done to our liking, the butter wasn't gettin' any creamier—at which point we stopped the machine and took the lid off to push the butter toward the center of the jar with a spatula, and after thirty (30) more seconds of blending we were rewarded with a perfect creamy consistency!
Our Vitamix on the other hand needed only a minute and a half (1.5) to reach the exact same consistency from the same amount of nuts, which with its tall standard narrow jar, made assisting the blend with the tamper much easier to accomplish.
Conclusion: The jar of the Harley Pasternak blender may need 3 cups of ingredients to perform certain tasks without needing to take the lid off and help out. It takes a little longer to grind nuts into a creamy butter but it still completes the task.
As many of our community members know (and why our Ice Cream Tips is a top post), creating your own healthy homemade ice cream is one of the trickiest blender recipes to master – but once ya get it down you won't need to visit neighborhood ice cream parlor imaginable!
Blender Babes' general rule of thumb is to use as little liquid as possible, while ONLY utilizing Frozen Fruit to keep everything Decadently Rich & Thick – otherwise you can quickly end up with a smoothie (which can ultimately make tons of ice cream practice pretty yummy)!
Always start with less liquid, adding more as needed – usually we start off with just two (2) tablespoons… Using 2 cups of frozen banana chunks and strawberries, as well as half a frozen acai packet, we set out to make one of our favorite flavors of Banana "Nice Cream"…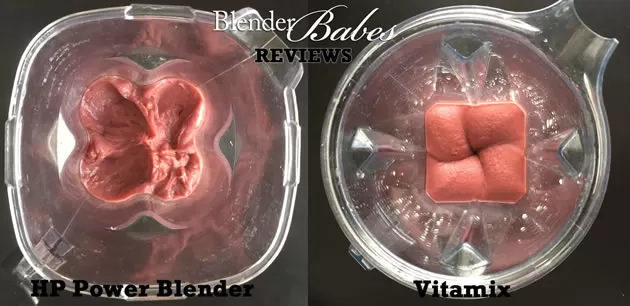 The HP Power Blender required just a bit more liquid than a Vitamix needs to turn two (2) cups of frozen fruit into a soft serve ice cream (using about a half cup of liquid in all).
When we tested with 2 cups of ingredients, the tamper couldn't reach the deep corners of the wider based jar, so when the ingredients got stuck, the machine had to be stopped and the lid removed, so that we could then push the rest of the ingredients toward the blades with a spatula to finish making our ice cream! (Note: When we tested this recipe again with 3 cups of fruit and 3/4 cup of liquid, the tamper was all we needed to create our Nice Cream!)
Conclusion: The Harley Pasternak Blender can turn ice and frozen fruit into healthy ice creams. If you want to make less than 2 servings you will probably need to remove the lid and use a spatuala to push ingredients towards the blade.
Brown rice was used to perform our grinding test to see if the HP Power Blender could turn grains into flour effectively. This feature is especially helpful for those wanting to create their own gluten-free flours and gluten-free recipes, which more and more people are doing… Plus who doesn't totally love being able to grind coffee beans for a heavenly French press, as well as turning flax and chia seeds into nourishing meal, both of which are the perfect inexpensive Superfood Boosts that can easily be added to smoothies!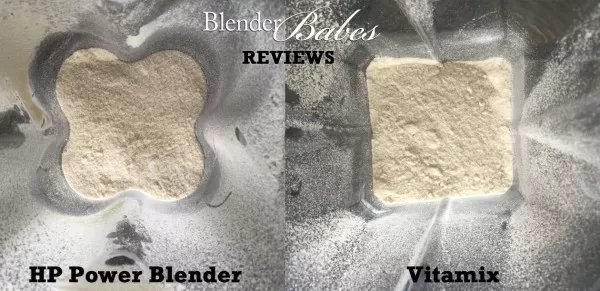 Having blended wet, hot and cold ingredients with ease, we were confident that the HP Power Blender could handle dry ingredients.
One (1) cup of whole grain brown rice got thoroughly obliterated into rice flour in a little over a minute… which when compared to our Vitamix in both its standard 64-ounce wet jar, as well as its dry goods jar (which is about $100 additional to buy), both jars ground the rice into flour to the exact same consistency as the HP Power Blender—but they did so in a less time, roughly 30 seconds.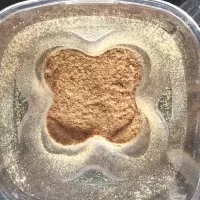 We also tested grinding flax seeds in the Harley Pasternak blender. We didn't have quite a cup so couldn't cover the blade completely, however it was still able to grind whole flax seeds into flax meal quickly and easily, in only 37 seconds!
Note: The Power Blender's manual clearly states that "chopping/grinding hard ingredients may scratch or mar the inside of the Jar"—though this will in no way alter the performance of your blender. However, this kind of continued use may dull the blades… After our initial tests we noticed some VERY slight scratch marks in the jar. This is completely normal and also happens with Vitamix and Blendtec blenders.
Conclusion: Although it took a little longer than the Vitamix to achieve the same consistency, we were overall pretty impressed by the Harley Pasternak Blender's grinding abilities—especially since you can grind in the same jar without having to purchase a separate/specific grinding jar!
Being able to grind ice into snow efficiently helps to create restaurant quality cocktails, ice creams, and smoothies. But this simple task can prove troublesome for most blenders.
At 60 seconds with moderate tamper assistance, as well as the powerful vortex created by Vitamix's specially-designed container, the Vitamix 5200 easily crushed two cups of cubed ice into fine snow—however it did leave plenty stuck underneath its razor-sharp blades, which requires care to remove…
For the Harley Pasternak Blender we followed the manual instructions and used the PULSE feature continuously to crush 2 cups of ice. It crushed the ice into snow pretty quickly!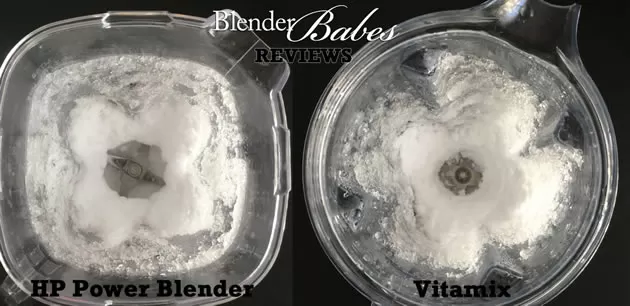 Conclusion: You can turn ice into snow just as well as the Vitamix can, the only difference is you use the PULSE feature and not the variable speed dial.
One of the best things about a high powered blender who's blade does not need to be disassembled from the jar – is the super easy clean up!
Similar to a Vitamix, to clean the HP Power Blender all you have to do is add some warm water and dish soap and blend. You want to fill the jar a little more than halfway with water, so that it will better reach the lid when splashing the dish soap around.
As discussed in the Design observations, the 8 blade design includes 4 sawtooth edges and 4 angled blades, so be careful when cleaning same as you would a Vitamix. Since the HP blender has a wider base than the Vitamix 64 oz tall jar, it was easier to clean around the blade.
Conclusion: Easy to clean is always a plus in our book. The manual also gives some more clean up tips than just regular jar cleaning (i.e. how to clean the base, periodic sanitization, etc.)
Warranty Info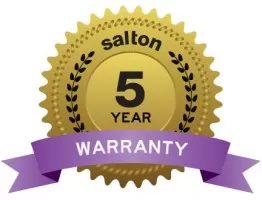 The Harley Pasternak Power Blender comes with a 5-year Limited Warranty. This is much longer than most other mid-tier blenders we have seen and/or tested.
This Limited Warranty only extends to the original owner—and is only valid with the original sales receipt.
Salton Canada states that its Harley Pasternak Power Blender "shall remain free from defects in material and workmanship for only five (5) years from the original purchase date," wherein which at their discretion—they'll either make repairs, replacements, or issue a refund…
Note: Any refund will be issued at a pro-rated value based on the remaining period of the warranty.
Their warranty does not cover the cost of shipping, so should your Power Blender need any legitimate repairs, these costs will come out of your own pocket.
Final Thoughts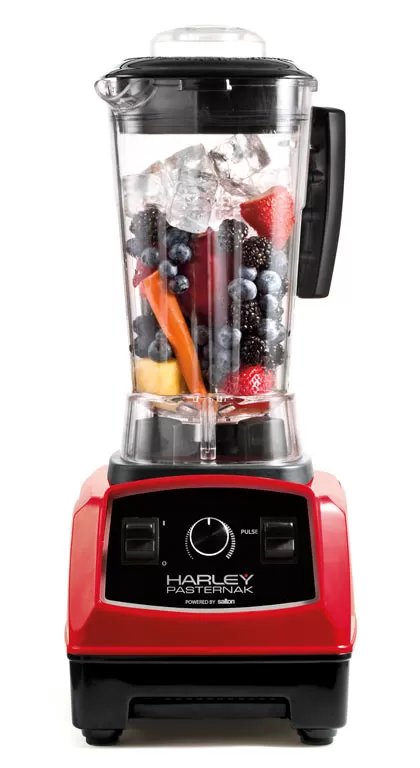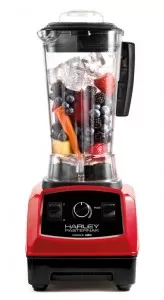 Harley Pasternak's Blender does indeed offer noticeably better performance and is engineered and constructed with far superior workmanship than that many of the other mid-tier (i.e. $150-$250 price point) high-power blenders currently on the market. At its current $199-$229 ($149-$179 with our exclusive promo code) price point it is much more affordable than other brand high power blenders starting at $400+. We think this may be the perfect blend of power and affordability.
The Harley Pasternak Blender was able to do everything our Vitamix could do in our tests except completely obliterate berry seeds, however this is one of the hardest things for any blender to do. (Note: the only test we didn't perform was making bread dough.)
The vortex in the HP Power blender is not as strong as the Vitamix. Therefore, it might take a little longer to complete some tasks, but if you have the extra 30 seconds and can work that tamper, you should be good! If this price point works best for you and your budget, then it just might be the perfect blender for you.
LIMITED TIME OFFER!

$50 Off using Promo Code "BlenderBabes50"! Get the Harley Pasternak blender for $149 (USA) or $179 (CANADA) + Free Shipping + Free Gifts!!
Thanks for taking the time to read our Harley Pasternak blender review. Please ask any questions in the comments below!

We're happy to assist you on your health journey, and as always, Happy Blending!
Disclaimer: Sponsored post. Salton Group provided the blender for this review and giveaway. All findings and opinions are my own. Click here to learn more about Blender Babes' Editorial Standards.
Congratulations to the winner of our Harley Pasternak Blender Giveaway… Stacey R!