VEGAN AND GLUTEN-FREE BLUEBERRY LEMON TART RECIPE FROM KITCHEN CURES COOKBOOK
This vegan and gluten-free blueberry lemon tart recipe is tangy and sweet, with a satisfying creamy texture. This recipe is sure to impress, both visually and by taste!
This is an excellent vegan dessert with a creamy custard type filling that you can then top with any berries you have on hand.
This beautiful blueberry lemon tart is dairy-free, wheat-free, gluten-free, and soy-free and the lemony cashew-cream filling is packed with vitamin C and protein.
Would you believe this tasty tart aids in muscle recovery?
Loaded with antioxidants and minerals, such as magnesium, this recipe will help increase bone strength and promote relaxation, a true Kitchen Cures recipe!
Well there you have it – one of the healthiest desserts you can make for yourself. And the taste? Absolutely delicious!
Did you blend this up today in your Blendtec or Vitamix blender? Try this recipe? Then leave us a comment below and rate it!
Don't forget to join our blending loving tribe to get updates with new recipes and giveaways from Blender Babes.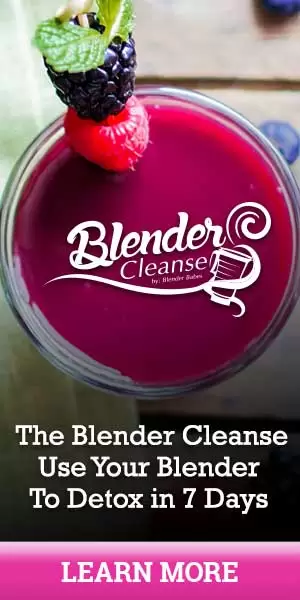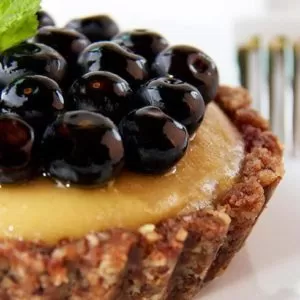 Blueberry Lemon Tart
Ingredients
For the crust:
2

cups

raw pecans

2

cups

raisins
For the filling:
1 1/2

cups

raw cashews

1

large lemon

juice and zest

1/4

orange

juiced

1

teaspoon

vanilla extract

1

tablespoon

ground chia seeds

1/3

cup

maple syrup

1/2

cup

sweetened coconut water

or plain water
For the topping:
1 1/4

cup

wild blueberries

1/2

teaspoon

vanilla extract

1

teaspoon

ground chia seeds
Instructions
For Crust:
Process in a food processor or high powered blender until it becomes a smooth paste. Press into four 6-inch fluted tart pans, or press into one larger 10 to 12 inch springform pan or tart pan and put in the freezer. (This part can be done ahead).

For

Blendtec

:Using Twister Jar: Blend on Med-High, turning the lid counterclockwise. Using Fourside/Wildsie Jars, pulse 5 times, then scrape down and repeat 2 or 3 more times until mixture looks like coarse crumbs. Blend on HIGH until sticky.

For

Vitamix

: Start blender on Variable Speed 1, turn machine on and increase to Speed 5. Use tamper to ensure the raisins and pecans are getting into the blades. Once it is blending without the tamper, increase to Speed 10/High until material is sticky (about 1 min total).
For Filling:
Add all ingredients to a high powered blender jar and blend until smooth. Poor in more coconut water as needed while blending to make a smooth but thick mixture.

For

Blendtec

: Blend on speed 4 or Medium for 10 seconds, then increase to speed to 8 or High for 10 seconds. Pour into prepared crust.

For

Vitamix

: Start on Variable Speed 1 and slowly increase to Speed 10/High. Blend until smooth.

Scrape filling into tart shells.

Chill overnight. before serving.

For Topping:
Add 1/4 c blueberries, 1/2 t vanilla, and 1 t ground chia to food processor or blender and puree until smooth.

For

Blendtec

: Blend on Medium Speed for about 10 seconds.

For

Vitamix

: Start on Variable Speed 1 and slowly increase to Speed 10/High for about 20 seconds.

Transfer to a bowl and stir in the remaining cup of whole blueberries.

Spoon topping onto tart filling. Refrigerate until ready to serve.

All done! Enjoy!! Now take a photo, rate it, and share your accomplishments to enter our

weekly photo contest

! 🙂 Tag @BlenderBabes & #BlenderBabes
Notes
For Vitamix: Tested using a 64oz tall jar with 3 inch base. For the 64oz compact jar with 4 inch base, may need to increase amounts to work properly.
Nutrition
Serving:
8
g
Calories:
452.9
kcal
Carbohydrates:
42.1
g
Protein:
8.5
g
Fat:
31.4
g
Saturated Fat:
8
g
Sodium:
7.2
mg
Fiber:
4.1
g
Sugar:
26.4
g
BLENDER BABE RECIPE TESTER NOTES
"You can use walnuts instead of pecans for the crust and it will still turn out great!"
"Try varying the fruit with the season or with any berries you have on hand: red raspberries, blackberries, black raspberries, strawberries."

FUN FACTS & HEALTH BENEFITS OF CHIA SEEDS
Do you sometimes wonder what it is about this new Chia craze? Why is everyone eating these tiny seeds? Well, here are some things you should know:
Chia seeds contain huge amounts Omega-3 Fatty Acids. 60% of these little seeds are in fact, omega-3s. This can help reduce high cholesterol, reduce inflammation, and give you some well deserved brain power! If you consume 1 gram of chia seeds, you are consuming 137 calories but only 1 gram of carbs! Talk about guilt-free. If you take only 2 tablespoons of Chia, you are getting 10 grams of fiber. Chia seeds can last up to two years WITHOUT refrigeration! 
Excerpted with permission from Kitchen Cures by Peggy Kotsopoulos. Published by Pintail a member of Penguin Group (USA) LLC, A Penguin Random House Company.
CONGRATS TO BLENDER BABE KAREN D! WINNER OF KITCHEN CURES + VEGA ONE PROTEIN!