HOW TO MAKE SMOOTHIE FREEZER PACKS
Plan Ahead AND Have the Best of Both Worlds!
The Convenience of a Store Bought Smoothie with the Healthy and Less Expensive Ingredients YOU Want!
Smoothies are the perfect choice for a healthy breakfast.
I obviously LOVE smoothies, especially green smoothies.
Green smoothies make it super easy to get all the nutrients and benefits from the greens (for instance spinach and kale) along with the delicious taste of your favorite fruits.
For all the parents out there, this is also the perfect way to get your picky eater to drink up some greens!
While I love smoothies and love to have one every morning to start the day with a healthy kick, I don't always have enough time to put together a fresh smoothie on the spot.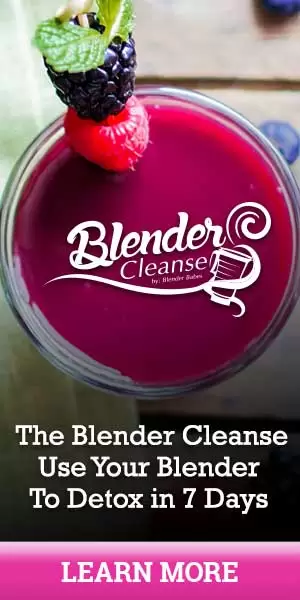 By preparing convenient smoothie freezer packs ahead of time, it makes it so easy to have healthy smoothies ready whenever you need them!
Freezing spinach and other greens does not have an effect on the taste of the smoothie, or on its nutritional value.
In fact it does wonders to help reduce green smoothie foam!
It's so easy to take your favorite recipe and make it into a smoothie freezer pack.
Perfect for Blender Babes on the go! 🙂
BLENDER BABES HOW TO VIDEO
5 STEPS: HOW TO MAKE SMOOTHIE FREEZER PACKS
1. PLAN
At the beginning of each week, buy the ingredients you will want to add to your smoothies.
To save the most money, I recommend buying in bulk and simply interchange the quantities of each ingredient, omit, or add 1 other ingredient to change the flavor you want to enjoy every morning.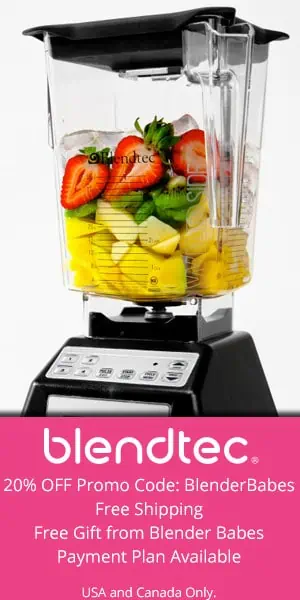 2. PREP
Thoroughly wash your fruits & leafy greens, even if they are organic. If you are using a regular blender, you MUST chop your fruit and greens into a minimum of one inch pieces.
With a good high powered blender you don't have to worry about having large pieces in your mix (yay! save on prep time!), just at minimum cut things in half (make sure to remove citrus rinds and core your apples since the seeds aren't good for you!).
Make a few smoothie freezer packets so that you have ready-made smoothies already prepared for the rest of the week.
Add all the ingredients for your smoothie, but exclude the liquid base.
This will be added right when you're going to blend up your smoothie.
3. LABEL
Always label your freezer packs with the date it was created and how much liquid to add when it's time to blend your smoothie.
Note: You will not need the ice recommended for the smoothie if you blend from frozen, however if you thaw it overnight beforehand (recommended) you will need to add ice.
4. BLEND
Smoothie time! Take one smoothie freezer pack out and blend all the ingredients. Don't forget to add your liquid base, blend until smooth.
You can either blend straight from your DIY smoothie freezer pack or you can defrost the pack in your fridge the night before (recommended). It doesn't get much easier than this!
BLENDER BABES TIP

I recommend to defrost the packet overnight if you are blending the smoothie in the morning. If you blend from frozen however, you will probably need to add 1/2 to 1 cup more water or other liquid in addition to what the recipe normally calls for and you wrote on the bag – otherwise you will be making green smoothie ice cream! Blending from frozen is doable for a high blender, however it's not recommended for a low power "regular" blender – I don't want you to burn out the motor.

If You DO Blend From Frozen:
Blendtec: Add more liquid. Use the SOUP or HIGH setting and blend for 2 to 3 minutes or until smooth.
Vitamix: Add more liquid. Use VARIABLE Speed 10/High for 2 to 3 minutes or until smooth
5. GO
Want to pack a smoothie for lunch or for your kids' lunch? It's super easy! The night before, just place a thermos cup in your freezer.
In the morning, when you're making your smoothie, remove the thermos from the freezer and fill with your freshly blended delicious smoothie!
Check out our list of favorite smoothie and green smoothie recipes for some great, healthy smoothie ideas!
Put your new skills to the test during our FREE 7 Day Superfood Smoothie Challenge! Live Healthy, Eat Healthy!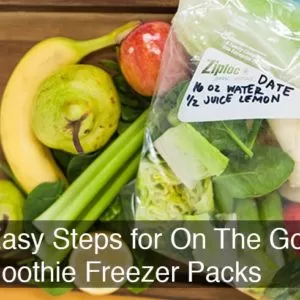 Kimberly Snyder's Glowing Green Smoothie
Save money and enjoy a delicious smoothie!
Total Cost: $2.84
Cost per 16 oz. Serving: $1.42 Serves: 2
Smoothie Shop 16 oz green smoothie: $6 - $10
Ingredients
12 to 16

oz.

filtered water

1

head of organic romaine lettuce : $.83

1

cup

organic baby spinach : $.33

3

organic celery stalks : $.19

1

organic apple

cored : $.24

1

organic pear

cored : $.89

1

organic banana : $.25

Juice 1/2 organic lemon : $.11

1

cup

ice

*as necessary
Instructions
Place ingredients in the jar in the order listed.

*Cup of ice should be added to fresh and refrigerated ingredients. For frozen ingredients ice is not necessary.

Blend until smooth. Enjoy!