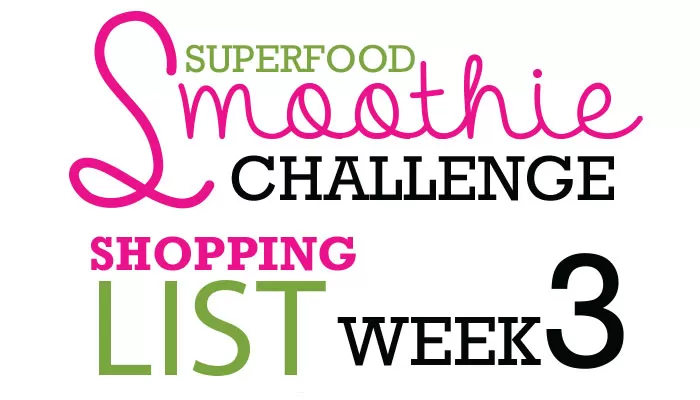 SUBSTITUTION IDEAS

Optional – only buy this if you will use it again, otherwise omit.
Coconut water – more milk substitute or spring water
Cherries – plums, raspberries or blackberries
Banana – Mango or avocado
Bluberries – Cherries or raspberries
Raspberries – Strawberries, blackberries or cherries
Avocado – Roasted (chilled) squash
Almond Butter – 18 almonds or hemp, pumpkin or sunflower seeds
Chocolate protein powder – Any protein powder of choice
Dates – Any natural sweetener (honey, maple syrup, stevia, coconut nectar, etc.)
Nutmeg – Garam masala or cinnamon
Allergic to ? – If can't find a good substitution, just omit
WEEK 2 RECIPES
DAY 15: Chocolate Cherry Protein Smoothie – Cherries and chocolate are the most heavenly combination, and is basically dessert in a cup! Plus, there's an extra antioxidant surprise: another berry, the goji berry!
DAY 16: Chocolate Covered Blueberries Green Smoothie – Pump it up with this high-protein smoothie, that's green AND great! Check off your daily dose of Vitamin A and start your day with a bang.
DAY 17: Spice It Up Healthy Raspberry Smoothie – Tart and tasty is just what the doctor ordered for this fruity cacao smoothie. Spice and everything nice is a must: both nutmeg and cinnamon take center stage in this flavorful blend.
DAY 18: Bobbi Brown Chocolate Kale Smoothie – Adapted from a favorite by makeup artist Bobbi Brown, this fabulous smoothie is a thick, rich, decadent chocolate milkshake that also happens to be packed with nutrition.
DAY 19: Vegan Chocolate Goji Berry Smoothie Recipe – Breakfast or dessert? We'll let you choose, but either way this delicious drink is jam packed with superfoods. From goji berries, kale and cacao it's really hard to find something to frown about… except when it's gone of course.
DAY 20: Almond Joy Protein Smoothie – Ditch the sugary chocolate bars, and upgrade the superfood savior smoothie! Thick like ice cream, but minus the fake sugar, we love this creamy coconut smoothie, which will stop those desert cravings in their tracks!
DAY 21: Take this last Solo Sunday to reflect on what you have accomplished over the last 21 days! BE PROUD OF YOURSELF!
What do you like most in your superfood smoothies? Make one today that you know you will really enjoy.
Use up the last of your cacao or berries and consider what continuing to drink superfood smoothies can do for your health, mind, body, and spirit as you move forward.
Interested in getting one of the best high powered blenders on the market? All purchases made through Blender Babes come with Free Shipping + Free Gifts from Blender Babes! CLICK HERE to Learn More!