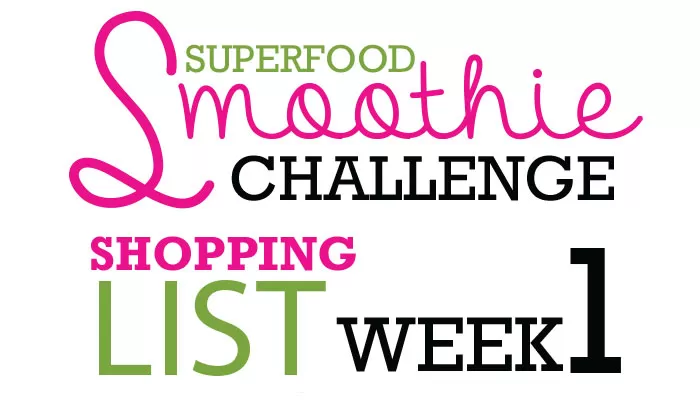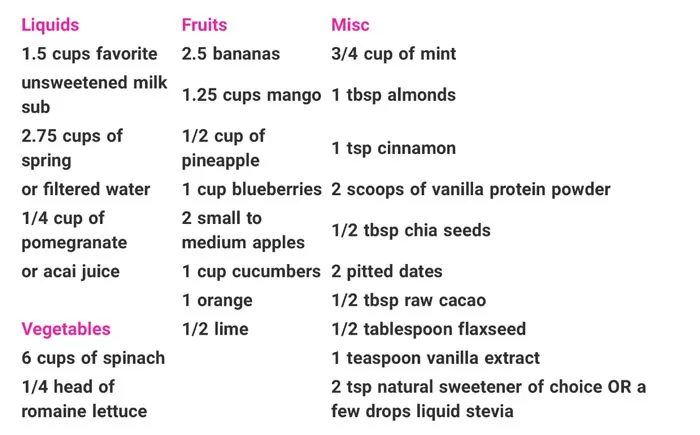 SUBSTITUTION IDEAS
Acai or Pomegranate juice – just use more milk sub
Flaxseed – chia seeds
Banana – Mango, avocado or oatmeal
Orange – Mango, kiwi or paypaya
Apple – Pear
Almond – Hemp, pumpkin or sunflower seeds
Mint – Peppermint extract or essential oil (food grade)
Cucumber – Jicama or zuchinni
Dates – Any natural sweetener (honey, maple syrup, stevia, coconut nectar, etc.)
Allergic to ? – If can't find a good substitution, just omit
WEEK 1 RECIPES

DAY 1:
Weight Loss Green Smoothie
– Both simple and tasty, we love this smoothie because of how perfectly the flavors combine. Not only does it have our superfood week theme of spinach, but also a tangy detox fruit, pineapple!

DAY 2:
Dr. Oz Sweet Green Smoothie
– We are keeping that tropical train going with another spinach superfood smoothie, but this time with a mango twist! Not to mention some incredible superfoods like chia seeds, yummy!

DAY 3:
Slimmed Down Shamrock Smoothie
– Feeling pumped? Get ready for some protein to feed those muscles of yours, as well as a flavor-rich superfood: mint!

Day 7: Welcome to your first Solo Sunday! That means not only a rest in your exercise routine, but also a break from new recipes and a chance to use the rest of your smoothie ingredients!
I recommend either sticking to one of the first weeks recipes that you LOVE or trying something totally new with what you have leftover from the first week. Get creative!
Got any leftovers? You can freeze extra ingredients to use next week. Just wash and dry thoroughly before you place them in a ziplock bag or freezer safe container.
Interested in learning more more about the very best high powered blenders? Click Here!