Coconut Water – One of the Healthiest Drinks on the Planet
Coconut water is one of the most refreshing, energy-enhancing and thirst-quenchingly nutrient dense liquids money can buy—and I totally love it!
Although admittedly, most people don't regard it as such the first time they try it (including myself).
Like myself, most people fiirst try the pasteurized coconut water on the market. Some are better than others (and I use these for smoothies), however these coconut waters typically DO NOT taste like it came straight out of a coconut!
Trust me, once you've tasted a cold bottle of coconut water that tastes like you're drinking out of a coconut, it's ssssooooo super easy to get addicted to this absolutely sweet, electrolyte-laden water.
The moment you develop a taste for it, you'll start to crave it – especially first thing in the morning (perhaps after a big night out!) or after a workout.
Real, beautifully pure organic coconut water has a powerful yet delicate flavor, rich aroma, and is bursting with so much nutrition that even a small glass of it is enough to light up your metabolism and quench your thirst!
Coconut Water Health Benefits & Nutrient Composition
Coconut water contains a unique combination of B vitamins, vitamin C, micronutrients and phytohormones that are wonderfully beneficial for health, wellness and longevity.
It's no wonder why an ayurvedic doctor recommended to me long ago (before it became mainstream) to drink one coconut water per day due to its massive health benefits.
Cutting-Edge Research Shows Coconut Water Health Benefits:

Has antiaging effects
Fights free radicals
Lowers blood pressure
Helps prevent heart attacks
Helps regulate cell division, development and nutrient processing
But Whose Coconut Water Can You Trust?
Though packaged coconut water has been flooding the market recently, I don't want you to just stroll into any store and grab some off the shelf.
With all the major corporations pretending to be organic these days, it's hard to know whose coconut water you can trust. But like everything else in the natural health world, it all comes down to how the product is produced.
Coconut water is available in cartons and bottles, and comes in powdered, frozen, flavored, carbonated and even high-fructose corn syrup sweetened form—making it one heck of a challenge to find out if you're choosing the right one.
Ultimately you want the brand that's the least processed and still has all of its nutrients intact, which is always going to be the one made straight from a young fresh green coconut.
Young Fresh Green Coconuts
A palm tree's young fresh green coconuts are bursting with an abundance of water that's loaded with vitamins and minerals.
But as they ripen this water's nutrients naturally seep into the coconut's meat—with the water remaining behind losing most of its potency. This process can also be sped up when young picked coconuts lie on the ground too long in the sun.
Coconut oil, coconut milk and all other coconut products on the other hand are made from older mature coconuts, whose water is typically discarded because it lacks nutrition.
But there are plenty of unscrupulous companies out there who buy this old coconut water cheaply, then pasteurize, process and sweeten it all up, and turn right around and sell it as expensive coconut water—which doesn't taste anything like fresh coconut water (but does make substantial profits).
Like all produce, a coconut's overall quality and flavor is a product of the soil in which it was grown, the water and climate that nurtured it, and the surrounding flora and fauna that rounded out its environment…
All of which is why I only drink Harmless Harvest's raw organic coconut water. This revolutionary company strives to be sustainable in every possible way and relies solely on word of mouth to advertise its products—they literally have zero advertising budget! (Note: Like all of our honest reviews, Blender Babes is not compensated for this post.)
Harmless Harvest – the One & Only – 100% Raw, 100% Organic
Harmless Harvest is my absolute favorite brand of coconut water! It's the best coconut water out there and truly tastes like they poured it right out of a coconut that was just picked off a tree! And as it turns out, there's a reason why!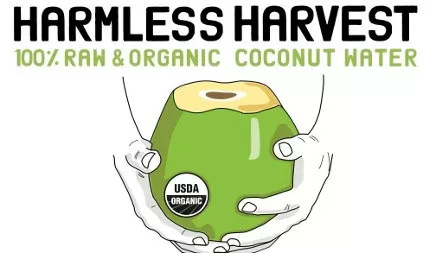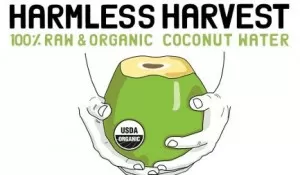 Harmless Harvest thoroughly understands that they're only as good as the coconuts they harvest. Believing that the finest ingredients should only be enjoyed as Mother Nature intended, they revamped the entire supply chain and created the very first ready-to-drink raw coconut water.
Their luscious, 100% organic coconuts are renowned for their uniquely sweet and nutty flavor. Grown with traditional farming methods on an organic agroforestry in Thailand, their succulent coconuts are picked by hand when they're young and green—the absolute height of their delicious flavor!—lowered to the ground by rope to prevent any damage, collected with tremendous care, and shipped on boats traveling the picturesque canals that line the shores of their beautiful palm trees.
Harmless Harvest Facilities
From there it's just a short distance to Harmless Harvest's state-of-the-art manufacturing facility. Located in the heart of Thailand's traditional coconut farming region, this revolutionary company employs natives from all the surrounding villages, and pays them a fair wage.
And it's here that the life-enhancing waters of these incredibly fresh coconuts are bottled, which begins as soon as they're cracked open!
Without any mixing, homogenizing or heat pasteurization, each and every bottle remains cold from the moment the coconut is first cracked open to when it's placed in a health food store's refrigerated section (although I've seen it at regular grocery stores now, so others must have discovered the best coconut water too!!)
Preservatives are NEVER added at any point in Harmless Harvest's honest and straightforward coconut-to-bottle process, maintaining all of the natural flavor, unique aroma and super dense nutrient profile of the individual coconut from which it came.
And though all of their coconut water is clear when bottled, some bottles eventually turn pink with time. This variation is due to the natural process of coconut water's numerous antioxidants interacting with light, which is totally fine to fully embrace.
These pink bottles are just as safe and delicious to drink as all the others, which Harmless Harvest made a conscious effort not to hide in any way with dangerous additives.
They just knew that their health- and environmentally-conscious customers would understand.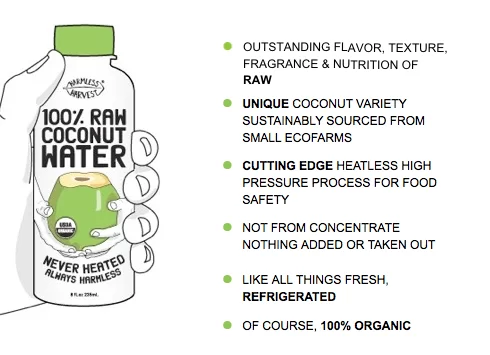 Having pioneering only the best, most ecologically sustaining farming and business practices in order to deliver the highest quality coconut water, Harmless Harvest is committed to building long-lasting relationships with all of their customers and all of Thailand's organic agroforestry communities.
They believe that production doesn't need to be destructive and with their revolutionary ecosystem based business model, they will continue to put as much of their resources back into protecting the environment as they possibly can!
Get Harmless Harvest Coconut Water in Your Health Food Store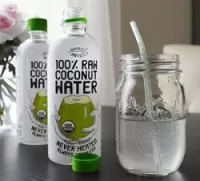 Harmless Harvest is succeeding because of how they do business—not any marketing gimmicks or seductively slick advertising campaigns.
For those wanting to help this revolutionary company grow, head straight to your health food store's refrigerator section and try some of their awesome coconut water today!
And if you're favorite store doesn't carry Harmless Harvest coconut water yet, ask them about ordering some. All it takes is a couple of people inquiring about a particular product for management to give it a try!
Be sure to let me know about your experiences with coconut water in the Comments Section, as well as where to get the best deals on this super awesome but kinda pricey all natural energy drink!
And as always, Happy Blending!