MAKE THE BEST VEGETABLE BROTH (OR BONE BROTH!) AT HOME
I was amazed when I learned in a cooking lesson how you can make the best vegetable broth using scraps!
All these years, I was throwing out valuable ingredients which, in turn, make really good homemade broth.
This recipe is so simple to make you will wonder why you've been wasting those scraps.
You could be using them to make a super delicious, quick and easy soup recipes in your blender!
Though the ease of using a bouillon cube or other flavoring or spice blend cannot be surpassed, the flavor of homemade broth cannot be beat!
And this method hardly creates any work. Just freeze, prepare, and re-freeze to have homemade broth year-round, for holidays or every day.
When making smoothies or cutting up vegetables, simply keep the parts you wouldn't use – your carrot tops, pepper remnants, potato peels, herbs, etc. – then just put all of these into a freezable zip-lock bag.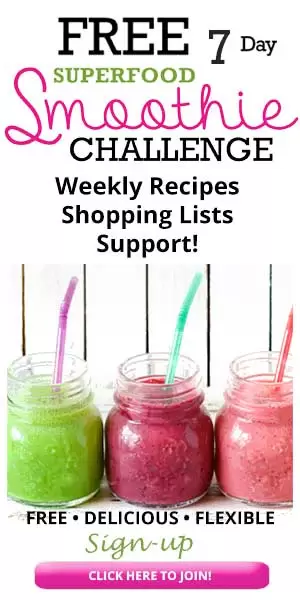 Keep adding to it for a few days or weeks, or just continually add to the bag until you have a full flavored bag of one person's trash – and your homemade broth treasure! Voila!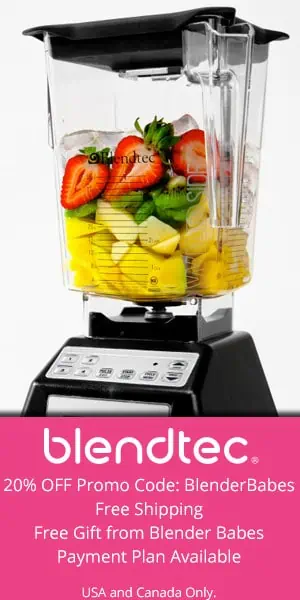 You have the best vegetable broth base for a delicious and hearty future meal!
Of course, if you wanted to make it a homemade bone broth recipe, you would also add the bones of chicken, beef or fish with the rest of the ingredients.
Easy peasy!
Be sure to join our community for more soup recipes and tips from Blender Babes! If you try this homemade broth recipe, let us know by rating it in the comments. HAPPY BLENDING! 🙂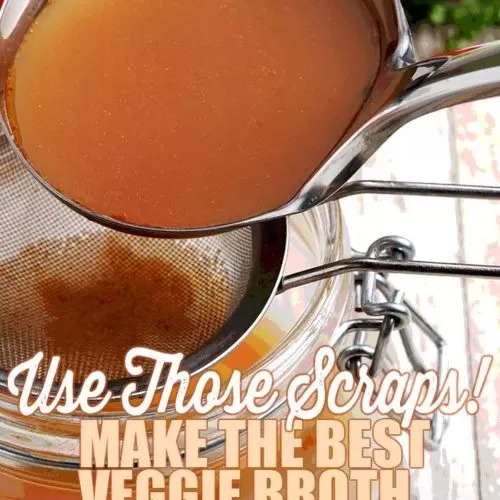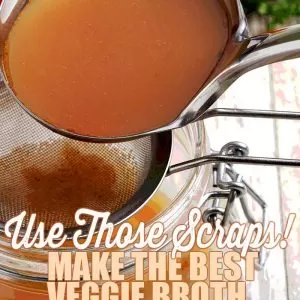 Use Those Scraps! Homemade Veggie Broth (or Chicken, Beef or Fish!)
Ingredients
2

tbsp

olive oil

1

quart

onion

cut into ¼'s

1

quart

carrot

washed & chopped in 2" pieces

1

quart

celery

washed & chopped in 2" pieces

2

gallons

water

¼

cup

garlic

whole cloves smashed

2

bay leaves

2

tsp

thyme

1

tbsp

salt

or to taste

2

tsp

pepper
Instructions
Heat olive oil in an extra large stock pot on high heat.

Add onions, celery, carrots, salt and pepper. Sauté on med-high until onions become translucent. This will take about 10mins. Stir occasionally.

Add crushed garlic and sauté another 10mins. Vegetables should break down and become soft and a brown fond should develope on the bottom of the pan.

Add thyme and bay leaves. Sauté another 2-3 mins.

Add water. Cover and bring to a strong boil

Remove cover and adjust heat to a steady simmer for 30-45mins, stir occasionally.

Season with salt, remove from heat and allow to cool.

Will keep 10 days in fridge or up to a year in the freezer.

All done! Enjoy!! Now take a photo, rate it, and share your accomplishments to enter our

weekly photo contest

! 🙂 Tag @BlenderBabes & #BlenderBabes
Notes
1. If you can afford organic produce this would be your best option. If not, wash your vegetables in vinegar water or vegetable wash.
2. Ideas to add for extra nutrients: Spices, Sea Vegetable, Beef bones, Chicken bones, Garlic, Pepper, Salt
3. The longer this cooks the more flavorful it will taste.
Nutrition
HEALTH BENEFITS OF CARROTS
Carrots are one of the most widely used and enjoyed vegetables in the world, partly because they grow relatively easily, and are very versatile in a number of dishes and cultural cuisines.
The health benefits of carrots include reduced cholesterol, warding off of certain cancers, improving vision, prevention from heart attacks, and reducing the signs of premature aging.
Carrots also have the ability to increase the health of your skin, improve digestion, boost the immune system, increase cardiovascular health, detoxify the body, and boost oral health in a variety of ways while providing a well-rounded influx of vitamins and minerals.