Blender Babes is proud to support our community on their transformative health journeys!
Here, we celebrate inspiring stories of those who have improved their health and changed their lives with the help of their blender and a clean, whole food lifestyle.
Meet Ed Duerr
Ed was diagnosed with a rare terminal disease that doctors said was incurable.
Read on to see how he used mindset to help beat the odds and keeps illness at bay by juicing and blending with Blender Babes!
---
Hi there, my name is Ed and I'd like to share my surviving cancer (and thriving!) story with you.
Back in 2006 I was talking to a friend who was concerned that her cancer was coming back. I did some research on cancer treatment and found the Cancer Treatment center of America (CTCA). It sounded like the greatest place [for cancer patients] on earth.
I was working up in Washington DC at the time and while riding the Metro (commuter train/subway), I noticed a lady across the car from me with a tote bag with the CTCA logo on it.
I asked her about the place saying that I had seen their ads and read their testimonials and that they have a great marketing dept. They really can't be that good, can they?
Her reply was life-changing for me, "No, it really is not as good as they say….It is much better." We talked for a while and I was convinced. I told my friend and as it turned out her cancer was not coming back - good news.
I had no idea how important that conversation on the train that day would be.
A couple years later, I wanted to get back into running and started training but could not run more than 1/4 mile without having to rest for a couple of hours.
A few months later I went to my doctor for a physical.
The blood work came back and he sent me to a specialist who told me that I have Waldenstrom's Lymphoma….and it is incurable….
I have no idea what else he said as I did not hear anything else.
The next two weeks were filled with despair, depression and thoughts of my family. I cried and cussed and worried and was so scared I could hardly function.
​One afternoon I was talking to my daughter and she asked what I was going to do about it.
That confused me because I had not thought about DOING anything, well, other than dying...
That one simple question turned my whole attitude around in a matter of hours.
By bedtime, I knew what I needed to do.
FIGHT.
All I could think about was... 'I will not leave my daughters without their father!'
We all got together to plan the next step and agreed that calling CTCA was the best thing to do.
I did and was amazed at the conversation…"You are the head of your medical team, not your Oncologist, YOU." I liked the sound of that.
They said that for my first visit, I needed to bring a caretaker with me and that they will send me the plane tickets and will arrange for our lodging and everything.
I chose my daughter Keven to go with me and we all agreed to schedule the trip. They met us at the airport and put us up in the Radisson.
WHAT THE DOCTOR SAID
The first visit with my oncologist Dr. River went something like this: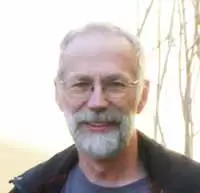 Ed DuerrCancer Survivor
Dr. River - "We have confirmed your diagnosis and it is incurable but it is also very treatable and we can treat it for a very long time."
​"Me - That is unacceptable. "
Dr. River - "We can treat this and keep you in remission for 30 or 40 years..."​
Me - "That is unacceptable." Keven is smiling at this point.
Dr. River - "Ed, you have to understand the reailty of---"
Me - "I understand the reailty, I just do not accept it!"
Dr. River turns to his nurse, Debbie: "This is going to be an interesting ride."
​Dr. River then said that most cancer treatment goes like this...
​Dr. River - "If you think of cancer as a fly on the wall, they take a cannon and try to hit it. Well, you can imagine what a cannon will do to that wall. Here at CTCA we take a gentler approach. We start with a fly-swatter and if that doesn't work, we get a newspaper and so on until we find out what level works. But first we make sure that 'wall' is strong enough to take the hit".
With that we began to assemble MY team - Dr River, Libby (my care mgr), naturopath, nutritionist, pyschoneuroimmunologist (mind-body specialist), a surgeon (if needed) and a host of nurses and technicians as needed.
A little background…the blood marker for this cancer is the IgM protein. The normal range is 49-271. My numbers were almost 8000 -

almost 30 times the normal levels.
​Later that morning, I was met in the hallway by one of the pastoral councilors who offered support after my diagnosis…
Pastoral Counselor - "Many people," he said, "get angry at God or nature or something else and need support to get past that."
Me - "I understand and appreciate the offer," I said, "but I have something inside me that is trying to kill me and it is winning the battle right now. I have no time to be angry, I have to kill this thing before it kills me and it has a head start. It is relentless and focused and I have to be more relentless and focused."
The first cocktail of drugs almost proved fatal. I spent 3 weeks recovering from the near fatal side-effect of hyper-calcemia.
The second cocktail of drugs worked MUCH better and in only 2.5 doses I was responding so well that Dr. River decided to give me a break for a couple months and see how things go.
That was June of 2009. By mid-July my energy began to skyrocket. I signed up to do a half-marathon with Keven and started training with LLS. My next appointment was in September.
A miracle happened…. I was declared in remission. My numbers were down to just over 400. I had some gastric problems and ended up having to have my gall bladder removed.
December rolled around and I ran a half marathon (2:36:40). Christmas was wonderful and wonder-filled.
My next visit to Dr River was in March 2010. Got a good night sleep, blood drawn, and went in to my appointment.
As the good Doctor was reviewing the blood results, he said that he could find no cancer in me at all…."You show no evidence of disease."
Me - I looked him squarely in the eye and said, "I told you, you son of a bitch, don't tell me I can NOT do something!"
​He shook his head and congratulated me. I was on top of the world and knew that I had to do something to make sure it stays that way.
​What Next? Surviving Cancer
​I did lots of research on cancer and nutrition and everywhere I looked the term juicing kept coming up even with the chefs in the hospital cafeteria (yes, I said chefs - professionally trained, certified chefs).
I bought a Jack LaLanne juicer and loved it. Used it for a year or so and then realized that I was throwing away all that pulp. I tried making muffins with it and that worked for a while but I couldn't use all of it.
I thought that there had to be a better way.
A friend suggested a blender. Back to the research…. YES, a blender will make juice AND smoothies.
I checked out several brands and narrowed it down to two - Blendtec and Vitamix. Both are powerful, strong and durable. The best warranties in the business.
The deciding factor was price and the Vitamix won. I fell in love with it the first time I made a juice.
My Vitamix has been the staple of my kitchen and nutrition ever since. I use it at least twice a day and can not imagine living without it.
Most days it is used 4-5 times. It was not long after that that I met the Blender Babes and found more great recipes and lots of support for my juicing/smoothie plan.
Add my daughters for support and more nutrition advice and you have the perfect combination for success.
I have made peanut butter, mac and cheese, hot tomato soup, coconut milk and tons of other drinks.
I have made baby food for my grandson, ground spices (including black pepper and cinnamon) and flours. I love my Vitamix!
But of course, I love my whole food smoothies, which I enjoy daily. My green drink is simple. It only has spinach, carrots and apple. One of my other favorites is a banana, strawberry, and coconut butter smoothie - and it is unbelievably delicious.
Blend healthy, live happy!
-Ed