AMAZING GLUTEN-FREE ZUCCHINI CARROT MUFFINS RECIPE
Long story short, I gave up wheat several months ago. It wasn't that hard… so long as I didn't go walking past one of my favorite bakeries.
So here I sit, the daughter of a home economics teacher, yearning to open up my oven again to a dessert… a pizza… or perhaps, a MUFFIN!  So I thought, why not make my own?! These gluten-free muffins are light, tender, and stay moist for days.
Full of delicious carrot and zucchini flavor, this recipe shows you how to make your own gluten-free flour blend quickly and easily, however, you can also use store-bought gluten-free flour.
These muffins are also extremely filling, with a protein boost from the organic yogurt, quinoa, and almonds. Don't be put off by the long list of ingredients, as these heart-healthy muffins come together quickly with the assistance of a Vitamix or Blendtec.
Put that high-speed blender to work and save some mess, time and cleanup; giving you more time to spend with your loved ones and sit down to a warm gluten-free muffin!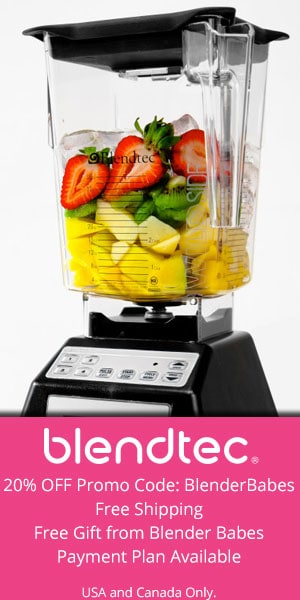 These high fiber muffins are certain to have you subscribing for more delicious blender baking recipes! Don't forget to leave us a comment about these gluten-free muffins and share your rating below!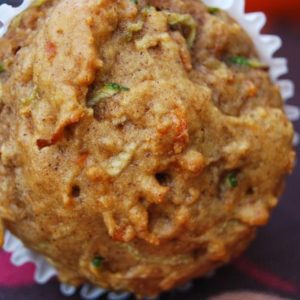 Gluten-Free Zucchini Carrot Muffins
Ingredients
2

tablespoons

coconut oil

for greasing muffin tins

1

cup

brown rice flour

1/2

cup

tapioca starch

1/2

cup

coconut flour

1/2

teaspoon

salt or celtic salt

1

teaspoon

baking soda

1

teaspoon

baking powder

1

teaspoon

xanthan gum powder

1

tablespoon

cinnamon

2

teaspoons

pumpkin pie spice mixture

1

cup

quinoa

1/4

cup

sunflower seeds

1/2

cup

almonds

3

eggs

1/2

cup

coconut oil

1

apple

10

ounces

organic yogurt

I used goat milk yogurt

1/2

cup

coconut sugar

1/2

cup

honey

1

tablespoon

vanilla extract

2

cups

chopped zucchini

about 2 medium zucchini

2

cups

chopped carrots

2 medium to large carrots
Instructions
Preheat your oven to 375° F (190°C).

Lightly grease three 6-cup muffin pans with coconut oil.

In a medium bowl, combine brown rice flour, tapioca starch, coconut flour, salt, baking soda, baking powder, xanthan gum, cinnamon and pumpkin pie spice.

For both

Blendtec

and

Vitamix

: Place half of the quinoa, sunflower seeds and almonds into your blender's dry container (for Vitamix, if you have it - you can grind with wet jar on occasion). Starting on Variable/Manual Speed 1, increase to Variable/Manual Speed 10, and run for 30 seconds, or until mixture is finely ground. Repeat with remaining quinoa, sunflower seeds and almonds, stopping to scrape down the sides of the blender container periodically.

Gradually add quinoa mixture to the bowl with brown rice flour mixture.

Cut zucchini and carrots into 1-inch cubes.

For

Vitamix

: Using the wet jar: With the blender running on Variable Speed 10, add cubes, one cup at a time, through the hole atop the blender until finely chopped. Once all the zucchini and carrots are chopped into fine pieces, set aside.

For

Blendtec

: Add the cubes one cup at time. Press the PULSE button 3 to 5 times until chopped. Pour into another bowl and repeat with remaining cups.

Place eggs, coconut oil, yogurt, coconut sugar, honey and vanilla in the blender.

For

Vitamix

: Start on Variable Speed 1, slowly increase to Variable Speed 10 and blend for 20 seconds, or until smooth. Pour into a large mixing bowl.

For

Blendtec

: Use the BATTERS button or highest Manual Speed for 15 seconds. Pour into a large mixing bowl.

GENTLY fold the dry flour mixture to the wet mixture, one cup at a time.

Once combined, fold the finely-chopped zucchini and carrot mixture into the batter.

Spoon batter into the prepared muffin tins. Let these stand for 30 minutes.

Place muffin tins in the over and bake for 25 to 30 minutes, or until golden brown and a toothpick comes out clean when inserted into the center.

Let cool in the pan for 10 to 20 minutes, then transfer to a fully cool on a baking rack, and repeat with the remaining batter.

Enjoy!

All done! Enjoy!! Now take a photo, rate it, and share your accomplishments! 🙂 Tag @BlenderBabes & #BlenderBabes
Nutrition
Serving:
1
g
Calories:
266.8
kcal
Carbohydrates:
28.4
g
Protein:
7.3
g
Fat:
14.8
g
Saturated Fat:
9.4
g
Polyunsaturated Fat:
3.9
g
Cholesterol:
45
mg
Sodium:
185.5
mg
Fiber:
5.3
g
Sugar:
6.1
g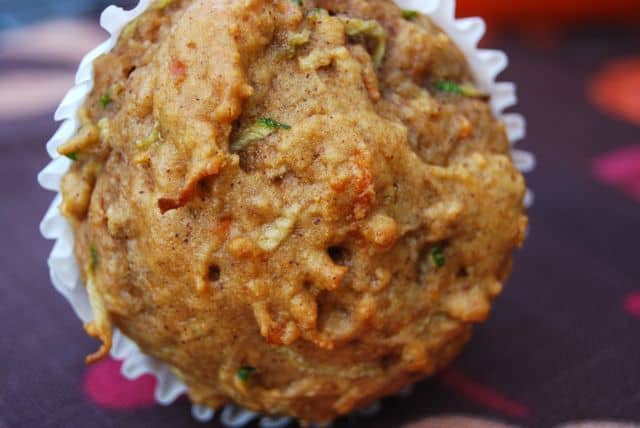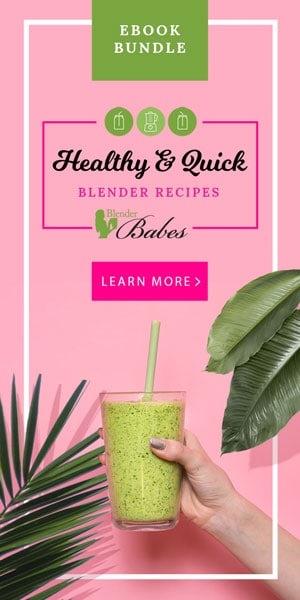 HEALTH BENEFITS AND FUN FACTS ABOUT ZUCCHINI
Zucchini is a great source of key nutrients, such as the carotenoids lutein and zeaxanthin. It is also an excellent source of copper and magnesium, and a good source of vitamin C.
Compared to other grains and ground flours, quinoa is in a league of its own; it provides a significant amount of complete protein, is a good source of healthy omega-3 fatty acid and nutrients like manganese and phosphorus.
To top it off, carrots have long been revered for their beta-carotene content, after all, one cup contains 673% of our daily value of vitamin A. And new research indicates that they're a great defense against cardiovascular disease. What a combo!