PINEAPPLE GINGER BREEZE KALE GREEN SMOOTHIE RECIPE
If you're looking for a light and refreshing green smoothie to try, this pineapple ginger kale smoothie will bring you right by the pool and ready to dip your toes in the water!
This delectable smoothie recipe is tangy with a subtle taste of ginger, which pairs well with pineapple.
The combination of coconut, pineapple, and ginger will remind you of the flavors of Hawaii, so don't be surprised if you begin day dreaming about your next tropical adventure!
This is also a healthy kid-friendly recipe that works well for an afternoon snack, especially since it easily hides the taste of kale!
Use these tips if making this green smoothie in a "regular" blender.
Otherwise quickly whip this up in a high powered blender, such as a Blendtec or Vitamix.
Be sure to join our community for more green smoothie recipes and tips from Blender Babes! If you try this smoothie let us know by rating it in the comments. HAPPY BLENDING! 🙂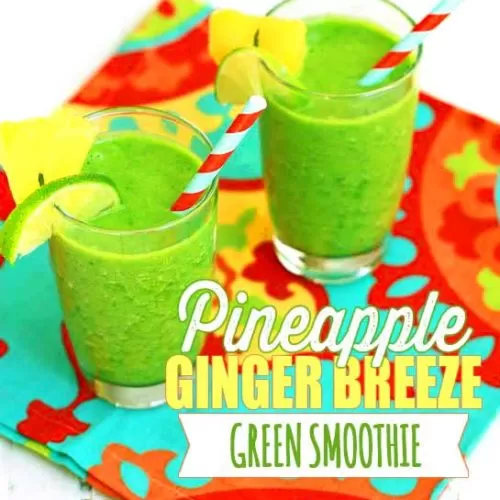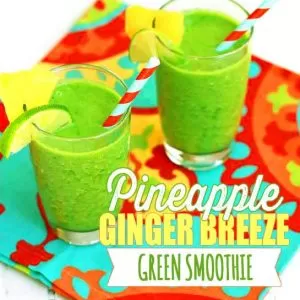 Pineapple Ginger Breeze Green Smoothie
Ingredients
1

cup

raw coconut water

juice of ½ a lime

1

cup

frozen pineapple

1

cup

of kale

a slice of ginger

1

cup

ice

if pineapple is fresh, otherwise omit
Nutrition
Serving:
1.5
g
Calories:
98
kcal
Carbohydrates:
22.8
g
Protein:
2.4
g
Fat:
0.9
g
Saturated Fat:
0.1
g
Polyunsaturated Fat:
0.4
g
Sodium:
36.4
mg
Fiber:
3.6
g
Sugar:
14.3
g
BLENDER BABES RECIPE TESTER NOTES
"I followed the recipe exactly the first time. The second time, I tried it with maple water (which has a similar electrolyte profile as coconut water without the flavor).
It was great both times! It also works well with spinach!" 
"Both my kids loved it for afternoon snack!" 
"If raw ginger is not handy, a dash or two of powdered ginger will work.
I keep slices of raw ginger in my freezer, so its always handy to add to a recipe." 
"Reminded me of a drink I had at Mexico resort for breakfast, really good! ahhh, memories 🙂 Mom liked how she can't taste Kale in the smoothie, she is not fan of Kale as eating and was worried that she will taste Kale in it and happy that it ws really good.
Her smoothie has stevia in it to reduce the tartness of Pineapple. We agreed that we would call this Green Tropical Smoothie!"
HEALTH BENEFITS OF GINGER
Not only high in Vitamin C, Vitamin A, and Manganese this smoothie has the wonderful healing properties of ginger.
Ginger appears to be highly effective at treating a few forms of stomach discomfort including nausea, sea sickness, and menstrual pain.
Studies have shown that ginger is successful at causing significant reductions in high levels of "lipoproteins" or bad cholesterol and that ginger is effective at killing oral bacteria linked to gingivitis and periodontitis.
Photo by Blender Babes Recipe Tester Emily Dixon