Blendtec takes it to the next level with the introduction of their new Designer 725 Blender. By far one of the best blenders we have seen and used, this revolutionary model is an upgraded version of their previous Designer model: with more power, more features, more stability AND quieter blending! For those wise enough to buy this one it'll easily be the most technologically advanced piece of food preparation equipment you own.
With its classic stainless steel sleek look, the 725 draws the eye, becoming the focal point of any kitchen. The physics with which its uncomplicated gadgetry operates virtually eliminates meal production time, giving you the freedom to make all the necessary positive changes to your health regimen, without any of the massive time commitments.
The Designer 725's design and versatility are unparalleled and its presentation flawless, demonstrating yet again Blendtec's commitment to providing you with the proper tool to make your dreams of healthy eating, and thus healthy living, a realistic goal that you can actually achieve.
As many of you know, I always like to start my blender reviews with one of the most important factors of any buying decision – cost. About the only "con" of buying a powerful commercial grade blender is the high cost. The Designer 725 is the top of the line blender in Blendtec's newest series of advanced designer blenders, and the cost proves it at $679. THANKFULLY, a newly released refurbished Blendtec Designer 725 is only $549, saving you $130. The higher-than-their-other Designer blender cost is attributed to more power & advanced features that the other models don't have. Is it worth it? Check out our Blendtec Designer Series Comparison Review: Designer 725 vs 675 vs 625 vs Original to see all the similarities and differences and decide for yourself. For the most comprehensive Blendtec Designer 725 Review, read on!
Why Purchase Through Blender Babes

Blender Babes is proud to be an affiliate of Blendtec blenders. Your blender purchase made using the links from our website and Blendtec Promo Code BBGIFT gives you free shipping AND Exclusive FREE GIFTS* from Blender Babes! It's how we keep our content free and we are so grateful for your support! ♥

*You must forward your purchase confirmation email from the manufacturer to freegift@blenderbabes.com to redeem our free gifts offer.
I do firmly believe that you can't put a price tag on your health – and the investment you make in you and your families health will actually SAVE you a ton of money! Not only on the cost of making delicious and healthy recipes at home instead of eating out or buying processed *crap*, but also on what you may save in medical bills years down the road. Now let's get to the nitty gritty. 🙂

Power: Blendtec 725's 3.8 peak horsepower motor utilizes 1,725 watts. You REALLY do not need any more power than this. Compared to the old Designer models which was 1560 watts/3 peak horsepower – this is a huge upgrade.
Speed Capacity: A really great feature that the Blendtec Designer 725 has that most of their other models don't, is a super advanced 100 speed touch slider. This gives you a lot more control with one hundred speeds, all at the slide of a finger. You can go back and forth sliding from low to high, but you can also baaarely move your finger, and more precisely control the speed. It even tells you which speed to use for stirring, chopping, mixing, blending, or pureeing on the digital screen. At speed 100, the blade is spinning 29,512 Revolutions Per Minute (RPM)!
Size: The 725 is 15 inches tall and weighs in at 10.7 pounds, which is heavier than other designer models, providing greater support and stability for tougher blends such as lots of frozen fruit or ice (think ice cream and mostly frozen fruit green smoothies!). This was the ONLY issue we had with the original Designer model – on an uneven surface such as a tiled kitchen – if there was a ton of frozen ingredients the blender might "bounce" or "travel" along your countertop. The heavier footprint of the Designer 725 solves this issue. 🙂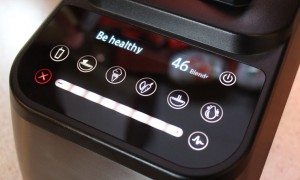 Blendtec's Designer 725 is an efficient health-giving wonder. Utilizing the most versatile preprogrammed settings on the market, nutritious meals can be whipped up in a matter of minutes. And with Blendtec's extensive and user-friendly manual, all of its functions are super easy to learn and a life-changing pleasure to use. 🙂 Everything is programmed on the ultramodern touchscreen! The preprogrammed automatic settings include the previous (and most used) Smoothie, Whole Juice, Hot Soup and Ice Cream Settings, as well as the newer and more desired settings of Salsa and (importantly!) a CLEAN setting! Their other models do not have this settings, however this easy self cleaning can still be accomplished by blending or pulsing with hot water and a drop of dish soap. But with the Designer 725, you get a specific and made for setting. A small example of how Blendtec listens to the desires of their customers!
Six Preprogrammed Custom Cycles Include:
Smoothie
Whole Juice
Hot Soup
Salsa
Ice Cream
Clean
When using any of its six preprogrammed cycles, the blender, like any good sous-chef, tells you what cycle you have chosen on the digital screen and counts down the blend time for that cycle, and it shuts off automatically when the time reaches zero — giving you the opportunity to pick a setting and clean up the kitchen. By the time the cycle is done, you're ready to go!
"Add 10"
Additional seconds can also be added in increments of 10 to each preprogrammed blend. You can add time right away or as your blending. Simply touch the corresponding setting once for 10 more seconds of blending… twice for 20 seconds… and so on for up to an additional 90 seconds – just so your delicious creations are blended exactly the way you want them. We especially use this feature when making a whole food juice recipes or soups!
100 Speed Capacitive Touch Slider for Manual Control
The Blendtec Designer 725's futuristic touchscreen is a marvel of innovation, efficiency, and power. Featuring a 100-Speed Capacitive Touch Slider, the control panel has no dials, switches or buttons. To speed blends up simply slide your finger to the right, vice versa to slow it down. Trying to just barely increase the speed? Roll your finger, yes, we said roll, your finger to the right or left for a slight and very precise adjustment
Need a few, or even a lot of extra jolts of power to thoroughly mix those thicker blends? No matter what speed you're using hit the Multi-Speed Pulse button as many times as you feel are necessary—the 725's powerful motor handles it all.
And gone are the days of cleaning that bacteria-ridden gunk building up around an antiquated blender's switches and buttons. The 725's sleek, ultramodern touchscreen is flat, smooth, and cleaned in one fell swipe.
Containers: A DISHWASHER SAFE, five-sided BPA-free copolyster 90 ounce Wildside+ Jar comes with the 725. Used for larger and faster blends, its extra side and vertical ridges allow ingredients to hit two additional surfaces. Accelerating the blend toward the blades like this eliminates the need for a tamper. (yahoo!!!) The jar is 9.5 inches tall, bringing the total height of the 725 to 15 inches once assembled, which fits perfectly underneath your kitchen counter or easily in any cupboard. The jar is marked (in easy to read black!) with easy measuring volume units in ounces and cups on one side, and ml and cl on the other side.
The Designer 725 is compatible with ALL Blendtec Jars, so if you want to get a Fourside Jar for average sized blends, or to use specifically for grinding, or if you want the Twister Jar for thicker blends like nut butters or fruit & vegetables purees like homemade organic baby food, it won't be a problem! Both the Wildside+ Jar and Fourside Jar can blend hot, cold, wet, and dry with the same jar/blade. The Twister Jar is not really used for grinding dry goods such as flax seeds or wheat berries, but we have used it to grind almonds into flour. We mostly use it for cold (ice creams) and wet ingredients.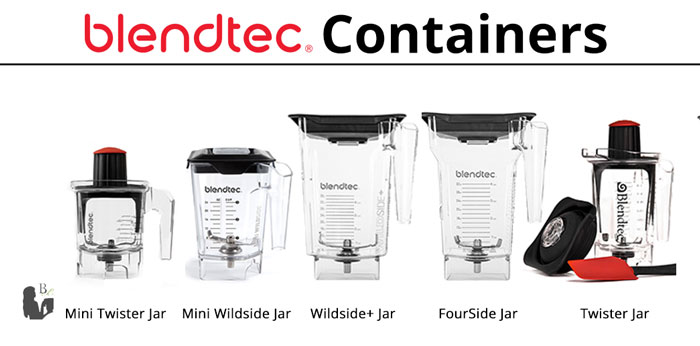 Blendtec container options include:
•"2 qt" 64 oz. FourSide Jar – container
•"3 qt" 90 oz. Wildside+ Jar – largest capacity with bigger 4 inch blade
•Twister Jar – a new smaller container used for smaller amounts and thicker dishes/purees
•Mini-Twister Jar – half the size of the standard Twister Jar – used for really small amounts and thicker dishes/purees (Note: we prefer the standard sized Twister Jar)
• 46oz Mini-Wildside Jar – Performs as well as the regular Wildside Jar but good for single servings. I like the new latching lid to prevent any accidents.
BLADE: Designed for faster, superior blends as well as for safety, all Blendtec Jar's come with a single blade that is blunt — as opposed to sharp. It easily pulverizes your entire blend's ingredients, allows you to get everything out without waste, as well as makes it much easier and safer to clean. This unique blade is also 80 percent thicker and 10 times stronger than competitor blades, such as a Vitamix or Oster blade.

THE LID: Unlike instructions when blending hot soups with a "regular" blender, there's no need to leave the lid off and cover with a towel when you own a Blendtec! An easy-to-open, vented gripper lid allows you to add ingredients to your blend through a removable central opening, which in addition to being much safer, also allows for the extra pressure produced when blending hot liquids to properly disperse (they have indeed thought of everything!). We almost always decide to add a superfood boost, such as chia seeds – or a few more ice cubes – after we've started blending. You just remove the center piece, drop in your additions, and replace!
SMOOTHIE MAKING
If you're looking for the best smoothie maker, you can't go wrong with any Blendtec! Simply touch the Smoothie Cycle to blend a smoothie. The ultramodern touchscreen of the Designer 725 displays a 40 second countdown clock, which will stop automatically once it reaches zero. I have literally made thousands of smoothies over the years with my Blendtec, starting with my first one – the Total Blender Classic. With that blender, if I was making a smoothie that is heavy on the frozen fruit ingredients – I would sometimes use the smoothie setting twice. Now, with the Designer 725, I can now add seconds due to the "Add 10" feature. I LOVE THIS! I'm sure you will too. 🙂
JUICING
I often get asked if a Blendtec is a "juicer". With its 3.4 peak horsepower motor, the Blendtec Designer 725 is powerful enough to pulverize the cell walls of any fruit or vegetable, turning whole fibers into easily drinkable and digestible tiny pieces. Though not an actual juice extractor, which typically requires 3X more produce and uses only a portion of the entire fruit and/or vegetable, the Blendtec Designer 725 utilizes EVERYTHING! Known as a "whole food juice" you get ALL the life-enhancing juiciness from ALL the nutrients—including and especially the fiber.
For example, blending grapes this way makes all the powerful antioxidants found in their seeds and skin available to you, which are usually just thrown away… and those fibrously tough pineapple cores – which contain anti-inflammatory bromelain… Within moments they're turned into yet another one of your easily digestible, nutritiously fiber-rich juice ingredients.
To make a whole food juice with your Blendtec, use the Whole Juice setting. Make sure to add ice or use a frozen ingredient – this will prevent heating the ingredients and killing valuable enzymes – as well as make your juice cold and ready to drink! Try some of our whole food juice recipes or if you're looking to cleanse or lose weight, try Blender Babes' FREE Juice detox.
IMPORTANT NOTE: Certain illnesses and digestive diseases require that one suffering from such ailment(s) only drink highly-concentrated, vitamin- and mineral-rich extracted juice without the fiber, or anything else the body may have trouble digesting.
SOUP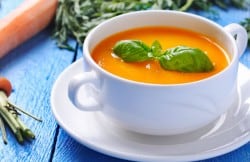 One of the most incredible things about commercial blenders is that they're powerful enough to HEAT SOUP. Utilizing the friction of its rapidly spinning blade, the Designer 725's 3.4 horsepower motor whips up raw soup in less than a minute—and super hot ones in just a few!
Once your ingredients have been added, simply touch the Hot Soup cycle to blend any kind of deliciously hot soup. The ultramodern touchscreen will countdown from 90 seconds, however with the Designer 725 you can add up to 90 more seconds right away using the "Add 10" feature – to blend your soup for 3 minutes, making it nice and hot right inside the jar!
And when you've blended your soup just the way you want it and have removed the lid, be sure to remove the lid carefully, as steam will literally billow out of the top!
IMPORTANT NOTE: It's incredibly healthier to prepare fresh soup at home rather than eat the canned variety. Commercially processed soups typically have three-year shelf lives because they're loaded with sodium and toxic preservatives. We feature an ever-increasing and delicious array of healthy soup recipes to get you started, though our most popular and easy to prepare is our hearty CHUNKY TORTILLA SOUP!
CHOPPING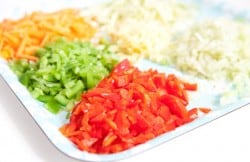 The Designer 725 can (somewhat) perform Dry chopping. It's great at creating fine parmesan pieces to top pasta dishes. Dry chopping is best for quickly chopping dry veggies in a pinch instead of hand chopping (such as onions because I HATE cutting up onions!) I use this the most when I'm making a quick vegetable frittata in the morning.
The Designer 725 also performs Wet Chopping, which uses water to assist in circulating ingredients within the jar. Blendtec's "Blending 101" handbook recommends using leftover wet chopping liquid for smoothies, sauces or soups. Personally, I've only used wet chopping for cabbage when making slaw or raw sauerkraut – I've never saved the liquid for later use. That said, I never saved the pulp from my old juicer and used it to make bread/muffins either. :p To each their own!
NOTE: The chopping you see in the photo is NOT how the Blendtec will chop and dice. Out of all the capabilities of the Designer 725, and ALL other Blendtec blenders – chopping is NOT what it does best – due to the blunt rather than sharp blade. That said, the Designer 725 DOES chop better than the other blendtec models, since it has much more control over the manual speed due to it's 100 speed capacitive touch slider.
GRINDING
Grains & Seeds
The Blendtec Designer 725 easily breaks down whole grains to make oatmeal, baked goods and breads—without the need of a separate grinding container! You will use your manual speeds to grind grains such as fresh flours and seeds like flax or chia seeds to super fine consistencies OR you can use the Pulse option which will allow you to grind to your preferred degree. For example – I always grind my coffee in my Blendtec. If you want to make sure your coffee beans are super course, you may want to pulse instead of manually blend. 🙂
Meat
Raw meats utilize the 725's grinding capabilities, further showcasing yet another facet of this revolutionary machine's versatility. You grind meat by simply using the Pulse feature. Check out our Blendtec vs Vitamix meat grinding review with video to learn how to use this awesome feature for everything from healthy chicken meatballs to Alton Brown's healthy breakfast sausage.
Nut Butter
The Blendtec 725 can easily make nut butter – even hard to make almond butter. I've seen the review from CNET showing this blender "fail" making almond butter, but what people fail to realize is that almonds are a very starchy nut. Unlike other nut butters, they require a little bit of oil to get moving. Or roasting the nuts prior to soften before blending. Also the Wildside jar is NOT the best for nut butter. The Blendtec Twister Jar makes nut butters in a flash. You can see Blender Babe Elise and I make almond butter in the Blendtec 725 here.
MIXING & KNEADING—that's Right!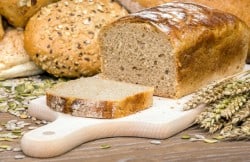 Gone are those arduous days when you'd have to blend wet ingredients separately from your dry ones, then mix the two together by hand…
The Blendtec Designer 725 can actually Knead wet and dry ingredients into dough!
Its thick blunted blades blend wet and dry ingredients into a doughy ball—again, WITHOUT needing a separate grinding container! Creating batters, cakes and cookies, along with quick and yeast breads without needing to purchase a separate bread maker!
ICE CREAM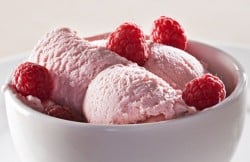 And now, for arguably the Blendtec Designer 725's sweetest feature…
The ability to make ice cream!
Simply use the Ice Cream cycle and in less than a minute you'll be enjoying your very own homemade, fabulously fresh and healthy ice creams, sorbets, frozen yogurts and much more.
CLEAN UP
One of the new features of the Blendtec Designer 725 is its specific self cleaning setting (yup that's right, you asked and Blendtec listened ). To start this cool new feature simply add a cup of water and a drop of dish soap to the jar, secure it to the blender base, and touch Clean cycle. This fires up a 10-second pulse which thoroughly cleans the jar; all you have to do is rinse it out beneath your facet's warm running water—all of which is in stark contrast to the vast majority of other blenders, whose separate blades, gaskets and jars must be painstakingly taken apart in order to properly clean.
NOTE: All Blendtec blenders are self cleaning. You will add the soap and water and just blend on any setting to clean. The Designer 725 just has a special button for it so you don't have to think about it.
All Blendtec blenders are dishwasher safe – place on the top shelf – however it's recommended to clean by hand most of the time. Stickier jobs such as nut butters and bread doughs usually require additional scrubbing after first self cleaning. In these cases we find the Blendtec blunt blade design is the safest and easiest to clean over sharp blade designs. We do not worry about cutting ourselves on the 2 prong blade and its square design is easier for both small and larger hands to reach in and clean with a sponge. Not having to disassemble and reassemble the jar & blade is an easy time saver. Also, make sure to clean right after blending – believe us you'll THANK US LATER. 🙂
Blendtec even offers its clients rewards for accomplishing health goals, which it measures in blending milestones. The 725 tallies how many blends it's completed, providing its owner with rewards codes once specific goals are reached. These can then be redeemed online or via a mobile app for recipe books, gift cards, kitchen utensils, jar discounts and much much more.
And as if all the preceding wasn't enough, the Blendtec Designer 725 comes with an eight-year full use warranty. And compared with the typical one- or two- year warranties (Oster or Ninja) that accompany regular blenders (you know, those sad dated models that seem like they're designed to burn out), well… they, don't compare at all.
And when combined with Blendtec's superior quality construction, and the fact that you'll still be using this remarkable invention two decades down the line with nary a hint of a problem—making the decision the buy a Blendtec Designer 725 is one of the smartest investments you can make.