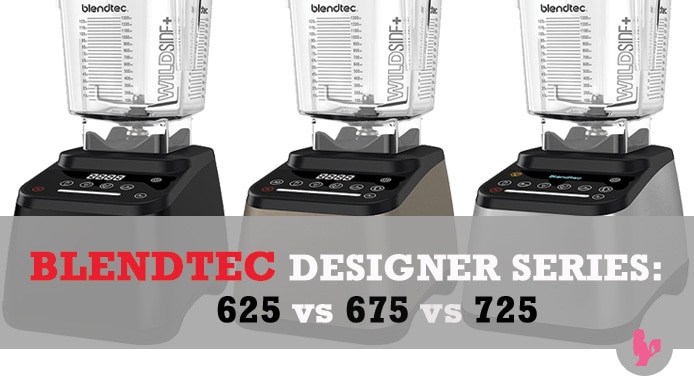 Blendtec Designer Series Was Born
Blendtec Designer Series Review: Interface
Blendtec Designer Series Review: Additional Innovations
Blendtec Brand-New 8-Year Warranty & Blender Jar Compatibility
Blendtec Designer Series Review: Summation
Blendtec Designer 725 – the World's Smartest Blender
The Blendtec Designer 675 – a Modern Kitchen Must
Blendtec Designer 625 – Where Fashion Meets Function
Designer Series Certified Refurbished – Most Features for the Best Price
BLENDTEC DESIGNER SERIES PERFORMANCE COMPARISON REVIEW
Blendtec Designer Series Review – A Comparison of ALL Designer Models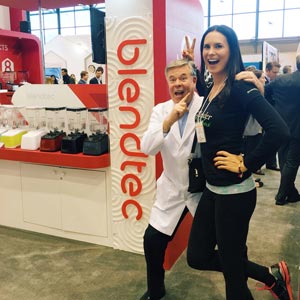 Before we get into this Blendtec Designer Series Review I want to share a bit about its awesome creator!
Tom Dickson is an engineer by trade and inventor by design. His incredibly inquisitive nature compelled him to develop the world's most advanced blender, and in 1975 he founded Blendtec—all in the hopes of helping people improve their health.
In 2006 Tom launched the "Will It Blend?" marketing campaign, which featured his technologically advanced kitchen blenders (primarily the Blendtec Total Blender Classic) pulverizing iPhones, rake handles, marbles, lightbulbs, glowsticks, hockey pucks and more into dust.
These unique videos quickly went viral, generating millions of YouTube views (literally!), which increased Blendtec's awareness and sales dramatically. Today people all around the world use his innovative, impressively dependable blenders in their homes, smoothie shops and restaurants.

VALID BLENDTEC PROMO CODE:

BBGIFT


(Includes Free Shipping + FREE GIFTS From Blender Babes! Learn More)
Due to increasing popularity and customer feedback, Tom Dickson and his innovative design team created their finest, incredibly engineered achievements – The Blendtec Designer Series. 
Blendtec Designer Series Was Born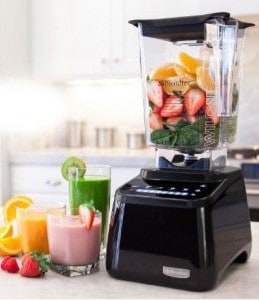 Blendtec customers wanted their blenders to be the ultimate personification of their new healthier lifestyles, while also being an extension of themselves. This meant not only being able to use these powerful machines everyday no matter how involved the recipe, but also being able to proudly display them on their kitchen counters.
And though the Blendtec Classic Total Blender satisfied this need (it's always had plenty of power and been able to fit underneath kitchen cabinets)…
The first in the Blendtec Designer Series was created to be a far more stylishly engineered appliance.
These beautiful blenders easily become the focal point of any kitchen. Their sleek design and touchscreen display is more compelling, more eye-catching than the Blendtec Classic models, and people just like looking at them… Which does inspire their more frequent use!
Blendtec Designer Review: Interface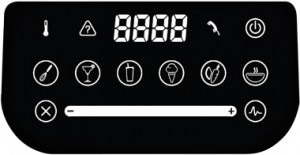 The Blendtec Designer Series interface maintains the digital function Blendtec pioneered —but in a much more high tech fashion.
The new controls are touchscreen! Having a capacitive touch means they react to electrical impulses generated by your finger (just like a smartphone does!).
Intuitive icons representing various pre-programmed blend cycles replaced the push buttons (note: the number of pre-programmed settings varies by model), and a sleek-designed slider control was also added for manual blending speeds – which could be controlled, at any time, with a simple slide of the finger.
These innovative controls are all backlit and disappear completely when not in use, creating a futuristic control panel that is totally flat, and incredibly Easy to Clean!
Blendtec Designer Review: Additional Innovations
The Blendtec Designer Series, the original and all newer Designer models are quieter, and also features far more control of the motor, and improved airflow for better cooling—which has the added benefit of giving your high-powered blender an even LONGER LIFE.  Depending on the newer model, there's also additional color options and surface finishes, allowing you to match the perfect blender to your particular taste and/or kitchen's décor. See more below.
Blendtec Brand-New 8-Year Warranty & Blender Jar Compatibility

Blendtec even sweetened the deal by adding a year onto its warranty, which is now a standard 8-Year Warranty­ on all Blendtec models (3 years on certified reconditioned) —giving you added protection and peace of mind.
Every new Blendtec blender model is also compatible with all the existing home blending jars—the FourSide, WildSide, and the Twister Jar and Mini Twister Jar!—and as new models get released all combinations of jars will be compatible. 🙂
Blendtec Designer Review: Summation
In essence, the Blendtec Designer Series was created to revolutionize the entire home kitchen blending experience.
Transforming one's healthy living routine from an exhausting production to a tranquil, energizing and therapeutic respite from life's daily stresses, this dynamically versatile line of blenders streamlines everything about how nutritious meals are made!
These intuitive blenders are basically like Swiss Army Knives—simplifying the whole process of preparing healthy food by Completely Eliminating the need for other cumbersome appliances (most of which, as we all know too well, just end up consuming valuable kitchen cabinet real estate!).
So without further ado, let's meet Tom Dickson's REVOLUTIONARY… 
BLENDTEC DESIGNER SERIES LINEUP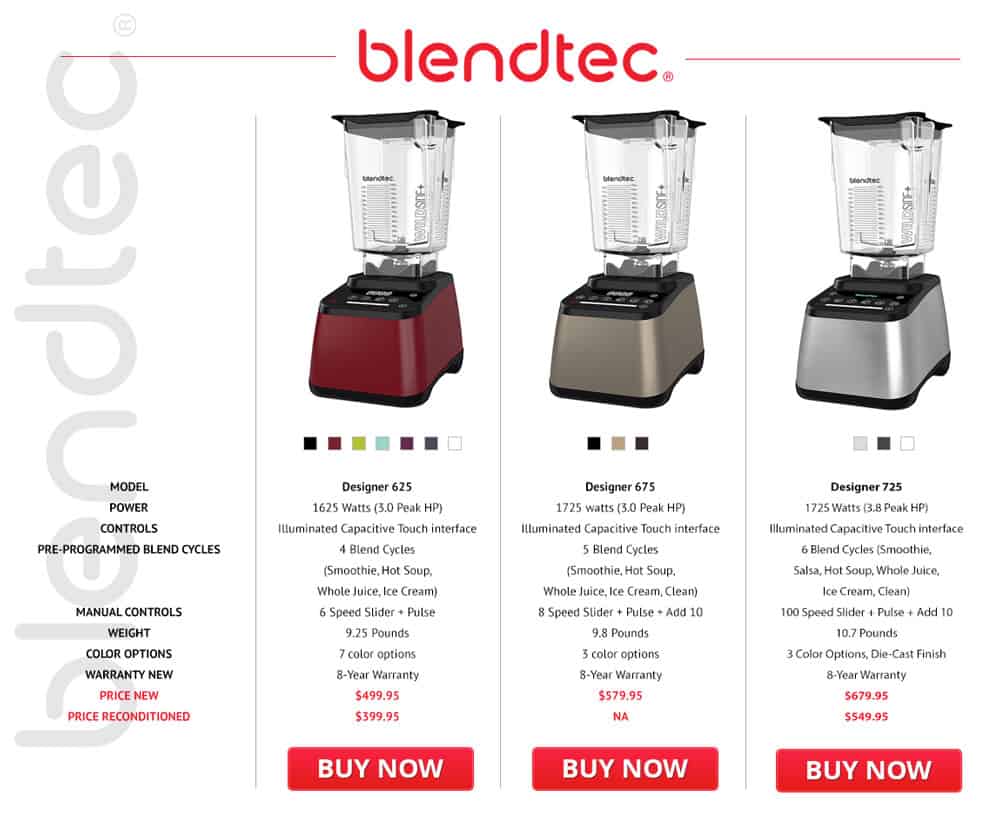 Click Image to See Larger Version of Comparison Matrix 
Benefits of Purchasing Through Blender Babes! 🙂

Blender Babes is proud to be an affiliate of many of the healthy lifestyle products we discuss. At no additional cost to you, we earn a small commission for sales made using the links from our website (and many times offer special deals just for our community!). It's how we keep creating content you love and we are grateful for your support! ♥

1) You will receive FREE SHIPPING for purchasing from Blender Babes using the links from our website (that goes for new and refurbished Blendtec blender models!) Shipping is free to both the USA and Canada!

2) EXCLUSIVE FREE GIFTS! By using our the links from our website and Blendtec Promo Code BBGIFT you will receive exclusive free gifts from Blender Babes and our partners! Learn More about our current free gifts offer. Make sure to forward your confirmation purchase order from Blendtec to FreeGift@Blenderbabes.com to redeem your free gifts!

3) PAYMENT PLANS! In addition to FREE SHIPPING + FREE GIFTS you also have ACCESS TO PAYMENT PLANS! Blendtec offers 3, 6, and 12 month payment plans with Financing through AFFIRM at checkout. This is NOT available at other retail outlets! Learn More.

4) ACCESS TO REFURBISHED BLENDERS! The largest selection and best deals on refurbished Blendtec blenders can only be accessed direct from the manufacturer and their affiliates. Refurbished blenders are a huge savings and are literally LIKE NEW! Learn More about the refurbished Blendtec blenders offered.
Blendtec Designer 725 – the World's Smartest Blender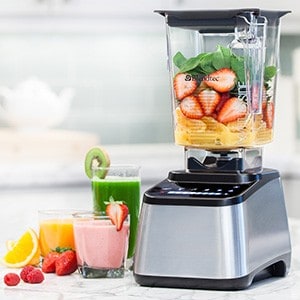 Cost: $679.95 – see the less expensive refurbished Blendtec Designer 725 for $549
Although there is the significant cost to consider, this top of the line Designer Blendtec blender will help you and your family maintain your health well into the foreseeable future.
The Blendtec Designer 725 it's most technologically advanced blender.
It features a 1,725 Watt, 3.8 Peak Horsepower Motor, which is THE MOST POWERFUL of the Blendtec Designer Series line (and all the power you'll ever really need!).
Weighing in at 10.7 lbs., the Blendtec Designer 725 is also heavier than the Classic models—the ones that if were filled to the brim with frozen ingredients atop an uneven surface like a tiled kitchen, could "bounce" or "travel" along your countertop during a blend (not a huge deal, just hold it down until it gets going!). The heavier weight of the Blendtec 725, solves this issue once and for all!
With its array of cutting-edge new features, all of which provide the ultimate interactive blending experience, the Blendtec Designer 725 is hands-down Blendtec's finest home kitchen model…
Additional Blendtec Designer 725 Features Include: 
SmartBlend Technology – This top of the line advanced blender features Blendtec's exclusive SmartBlend technology, which both senses and identifies potential problems that could interfere with the blend—including loading errors, overheating or air pockets—then tells you how to fix them (literally, the Blendtec Designer 725 tells you what to do!).
6 Preprogrammed Cycles – From left to right, illuminated icons for Smoothie, Salsa, Ice Cream, Whole Juice, Hot Soup & (the newest!) CLEAN cycle — easily handling every last blending recipe you can imagine! When using the cycles you will see in the interface which cycle you are using and it will countdown.
100-Speed Capacitive Touch Slider + Multi-Speed Pulse – Capacitive Touch Slider offers seamless precision speed control for ONE HUNDRED (that's right, I said 100!) SPEEDS. You can gently move your finger to get to your EXACT desired speed, plus it helps you get the perfect blend by telling you which speed to use for stirring, chopping, mixing, blending or pureeing. There's also a unique Multi-Speed Pulse giving you added BURSTS of POWER at any speed!
Tap For More "Add 10" Feature – Allows you to completely customize your blend by adding more time in 10-second intervals to Preprogrammed Cycles. THIS IS AMAZING AND MY FAVORITE NEW FEATURE! The small "issue" of blending again to an automatic cycle that needed a little more time is obliterated.
Blend Rewards – The Blendtec Designer 725 tracks each number of blends you complete, and once certain blending milestones have been reached, the interface displays a code, which you can redeem for recipe books, gift cards, jar discounts, kitchen utensils and more! How cool and totally motivating is that!!!
Two Colors with a Die-Cast Finish to Choose from – Stainless Steel and Gun Metal.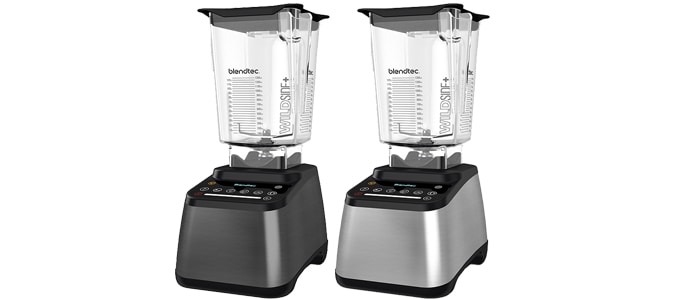 To see our comprehensive Blendtec Designer 725 Review CLICK HERE.
The Blendtec Designer 675 – a Modern Kitchen Must
Cost: $579.95 
The Blendtec Designer 675 is more affordable than the higher-end Designer 725 —but with almost all the same features!!
It has the "add 10" feature, 5 pre-programmed settings (including clean!) + 8 speeds!
Additional Blendtec Designer 675 Features Include:
5 Preprogrammed Cycles + Add 10 – From left to right, +10, Smoothie, Ice Cream, Whole Juice, Hot Soup & Clean—providing hands-free blending and automatic shutoff, giving you the power to create your favorite recipes with effortless ease.
"Add 10" Feature – Completely customize your blends by adding more time in 10-second intervals to Preprogrammed Cycles— This can also be used as a stand-alone 10-second cycle which is slightly different than the Tap to More 10 seconds on the Designer 725.
Three Seductively Sexy Colors to Choose from – Champagne, Charcoal & Dark Roast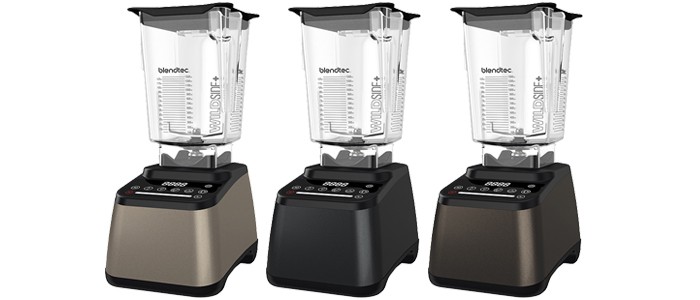 Blendtec Designer 625 – Where Fashion Meets Function
Cost: $499.95 – see the less expensive refurbished Blendtec Designer 625 for $399 (awesome deal!!)
The Blendtec Designer 625 features everything you need to create any healthy recipe you desire— with the four most popular pre-programmed settings – and it even looks great doing it!
Additional Blendtec Designer 625 Features Include:
4 Preprogrammed Settings – Smoothie, Ice Cream, Whole Juice, Hot Soup—giving you perfect blending results on an incredible array of nutritious meals and snacks!
6-Speed Capacitive Touch Slider + Pulse – Capacitive Touch Slider for 6 Speeds with the Multi-Speed Pulse offering added Bursts of Power whenever you need it—all while the illuminated interface counts down remaining blend time!
7 Dazzling Colors to Choose from – Black, Red, Chartreuse, Sea Foam, Orchid, Slate Grey & Polar White.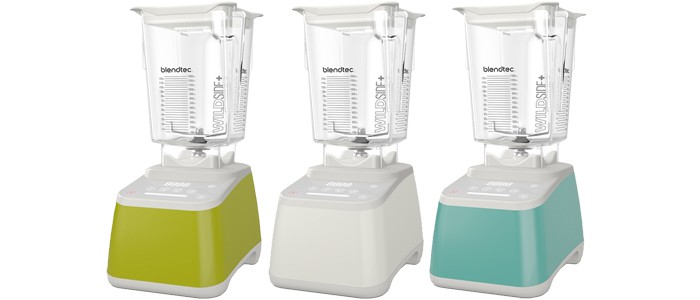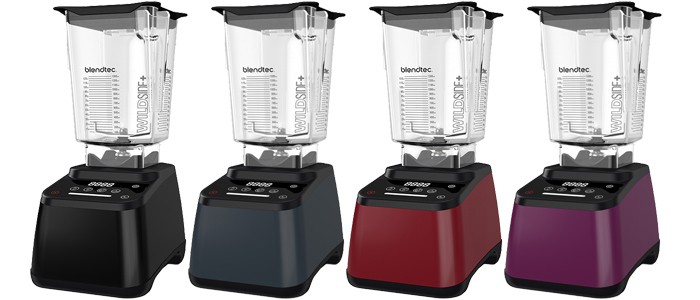 BLENDTEC DESIGNER SERIES PERFORMANCE
Please Note: We go into Blendtec performance details from our testing in our popular Blendtec vs Vitamix review
When it comes to blending, ALL of these Designer models can achieve the same results – they just may require different buttons and/or time blended.
Whether it's smoothies, whole juices, soups, frozen treats, salsas, batters or even cleaning – it's important to note THEY CAN ALL DO ALL THE THINGS!
FINAL THOUGHTS
I LOVE the new features the newer designer models have – Especially the "Add 10" that the Designer 725 and 675 have. However, if a blend needs more time, just use your manual keys and continue to blend until it reaches a consistency you like. NO BIG DEAL.
Yes, I LOVE the 100 speed touch slider the Designer 725 has, it's definitely more precise blending. If you are a blending aficionado and want the BEST, you will NOT be disappointed!
If you ultimately plan to mostly make smoothies, juices and soups and ice creams and want to save some $$ – I'm a huge fan of the colors, features  and price of the certified refurbished Blendtec Designer 625.
P.S. I recommend the Twister Jar for ALL of these blenders – if nut butters, ice creams, and smaller amounts are your thing. Check out our Twister Jar Review.
Well that pretty much sums the various differences between the each individual Designer Series Model, as well as how they've evolved from Tom Dickson's original Total Blender.
If you have any questions or concerns, please let us know in the Comments Section Below 🙂
And as always, Happy Blending!