Get FREE STUFF for Your Health! Click Here 🙂
SUPER EASY COPYCAT CHILI'S SALSA RECIPE
Such a great salsa recipe and super easy, this copycat Chili's salsa is flavorful with just the right amount of jalapeno spice!
You'll love that you know exactly what ingredients are in this fresh salsa, compared to store bought or some restaurants whose content can tend to have high sodium and preservatives.
Healthy, simple, and tasty, this copycat Chili's salsa is so good, you will absolutely be making it again and again!
Our recipe testers and their families all gave this a "10"!
Perfect for your next game day gathering or Superbowl party, we suggest doubling the recipe!
You can easily blend up this copycat Chili's salsa in a high powered blender, however this recipe can also be made in a regular blender!
Be sure to join our community for more healthy appetizers and dips from Blender Babes and if you try this, please let everyone know by rating it in the comments! 🙂 HAPPY BLENDING!
WATCH A QUICK VIDEO OF THIS COPYCAT CHILI'S SALSA RECIPE:
And subscribe to my YouTube Channel for more blender videos!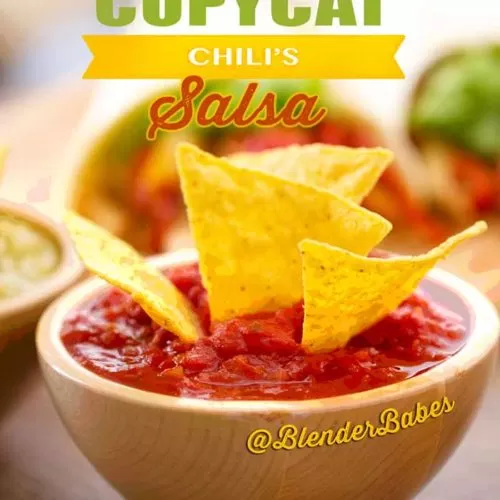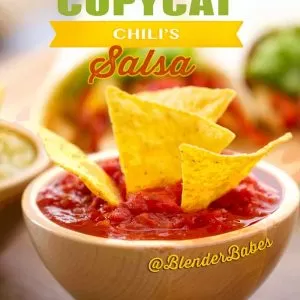 Super Easy Copycat Chili's Salsa
Ingredients
2 - 14.5

oz.

cans whole or diced tomatoes

drained

4-5

jalapeños

stemmed and seeded OR 1 can diced jalapenos*

1/4

cup

yellow onion

½

cup

cilantro

or more to taste

1

teaspoon

garlic

minced

1

teaspoon

salt

1

teaspoon

cumin

1/2

teaspoon

unrefined sugar such as turbinado/raw sugar OR coconut sugar

1

teaspoon

lime juice

2

roma tomatoes

diced (optional)
Instructions
Place all ingredients--except (optional) diced roma tomatoes--into the blender in the order listed, secure lid and blend until smooth or pulse for a chunky salsa.

For

Blendtec

: For a chunky salsa, use the PULSE button until it's a consistency you like. For a smooth salsa, use the BATTERS/DIPS button OR manual speed 5 for about 25 seconds.

For

Vitamix

: For a chunky salsa start on Variable Speed 4 and PULSE** until it's a consistency you like. For a smooth salsa, blend on Variable Speed 1 and increase to Speed 10/High and blend for about 20 seconds.

Add (optional) diced roma tomatoes and gently PULSE 2 times to incorporate.

Can be stored in a closed container for up to two weeks in the fridge or several months in the freezer.
Notes
* Use less if you prefer a mild salsa
Nutrition
Serving:
1
g
Calories:
36
kcal
Carbohydrates:
7.4
g
Protein:
1.2
g
Fat:
0.7
g
Polyunsaturated Fat:
0.1
g
Trans Fat:
0.1
g
Sodium:
436
mg
Fiber:
1.3
g
Sugar:
4.6
g
BLENDER BABES RECIPE TESTER NOTES
"We loved this recipe! My husband adored it and almost single-handedly ate the entire batch (though, I must admit, I also did some damage). We know our salsa living in the Southwest and found this one to be great."
"It is good without onion, too, if you have an allergy or aversion (we made it a second time without onions for a sister who hates onions). Good regular tomatoes can be used in place of the roma at the end, but may be slightly juicier."
"My husband and his whole family who loves eating at Chili's said this is the perfect copycat of Chili's salsa! They all LOVED it so much that the salsa was GONE already in one day. They all gave rate of 10!"
HEALTH BENEFITS TOMATOES
A tomato is actually a fruit, not a vegetable. Originating in South America, the tomato was spread around the world following the Spanish colonization of the Americas, and its many varieties are now widely grown, often in greenhouses in cooler climates.
One of the most well known tomato eating benefit is its Lycopene content.
Lycopene is a vital anti-oxidant that helps in the fight against cancerous cell formation as well as other kinds of health complications and diseases.
Free radicals in the body can be flushed out with high levels of Lycopene, and the tomato is so amply loaded with this vital anti-oxidant that it actually derives its rich redness from the nutrient.
Lycopene is not a naturally produced element within the body and the human body requires sources of Lycopene in order to make use of this powerful anti-oxidant.
While other fruits and vegetables do contain this necessary health ingredient, no other fruit or vegetable has the high concentration of Lycopene that the tomato takes pride in.