VEGETARIAN BLACK BEAN SOUP RECIPE WITH ORANGE-JALAPEÑO SALSA
Warm yourself up with this healthy and flavorful vegetarian or vegan black bean soup recipe with orange-jalapeño salsa. This simple soup recipe comes from Herbivoracious by Michael Natkin! Most blender soup recipes are smooth and creamy but this black bean soup is very unique. It almost has a meaty texture but without the meat! Processing the vegetables in your Vitamix blender saves time, otherwise just hand chop or use a food processor. The orange-jalapeño salsa paired with sour cream compliment the soup so well! Our favorite part of this recipe are the options! You can easily make this simple soup recipe vegan by using vegan sour cream or replacing it with avocado and gluten-free if you use GF vegetable broth powder. We LOVE options! Make sure to review our recipe tester notes. 🙂
Let us know how you liked this recipe by rating it below and leave us a note about how you made it your own! Join our community to get an occasional update from us and a chance to win one of our giveaways! Happy Blending!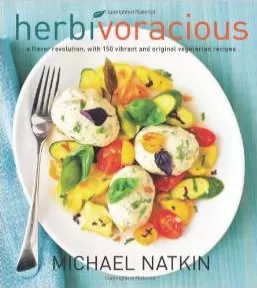 Black Bean Soup with Orange-Jalepeño Salsa Recipe
Ingredients
FOR THE SOUP:
6

cups

cooked black beans

cooking liquid reserved OR 4 (15-ounce) cans black beans, rinsed and drained

2

bay leaves

Vegetable broth powder

gluten-free if you need it; optional

3

tablespoons

extra-virgin olive oil

1

white onion

diced

1

yellow bell pepper

seeded and diced

4

garlic cloves

minced

Kosher salt or celtic salt

1

tablespoon

dried oregano

1

teaspoon

ground cumin

1

teaspoon

or more smoked paprika (optional - see recipe tester notes)
FOR THE SALSA*:
6

fresh mandarin oranges

or 3 large oranges

1

⁄4 cup red onion

finely diced

1

jalapeño pepper

or more to taste, thinly sliced

1

⁄4 teaspoon kosher salt or celtic salt

1

handful fresh cilantro leaves

chopped
TO SERVE:
Mexican creme

sour cream, or vegan sour cream or avocado*
Instructions
FOR THE SOUP:
Place the cooked beans and bay leaves in a 6-quart pot. Add enough reserved cooking liquid or water (with a little vegetable broth powder, if you wish) to barely cover the beans. Bring to a simmer.

Heat the olive oil in a skillet over medium-high heat. Add the onion, bell pepper, garlic, and a big pinch of salt, and sauté until the vegetables are starting to brown, about 5 minutes. Add the oregano, cumin, and smoked paprika and cook for 1 minute more. Remove from the heat.

Pluck the bay leaves out of the beans. Stir the onion mixture into the simmering beans.

For

Blendtec

: Using Fourside/Wildside Jar - Remove up to 2/3 of the soup from the heat and transfer into blender and secure lid and hold down. Use Manual Speed 7 or Med/High for about 30 seconds.

For

Vitamix

: Using a 64oz Jar - Remove up to 2/3 of the soup from the heat and transfer into blender and secure lid. Start on Variable Speed 1 and slowly bring up to Speed 10/High for about 30 seconds.

Return the soup to the heat. Add more water or broth as needed to produce a soup that's moderately thick, but thinner than a stew. Taste and adjust the seasoning. It will almost certainly need salt unless you used pre-salted canned beans. You may also find you want more cumin or smoked paprika. Simmer for at least 10 to 15 minutes to allow the flavors to develop.
By hand (and recommended if using Blendtec):
Peel oranges and remove the membrane. Cut the oranges into

supremes

and then cut those into cubes. Mix with the red onion, jalapeño pepper, and 1⁄4 teaspoon kosher salt. Taste and adjust the seasoning. Immediately before serving, stir in the cilantro.
For Vitamix: You can chop in the blender for a textured salsa*.
Place the red onion, jalapeno pepper, and kosher salt into a clean wet 3-inch base Vitamix container and secure lid. Pulse four or five times on Variable 3 to chop. Add the orange supremes and the cilantro to the container, and pulse three more times to combine.**
TO SERVE:
Ladle the soup into bowls and either top with approximately 3 tablespoons of the salsa and some creme or regular sour cream. For a vegan version, use vegan sour cream or avocado.
Notes
* The salsa is the more time consuming part of this recipe. You must hand chop/dice/mince ingredients beforehand for a textured/chunky salsa. You can save a little bit of time by chopping in the Vitamix (not recommended for Blendtec). You can also blend this salsa to save even more time but will lose the texture contrast.
**8 To make this dish vegan, use vegan sour cream or avocado slices
Nutrition
Serving:
1
g
Calories:
417.6
kcal
Carbohydrates:
60.9
g
Protein:
19.9
g
Fat:
11.9
g
Saturated Fat:
3.6
g
Cholesterol:
7.9
mg
Sodium:
884.1
mg
Fiber:
18.4
g
Sugar:
10.2
g
BLENDER BABE RECIPE NOTES 
All of our recipe testers enjoyed water with vegetable broth powder (or used vegetable broth) instead of reserved cooking liquid for a more intense flavor. To save time, use the optional canned black beans. Also, if you own a Vitamix, food processor, or other high powered blender with extra sharp blades, you can quickly chop ingredients rather than hand chopping/dicing/mincing. To prepare the soup ingredients: Quarter the peeled onion. Place ½ in a 3-inch or 4-inch wet vitamix container. Pulse on Variable Speed 3 until coarsely chopped. Repeat this process with the bell pepper. Run the same Vitamix container on Variable Speed 10, and drop the four garlic cloves into the container through the stopper hole in the lid. This will chop up the garlic. For an extra chunky soup, only puree 3/4 of the soup in the blender and add it back to the cooking pot with the rest of the soup and let simmer another 10 minutes to further develop the flavor. All of our recipe testers agreed that the smoked paprika MAKES this recipe, without it there won't be as much contrast with the salsa. You can also add a dash of Tobasco or hot sauce to kick up the heat and flavor!
HEALTH BENEFITS OF JALAPEÑOS
Jalapeños are small in size but they sure pack a punch! They are packed with antioxidants and vitamins C and E but they are also full of capsaicin. Capsaicin is the substance that gives jalapeños their hot, hot heat and on top that, can help curb your appetite and speed up your metabolism!
Recipe & Image © 2014 by Michael Natkin's Herbivoracious and used by permission of The Harvard Common Press