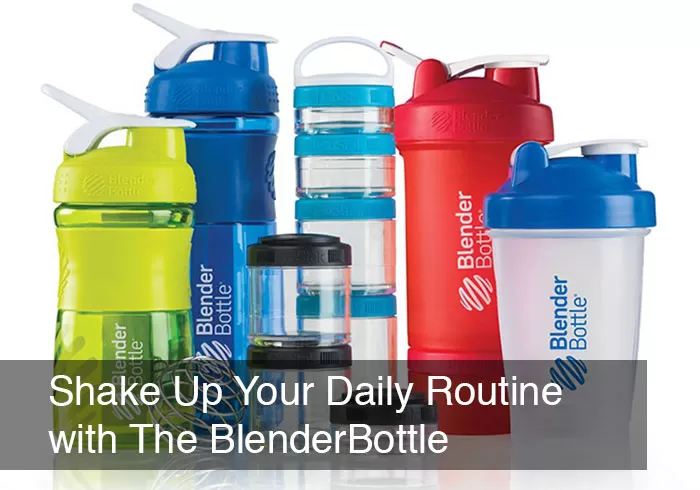 Smoothie and Protein Shaker Bottle
Yes, there's such a thing as on-the-go smoothies! The Blender Bottle makes it sooooo easy to blend and go, it's NOT just a protein shaker bottle. Back in 2004, the Blender Bottle Classicrevolutionized the industry with it's patented Blender Ball wire whisk, and they've done it again!
The Blender Bottle ProStak allows you to take your smoothies on-the-go AND store your vitamin supplements and/or protein powders! Of course as a protein shake bottle, just mix in liquids such as filtered water, coconut water, juice, or your favorite milk substitute – shake, shake, shake, and the whisk will take care of the rest!
Of course Blender Babes likes to make our green smoothie recipes in our Blendtec or Vitamix blender, and then add it to our Blender Bottle ProStak to take with us everywhere. We LOVE the wire whisk because it quickly reblends, especially when certain green smoothies with more insoluble fiber separate!
This little silver-toned whisk is strong enough to break up clumps, making smoothies and shakes perfectly portable. Say 'goodbye' to lumpy shakes and 'hello' to smooth, great-tasting drinks! In case you were wondering, the Blender Ball has the strength to whip up your favorite ingredients, even the sticky, thick ones: applesauce, cocoa powder, oatmeal, even peanut butter is no problem! Peanut butter! Everything whips up to a light and smooth consistency.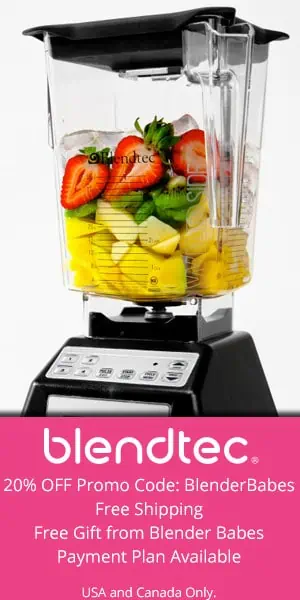 You can also mix up pancake batter or any other kitchen recipes that require mess-free mixing. It's genius!
So, Here's What You'll Get with the Blender Bottle

Patented Blender Ball inside

Leak-proof seal (Tested and

Blender Babes

approved)

An extra wide mouth, which makes it easy to add bulky ingredients

StayOpen flip cap™ – this prevents blueberry stained noses

GripperBars™ making it easy to hold

Embossed ounce (oz) and milliliter (ml) markings, for easy measuring

Fits in most car drink holders (so important for the on-the-go gals)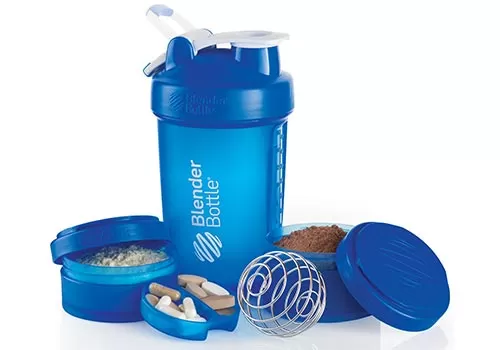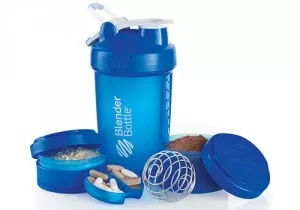 Blender Bottle offers different products that you may combine or use, according to your needs. Our favorite is the NEW Blender Bottle ProStak – which combines the protein shaker cup with twist n' lock jars, providing unlimited storage expandability. GENIUS! The Expansion Pak is compatible with Blender Bottle ProStak includes 100 cc, 150 cc and 250 cc jars to carry your protein, meal replacement and on-the-go nutrition needs along with a removable twist n' lock pill organizer. The Blender Bottle SportMixer is equipped with a rubberized over molding for a no-slip grip making it a perfect companion during your gym sessions or outdoor fun!
Recommendations by Blender Babes
Use the Blender Bottle ProStak for health and fitness supplements. Now no matter what your schedule is like, you'll be able to enjoy your protein shakes and nutrition drinks! Check out Blender Babes for great recipes! You can also use it to make an easy, quick breakfast! Whether you are craving scrambled eggs, omelets or pancakes, this protein shaker bottle makes it super easy to enjoy them all! Add more taste to your meal by mixing your own salad dressings and gravies too! Yum!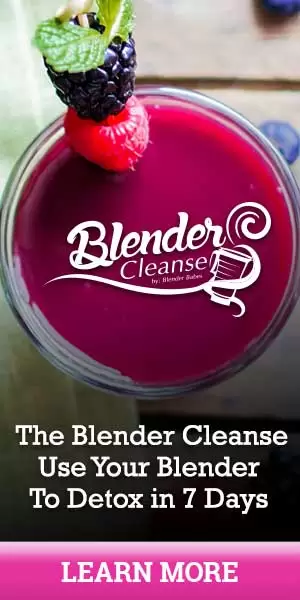 These Blender Bottle products have been a great addition to our health and fitness regime since it's not always possible to blend whenever due to time limitations. We highly recommend adding your pre-blended smoothies to a Blender Bottle to take-on-the-go, a quick shake keeps it nice and smooth, especially your green smoothies! These smoothie-on-the-go and protein shaker bottles help you add and store ingredients. So whether it's workout nourishment or mid day workday pick-me-ups, the Blender Bottle is the perfect companion! Pick your favorite color and start shaking, Blender Babes! xx
Disclosure: This is not a sponsored post. Blender Babes only promotes products we have tested, approved, and believe to be the best healthy lifestyle items available to our community.