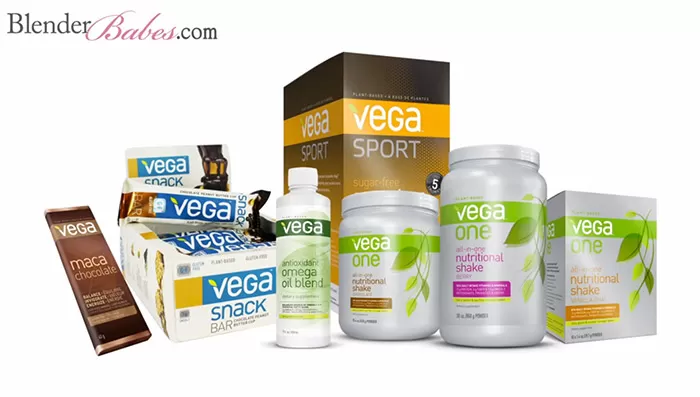 We LOVE companies that share our passion for nutrition and healthy lifestyle, especially when they've created great-tasting, high-quality products that we can use in our smoothies and other delicious recipes made in our high-powered Blendtec or Vitamix blenders! VEGA has quickly become one of our favorites here at Blender Babes!
Congrats to our Vega Giveaway Winners Holly D, Brian S, Ellen C, Bob, KC
Empowering the World to Thrive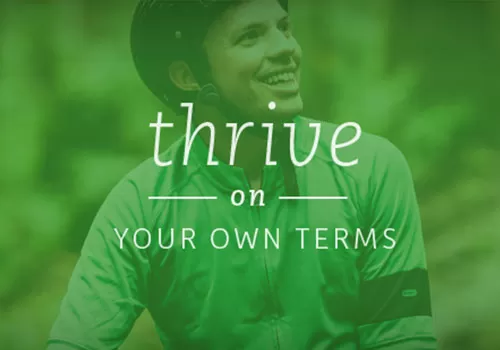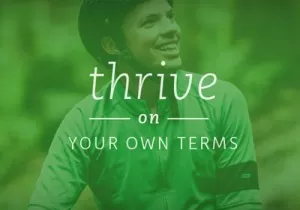 Since the beginning, VEGA has made it their number one priority to create products made exclusively from natural, plant-based ingredients. Their gluten-free, non-GMO products make it easy to obtain optimal nutrients on-the-go, and make wellness accessible to everyone!
VEGA was born when professional endurance athlete, Brendan Brazier, was told that a plant-based diet simply wouldn't cut it on the professional Ironman circuit, and boy did he prove them wrong! Short on time and kitchen space to prepare traditional meals, he dreamed of a simple, plant-based meal of whole foods that would supply his body with premium fuel. After years of experimentation, that dream ultimately lead to the creation of VEGA One Nutritional Shake (check out its amazing properties below) and an entire line of nutritional supplements.
Now, VEGA's ambassadors include professional snowboarders, NFL players, soccer players, UFC fighters and olympic medalists. Not to mention our favorite holistic nutritionist Peggy Kotsopoulos! VEGA believes that perfection can be achieved, and to Thrive Forward with one small change at a time!

Blender Babes' favorite Vega products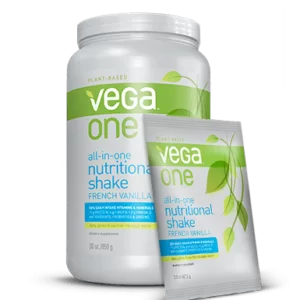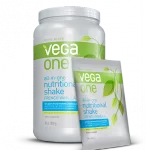 VEGA One Nutritional Shake is a delicious shake free of dairy, gluten, soy, artificial flavors, added sugar, colors or sweeteners. VEGA One is made entirely from natural, whole food ingredients, and is an all-in-one supplement loaded with 50% daily recommended vitamins and minerals, 15 g protein, 6 g fiber, 1.5 g Omega-3, Antioxidants, Probiotics and Greens. We love to add a scoop to our morning smoothie recipes! Vega has 2 other protein powder lines – check out our comparison review of them!
VEGA's Antioxidant Omega Oil Blend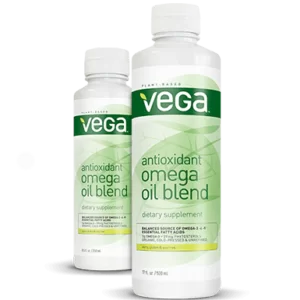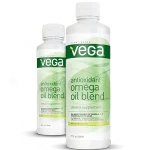 is a plant-based oil that's great for adding a boost of omega-3s to dips, soups, salad dressings, smoothies and even veggie, rice and pasta dishes. It's organic, cold-pressed and unrefined, so it packs a major dose of nutrition in each tablespoon! It has combo of nine virgin oils: coconut, hemp, flax, pumpkin seed and a blend of antioxidant seed oils from green tea, black cumin, blueberry seed among others. And did we mention that it contains 77% of your daily value of vitamin E as well as chlorophyll?
Protein Sport Bar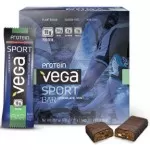 is great for recharging after workout sessions. This protein bar contains 15g of multi-source, plant-based protein, 2.5g BCAAs, 2g glutamine and 1g of omega-3s. We LOVE the Chocolate Mint the best – it's like a fudgy mint brownie – but you don't have to take our word for it! Also try the Chocolate Coconut and Chocolate Peanut Butter and decide which one is your favorite! Let us know in the comments which one is YOUR favorite!
VEGA Snack Bar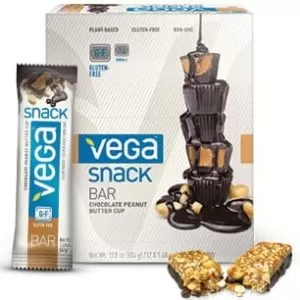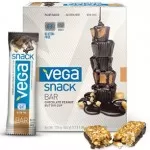 is our favorite indulgent feeling snack! They were introduced at this year's Natural Product Expo West – and were SO EXCITED to try them. There's a ton of flavors to choose from – and we even did a BLIND snack bar taste test – and the Dark Chocolate Mixed Nuts & Sea Salt Snack Bar ranked #1 out of 20+ bars between the Blender Babes Team, which consists of vegans, vegetarians, gluten-free and everything-in-moderation lifestyles! 🙂 Chocolate Peanut Butter Cup wasn't out at the time but we've since tried it and it is SOOOOO good – if you are a peanut butter lover it's a must try. Other flavors include Dark Chocolate Cashew Cherry, and Cranberry Almond and Coconut Cashew, they satisfy any mid-day craving!
Vega Sport Sugar-Free Energizer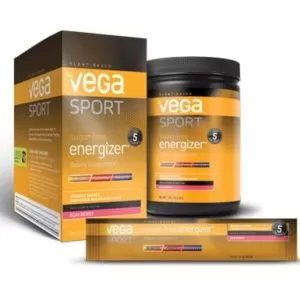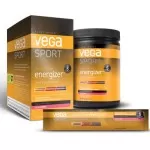 is hands-down our favorite sugar-free energy boost! It gives you a ton of energy while enhancing mental focus and boosting endurance – all with only 5 calories. How could you go wrong with that?! Take it 20 minutes before your workout and your workout will be a breeze. It's especially great for low-intensity workouts! We like both the Lemon-Lime and the Acai berry flavor; add it to a pre-workout or morning smoothie!
Vega Maca Chocolate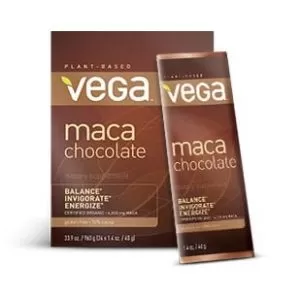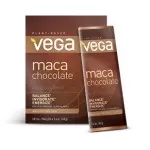 is perfect for health-conscious chocolate lovers! Maca Chocolate is 70% dark chocolate with 4,000 mg of organic maca. Maca is a powerful ingredients that has been used for thousands of years. The Incans used it for a natural and sustained energy boost. It's also great to help balance hormone levels, as well as for libido. Women and men, and athletes to average Joe's can benefit from the maca boost added to this tasty dark chocolate. We use it in some of our smoothie recipes, such as this coconut chocolate chip recovery smoothie, and even some baked goods! No guilt here! 🙂
Blender Babes uses these VEGA products to help us balance our busy, active lifestyle, and we hope they'll help you too! Our prescription: start the day with VEGA One in a delicious breakfast smoothie, add a boost of omega-3 to your veggie or pasta dish with VEGA's Antioxidant Omega Blend for lunch, slip in a Vega Sport Sugar-Free Energizer for a pre-workout boost and if you're hungry afterwards, nibble on a post-workout protein bar. And for the munchies throughout the day, carry a VEGA Snack Bar! We LOVE the Dark Chocolate Mixed Nuts & Sea Salt! Try these amazing products and tell us how you thrive!