HABANERO HOT SAUCE RECIPE
Our Habanero Hot Sauce recipe may very well become your mealtime secret weapon because it's just so gosh darn good.
It's not only easy to make, but it's fiery hot (with a touch of sweetness from the addition of peaches) and has a tremendous depth of flavor.
We recommend pouring this delicious sauce on top of your next batch of hot wings.
You can also add it to your store-bought (or homemade) BBQ sauce to give it even more of a "kick."
GREAT AS A GIFT! Use those mason jars! 
This recipe yields quite a bit.  If you're not sure what to do with the extra servings, consider bottling some up to give as presents.
Your heat-seeking loved ones will surely have their minds blown by this spicy, smokey and lightly sweet sauce.
You can also put the rest in the fridge as it will definitely keep well in the ice box.
Just make sure you put it on the table at mealtime whenever your dishes need that little extra dash of "flavor."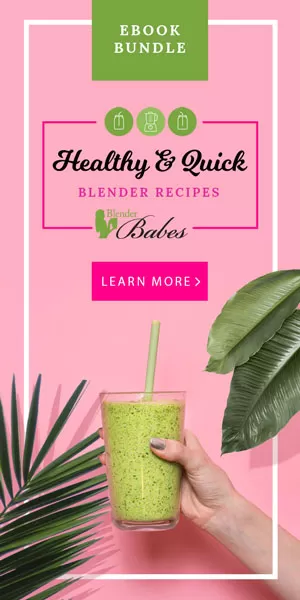 Whip this quick and easy sauce up in a high powered blender.
Be sure to join our blending-loving tribe for more sauce recipes and tips from Blender Babes and our friends!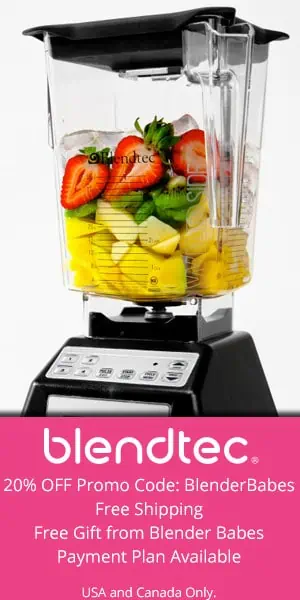 Did you try this Habanero Hot Sauce recipe? Let us know by rating it in the comments. HAPPY BLENDING! 🙂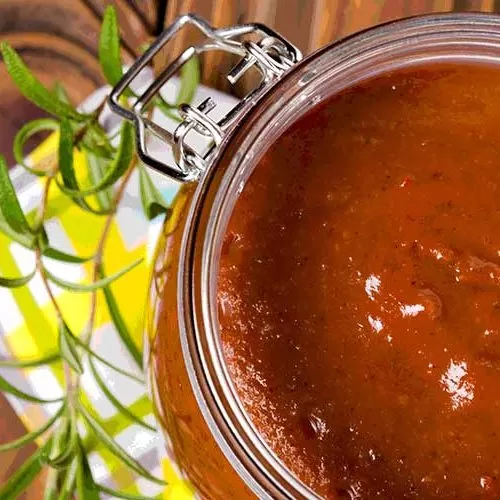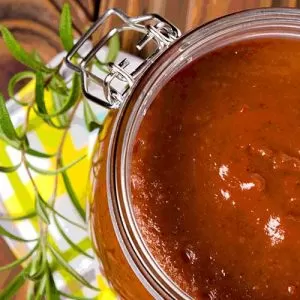 Habanero Hot Sauce Recipe
Ingredients
1/4

cup

water

less if you like a thicker sauce

7-8

habanero peppers

½

cup

coconut sugar or light brown sugar

15

oz

sliced peaches

⅛

cup

yellow mustard

¼

cup

dark molasses

1

cup

distilled white vinegar

2

tbsp

salt

2

tbsp

paprika

1

tbsp

black pepper

½

tsp

ground ginger

1

tbsp

ground cumin

½

tsp

ground coriander

½

tsp

ground allspice
Instructions
Place all ingredients into the blender in the order listed and secure lid

Blend on high until a smooth consistency you like.

Pour into clear jars & refrigerate overnight before using.
Nutrition
Serving:
1
g
Calories:
29
kcal
Carbohydrates:
6.7
g
Protein:
0.5
g
Fat:
0.1
g
Sodium:
424.9
mg
Fiber:
0.4
g
Sugar:
5.3
g
Recipe Tester Notes
"Make sure to let it sit for the 24 hours like it calls for, it calms the heat down some. I tasted it originally and then when it had been in the fridge and the flavors blended together better after the 24 hours."
"I used it to make some smokey spicey toasted pepitas. YUM!! I also used it in a salad dressing that called for sriracha sauce. It was fabulous, especially since I used the pepitas on the salad with that dressing. Major thumbs up!
3/4 c pepitas
3 tbs hot sauce
1/2 tsp liquid smoke
1/2 TBS coconut nectar
Bake 325 for 17 min."
HABANERO PEPPERS HEALTH BENEFITS
Habaneros belong to the same Capsicum family of peppers that includes the more popular varieties like poblanos, jalapenos, and bell peppers.
Native to Central and South America and the Caribbean, habanero peppers are the hottest of all commercially grown chili peppers making them a favorite with lovers of spicy dishes.
Besides providing heat, habaneros also contain a high concentration of vitamins, minerals, dietary fiber and the compound capsaicin.
Capsaicin has been known to help prevent the development of diabetes, cancer and cardiovascular disease. It also works as an anti-inflammatory.
NOTE: If you suffer from issues like chronic heartburn or irritable bowel syndrome, be sure to talk to your doctor before consuming these fiery little peppers as they could worsen your symptoms.