EASY FUDGE RECIPE: KETO SALTED CHOCOLATE FUDGE [NON BLENDER]
This recipe is so delicious that even your non-vegan friends and family members will beg for the recipe!
Despite the fact that this recipe is only 140 calories per serving, it is just as smooth and just as rich as any other fudge, with a pleasant hint of coconut.
This fudge recipe is suitable for a vegan diet as well as a paleo or ketogenic diet plan.
KETO DIET PLAN

Want to know more about how to balance hormones on a Keto diet? Click the image below. Use promo code: BLENDERBABES for 10% off any product!
We love salted fudge recipes because they fire on every flavorful cylinder: sweet, a little salty, and rich.
This easy salted fudge recipe is a quick-to-make dessert to bring to events, share with friends or just have on hand for a satisfying treat.
Make sure to use our guide on How to Make Your Own Coconut Butter at home in your blender to save money!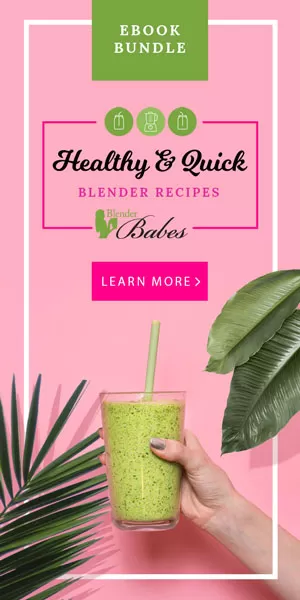 This recipe shows how to make the fudge without a blender — it's that easy! Be sure to join our community to more easy dessert recipes from Blender Babes.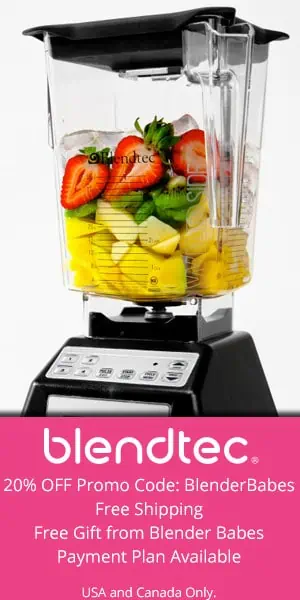 When you make this recipe, be sure to rate it in the comments and let us know what you think!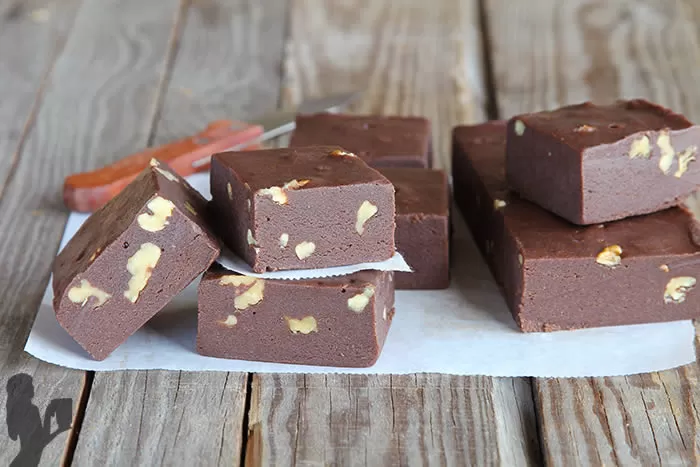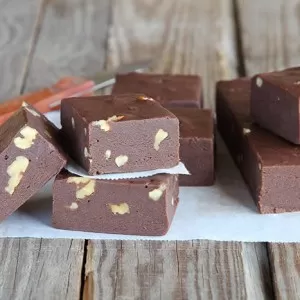 Non-Blender Keto Salted Chocolate Fudge
Ingredients
1/2

cup

coconut butter

1/2

cup

coconut oil

1/2

cup

full fat coconut milk

1/3

cup

xylitol

you could add more if you like it sweeter

6

oz

unsweetened vegan baker's chocolate

I used Camino

1

tsp

pure vanilla extract

1/4

cup

macadamia nuts

chopped (optional)

1/4

tsp

pink Himalayan salt or sea salt
Instructions
Line an 8 x 8 inch baking dish with parchment paper.

Combine coconut butter, coconut oil, coconut milk, xylitol, dark chocolate and vanilla in a bain-marie or double boiler. Melt over low heat, stirring occasionally.

Once it is melted and smooth, remove from heat and stir in chopped nuts.

Pour into baking dish and sprinkle with salt.

Refrigerate for 2-3 hours or overnight until firm. Remove and cut into squares.

Keep leftovers refrigerated.

All done! Enjoy!! Now take a photo, rate it, and share your accomplishments to enter our

weekly photo contest

! 🙂 Tag @BlenderBabes & #BlenderBabes
Notes
1. If you only want a mild coconut flavor, reduce the coconut products to 1/4 cup and substitute with alternatives.
Nutrition
Calories:
140
kcal
Carbohydrates:
11.3
g
Protein:
0.2
g
Fat:
11.9
g
Saturated Fat:
8.6
g
Trans Fat:
1.7
g
Sodium:
4.8
mg
Fiber:
0.9
g
Sugar:
5.6
g
BLENDER BABES RECIPE TESTER NOTES
"The fact that my sweet-loving dad loved it so much (despite its lack of sugar and dairy) made me rate it so high. I loved it also and would make it again!"
"It does not taste sugar-free at all."
COCONUT BUTTER HEALTH BENEFITS
Coconut butter is the ground up dried flesh of the coconut that contains both natural oils from the coconut oil as well as fiber from the flesh, bringing you the best of both worlds when it comes to total nourishment.
The nutritional benefits of coconut butter are similar to those of coconut oil. The main difference being coconut butter also contains valuable fiber.
Though coconut butter doesn't have quite as many uses as the pure oil, it's still a very valuable addition to any diet.
It is a good butter replacement that is antiviral and antibacterial while balancing hormones and sustaining energy levels.