BLENDTEC vs VITAMIX REVIEW – MEAT GRINDER
CAN THESE BLENDERS GRIND MEAT?
In this Blendtec vs Vitamix review, we show how both of these blenders can replace a meat grinder in your kitchen – even if you've never owned one and never planned on grinding your own meat at home!
These high powered commercial blenders have powerful motors and when blending at their highest speed, Blendtec blade tips spin up to 310 miles per hour and Vitamix spins at about 250 miles per hour.
The Blendtec motor is very powerful. Models range from 1560 watts, 3 peak horsepower such as the Total Blender Classic to 1725 watts and 3.4 peak horsepower with their newest Designer 725 model.
The Vitamix motor is less powerful with 11.5 amps, 1380 watts, and 2 peak horsepower (the newer Next Generation models have a 2.2 horsepower motor).
When the powerful stainless steel blades spin this fast in such a SMALL SPACE, this is easily the same strength as a meat grinder!
There's no reason to buy pre-packed, nitrate-laden foods if you can avoid it.
Once you start making your own fresh and lean Breakfast Sausage, there will be no reason to go back!
Your Vitamix or Blendtec will make it easier to avoid processed meats due to their  meat grinding capacity.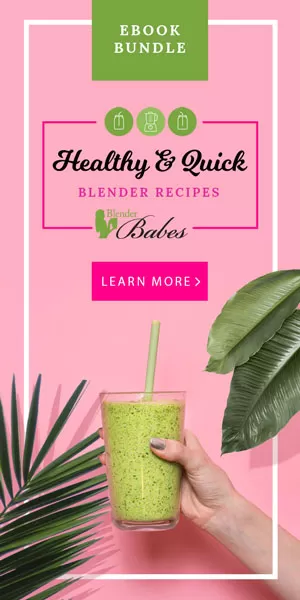 HOW TO GRIND MEAT IN A VITAMIX

All Vitamix models grind meat using the manual settings.
1) Cut your meat into 1 inch cubes. Keep chilled just until ready to grind.
2) Start on Variable Speed 1, turn the machine on, and increase to Variable Speed 6.
3) Remove the lid plug
4) Add the meat a couple chunks at a time in 10-15 second increments.
5) If using spices, scrape ground meat into a bowl, add spices and hand mix to distribute.
The meat will be 100% ground to a fine consistency, with any fat evenly distributed.
It's perfectly ground, however there is no way to control the consistency of the grind.
What's really nice about the Vitamix is the extremely secure gripper lid with large lid plug opening to fit the meat (or other ingredients) through.
We prefer using the wider 4 inch base of the Next Generation Compact Jar – it's easier to get the meat out after blending than with the 3″ wide standard jars.
The Vitamix can grind all types of meat, such as boneless skinless chicken breasts, turkey, pork, and beef.

HOW TO GRIND MEAT IN A BLENDTEC
All Blendtec models grind meat by simply using the Pulse feature.
1) Cut your meat into 1 inch cubes. Keep chilled just until ready to grind.
2) Place up to 1/4 to 1/2 pound of the meat cubes in your Wildside jar (less if using the Fourside Jar). If not using spices, skip to Step 5.
3) If using spices (only use up to 1/4 pound of meat) and add the seasonings.
4) Top with the remaining meat cubes (up to 1/4 of a pound).
5) Use the PULSE button until it's ground to a consistency you like. For some this will be fifteen 1 or 2 second pulses, while others will prefer 20 pulses or even more.
Pulsing will evenly distribute the seasonings throughout the meat when blending.
Be careful not to overblend, as the heat from the blades may melt some of the fat, which you don't want.
Some pros of using a Blendtec to grind meat is that it is very easy to remove the meat from the blender jar and you can blend the entire mixture at once – seasonings included.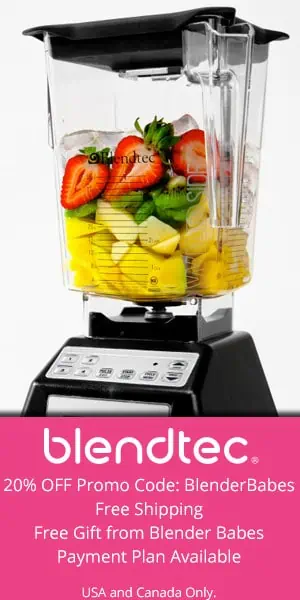 Some cons (to some) is the fat isn't 100% evenly distributed throughout the meat.
SO WHICH BLENDER IS BETTER? Blendtec vs Vitamix
In this Blendtec vs Vitamix blend off – it's really tough to decide who does it better!!
Both blenders can be used to grind meat and make fresh ground meat mixtures, that is certain.
The Blendtec however, is easier when it comes to getting the meat out of the container.
Also you can incorporate the seasonings at the same time so there's one less dish to clean and slightly less work to do.
With the Blendtec we did notice that occasionally chunkier bits of fat didn't get evenly ground throughout the meat – such as when making Alton Brown's healthy pork breakfast sausage – however we liked this because we could then just pull out the extra fat (although others might want this!).
NOTE: To alleviate this we recommend chilling the chunks of meat for at least 3o minutes before blending, and we recommend blending in batches if you're doing a large amount.
The Vitamix rapidly and consistently pulverizes the meat, with any fat 100% evenly distributed.
With Vitamix, we did find it slightly harder to get all of the ground meat out of the container, whatever was underneath the blades.
We then had to add any seasonings in a separate bowl and combine by hand. For this reason we're going to have to go with the Blendtec.
FINAL THOUGHTS
Making fresh homemade sausages and ground meat at home is a nutritious and healthier way to cut back on processed foods, especially packaged nightmares like hot dogs and sausages which are filled with nitrates and sodium.
Both blenders can easily and proficiently grind meat – no need to buy a separate meat grinder appliance!!
With Blendtec, you can control the consistency of your grind, however a few fat chunks may be left.
You can also grind everything at once, which means you can add seasonings and grind everything at once, so sausage patties for example are ready to be formed and cooked immediately.
With Vitamix you get a complete ground consistency, and must add seasonings after and hand mix.
Why Purchase Through Blender Babes

Blender Babes is proud to be an affiliate of Vitamix and Blendtec blenders. Your blender purchase made using the links from our website and Vitamix Promo Code 06-007974 or Blendtec Promo Code BBGIFT gives you free shipping AND Exclusive FREE GIFTS* from Blender Babes! It's how we keep our content free and we are so grateful for your support! ♥

*You must forward your purchase confirmation email from the manufacturer to freegift@blenderbabes.com to redeem our free gifts offer.