DAILY HARVEST REVIEW
Receive 50% OFF your 1st 6 purchase with Daily Harvest Promo Code "BlenderBabes3"! 🙂 
In this Daily Harvest Review I'm going to walk you through my experience, cost and how it works so you can decide if it's something you would like to try.
People sometimes forget that making the perfect smoothie isn't always easy. Even if you have a great blender (such as a Blendtec or a Vitamix), you still need to pick the right ingredients; and you'll also need some time to prepare them – note that more preparation time is required with a regular/low power blender.
The wrong choice of ingredients can give you a smoothie that doesn't taste great, because  different fruits or veggies that taste great on their own may not be palatable when mixed together.
Or perhaps you'll end up making a Jamba Juice smoothie type that's packed with calories, no organic ingredients, and after a few weeks you'll be shocked to find out that you gained weight!
Recently I have been beyond busy running my Blender Babes business, so much so that I've had a really hard time trying to meal plan, grocery shop, cook for myself, exercise, etc.
This has thrown me way off balance and I knew I needed to do something to take better care of myself – so I was very excited when I discovered Daily Harvest on Instagram and decided to try out the service.
What I found with Daily Harvest, is you'll always get the right mix of ingredients – THAT TASTE AMAZING – and are ready to blend so you can make your smoothie fast. For many of us who can't afford to waste time, this kind of convenience is a godsend.

DAILY HARVEST REVIEW – WHAT YOU WILL GET 
Daily Harvest offers different prepackaged options including smoothies, soups and now easy breakfast bowls!
Each recipe was developed by a nutritionist, and you get between 40 to 150 calories per serving (2 servings per container).
The combinations were also overseen by a real chef, which is very apparent because every smoothie I tried was ABSOLUTELY DELICIOUS!
The ingredients may include various superfoods such as seeds, hemp, matcha, camu camu, and acerola. I love this because you can try new superfoods and ingredients to help you decide if you'd like to invest in a package of one.
All ingredients are whole organic foods that are unrefined and not laden with preservatives.
Ingredients and nutrition info is listed on each package as well as the website – so you can easily avoid any food allergies or least favorite ingredients. 🙂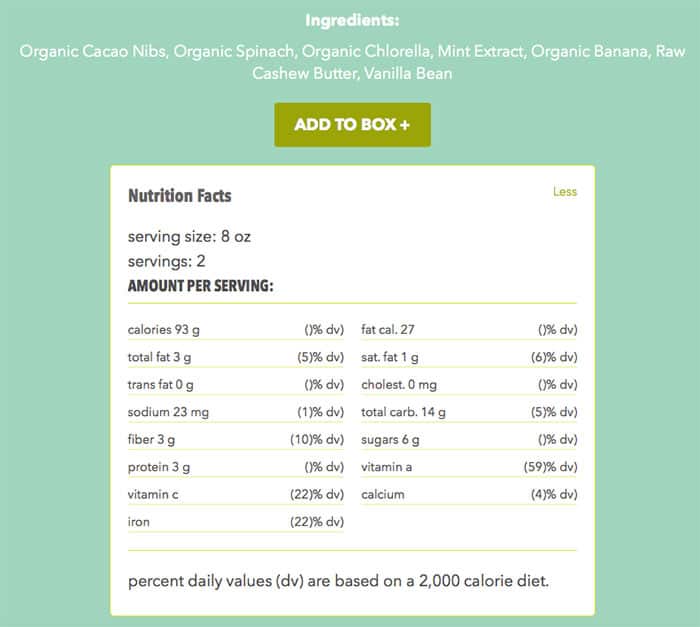 Each smoothie costs merely $7.99, which is a bargain considering how much you may spend on organic fruits and veggies.
When you include the time you spend trying to come up with exciting smoothie recipes, shopping, prepping and cleaning your mess in the kitchen, I think you'll agree that Daily Harvest's easy smoothie, breakfast bowls and soups delivery service is money well spent.
DAILY HARVEST REVIEW – DELIVERY SERVICE 
You will choose from 6, 12, or 18 smoothie packages per delivery. And you can also choose to have them delivered once a week, once every two weeks, or once every 4 weeks.

There's no locked in commitment required AND it's really flexible – you can skip a delivery or cancel an order anytime you wish.
Once you've made your choices, your smoothie packages will be delivered to your doorstep free of charge. They ship to your door on dry ice so it stays frozen, which is perfect if you're at work or running errands when it arrives.
Something else I really loved?
The packaging is 100% recyclable! Eco-conscious and green is something I always look for from brands that I buy from. 🙂
Daily Harvest currently delivers nationwide in the USA! You can see a current map here but also check their website with your zipcode.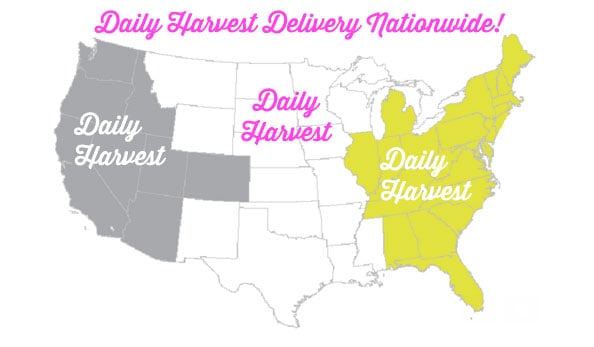 DAILY HARVEST REVIEW – PREPARATION
Once you get your order, you just need to put it in your freezer and you can blend any package anytime you wish. It's especially convenient in the morning when everyone's rushing to get to work or go to school. Just pick the smoothie you want, add a liquid base, and blend.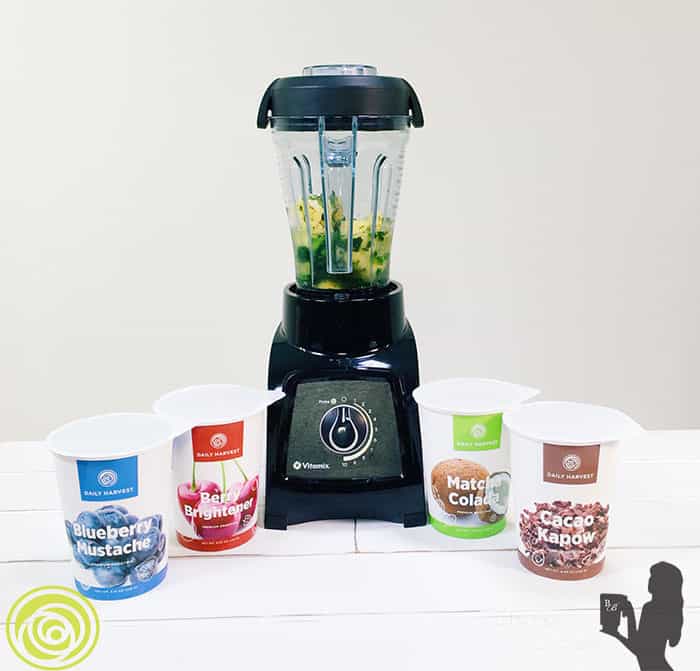 Since these smoothies come in packages, you can even bring them to the office – or what I've done is quickly blend and add to my Blender Bottle or mason jar to take on the go.
FINAL THOUGHTS
I loved this smoothie delivery so much and feel the value of this service is so great, that Blender Babes has partnered with Daily Harvest! Remember – Receive 50% OFF your 1st 6 smoothie purchase with Daily Harvest Promo Code "BlenderBabes3"! 🙂

The Daily Harvest smoothie delivery service perfectly matches the Blender Babes commitment in spreading the word about the amazing benefits of good blenders and nutritious smoothies.
♥ Follow us on Instagram! ↓