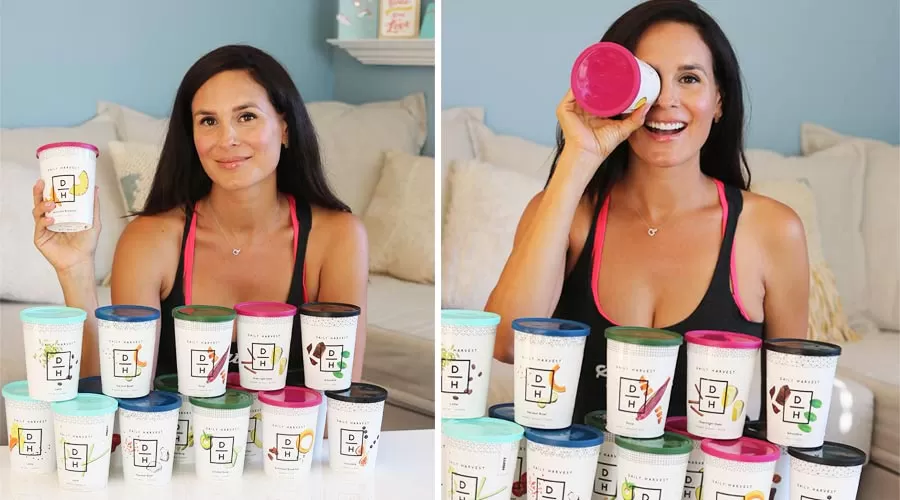 Get $25-$40 OFF the price of your 1st box with our March 2023 Daily Harvest Promo Code "BlenderBabes3" rather than breaking it down the discount over 3 boxes.  🙂 
Updated March 7th 2023
In this Daily Harvest Review I'm going to walk you through my experience, cost, options and how it works so you can decide if it's something you would like to try.
WHY I CONSIDERED EVEN TRYING DAILY HARVEST
I think one of the biggest struggles we all face in trying to eat and live healthier is time.
As a new mom and a solo-preneur, there are days (weeks, even!) when it's hard for me to meal plan, grocery shop, cook, or exercise – much less sleep.
Owning a power blender certainly makes a difference because I can always fire up my blender to prepare a smoothie, a soup, a whole foods juice and many other quick and healthy blender-friendly options.
While having a power blender (such as a Blendtec or a Vitamix) is a major convenience and a must-have in my eyes, there is still some prep work time involved.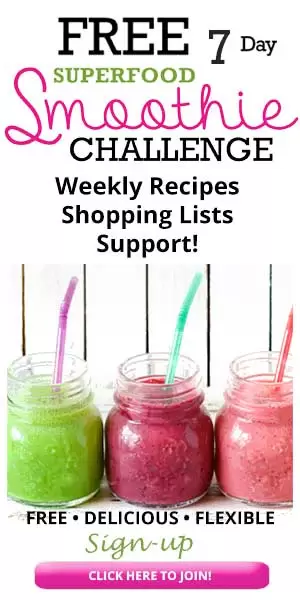 First you have to select the ingredients and then you'll need time to prepare them. (FYI…more preparation time is required with a regular/low power blender. That means more chopping and/or peeling.)
It may not seem like it, but deciding which ingredients to use in your smoothies is a pretty big deal.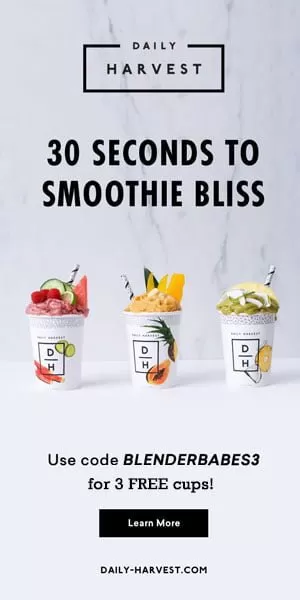 If you're new to blending, you may not be aware that some fruits and veggies that taste great on their own may not be very palatable when blended with other fruits and vegetables.
Another thing to keep in mind is caloric content.
Taste-wise you may think the smoothies you're making are on Jamba Juice's level. But they could also be calorie-laden just like many of the smoothies on Jamba Juice's menu!
If losing or maintaining weight is your goal, you may discover after a few weeks of drinking your homemade, calorie-packed smoothies, that you've  gained weight. Yikes!
Daily Harvest is one of the products I use where I don't have to worry about anything or even DO much.
Most importantly, it helps me keep my health and eating habits on track now that my schedule is filled with keeping a child fed and happy while also running Blender Babes from home.
What I found with Daily Harvest, is you'll always get the right mix of ingredients – THAT TASTE AMAZING, thanks to chef created recipes – and are ready to blend or eat so you can have a healthy meal fast.
For those of us who can't afford to waste time, this kind of convenience is a godsend!
DAILY HARVEST OPTIONS – WHAT YOU WILL GET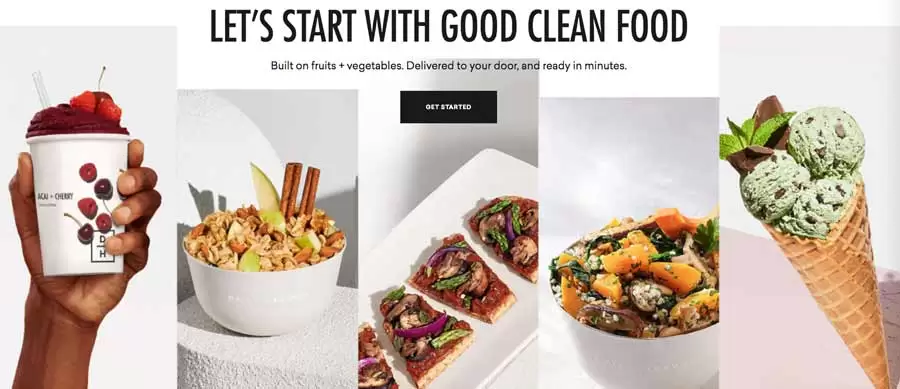 Daily Harvest initially offered a variety of pre-packaged smoothies but they've expanded their line to include tons of amazing ways to make your life easier and healthier!
Soups
Eat them hot or cold. They're are nutrient-dense, savory and have the perfect yum-factor.
Harvest bowls
A savory on-the-go snack containing vegetables and grains. They can be used as a side dish or used as the base for a larger meal like a stir fry or grain bowl.
Lattes
Each latte comes with 3 single serve portions in each cup and are boosted with energizing superfoods so you'll have laser-sharp focus to tackle your busy day. Serve how you like yours — hot or over ice.
Overnight oats aka activated bowls
Healthy, gluten-free rolled oats made with farm-frozen, organic fruit and superfoods that's super easy to prepare. Just add water or your milk of choice. Soak overnight in the fridge to grab-and-go in the morning OR put it in the microwave or a saucepan the day of if you have a little more time.
Chia parfaits
Yummy chia seed treats filled with superfoods that will keep your energy levels up to par throughout the day.
Flatbreads (New!)
Quick and easy light lunch or dinner or a super filling snack. Plant-based (of course!) with gluten-free crusts. LOVING these when my busy clients and I don't have time to meal prep lunch!
Here's a quick video of me trying the NEW flatbreads recently.
Scoops (New!)
Omg omg omg! ICE CREAM! That's dairy-free and gluten-free without fake fillers, gums, or refined sugars. YES PLEASE!
Smoothies
Ok so I found Daily Harvest waaaaay back when they first started and only had smoothies. After thinking "I wish I had done that, hahahha" I talked to the owner and I got a free box to try out and I was HOOKED! Every since then I still order their smoothies to make my life easier, but now they are sooooo much more than just smoothies.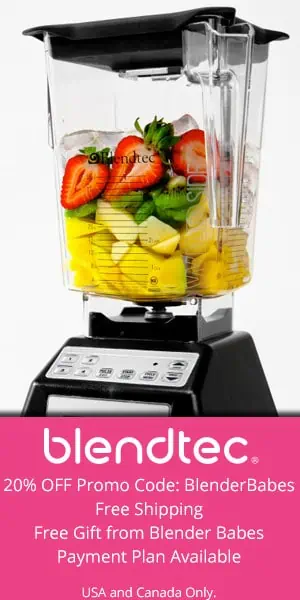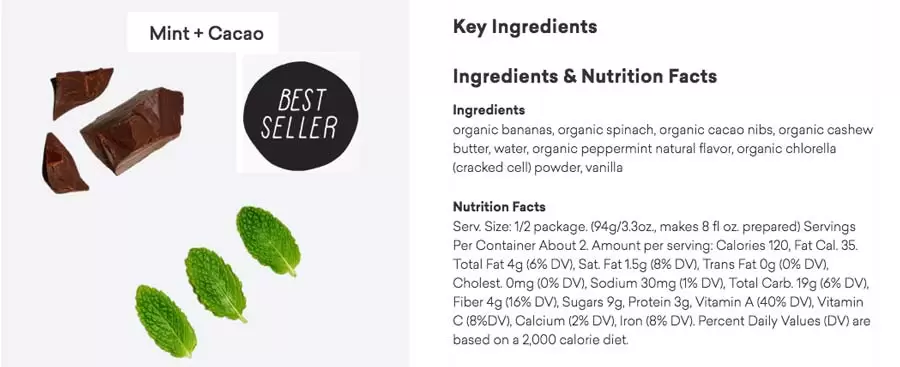 What's so amazing about all of Daily Harvest's selections is that they're each developed by a nutritionist.
For example for the smoothies, you'll get between 40 to 200 calories per serving (2 servings per container).
Their combinations are also overseen by a real chef, which is very apparent because everything I've tried from has been ABSOLUTELY DELICIOUS!
The ingredients may include various superfoods such as seeds, hemp, matcha, camu camu, and acerola. I love this because you can try new superfoods and ingredients to help you decide if you'd like to invest in a package of one.
The ingredients are whole organic foods that are unrefined and not laden with preservatives.
Ingredients and nutrition info is listed on each package as well as the website – so you can easily avoid any food allergies or least favorite ingredients. 🙂
DAILY HARVEST COST AND HOW IT WORKS
Your Daily Harvest price varies depending on the size of your box and how often you get it.
You will choose from small (9 items), medium (14 items) or large (24 items) box per delivery.
You can also choose to have them delivered either weekly or monthly.
There's no locked in commitment required AND it's really quite flexible – you can skip a delivery or cancel anytime you wish.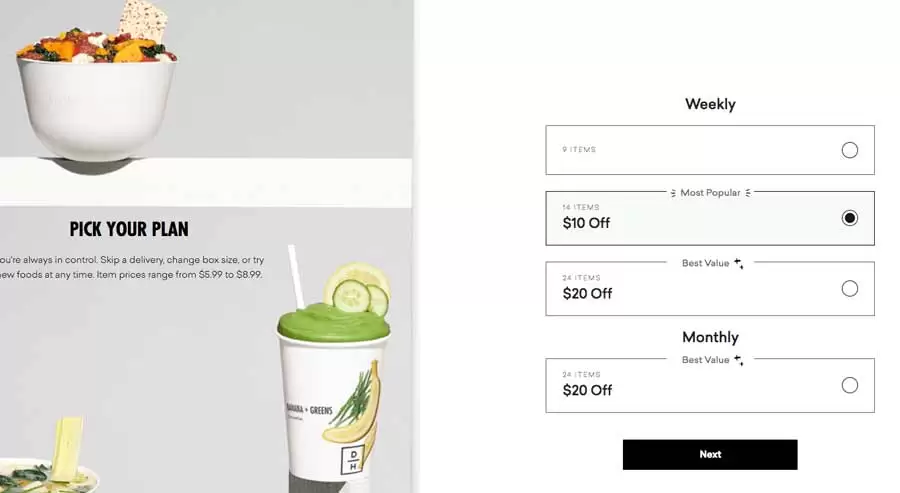 Each Daily Harvest item costs $7.54 for a 9 item box, $7.49 for a 14 item box, and down to $7.32 for a 24 item box!
You also receive FREE SHIPPING.
Please Note: You can receive $25 OFF the price of your first box with promo code "BlenderBabes3" rather than breaking down the discount over multiple boxes.
This is a bargain considering how much you may spend on organic fruits and veggies.
When you include the time you spend trying to come up with exciting smoothie recipes, shopping, prepping and cleaning your mess in the kitchen, I think you'll agree that the cost for Daily Harvest's easy smoothies, breakfast bowls and soups delivery service is money well spent.
Once you've made your choices, your smoothie and superfood cups will be delivered to your doorstep free of charge. They ship to your door on dry ice so it stays frozen, which is perfect if you're at work or running errands when it arrives.
Something else I really loved?
The packaging is 100% recyclable! Eco-conscious and green is something I always look for from brands that I buy from. 🙂
Daily Harvest currently delivers nationwide to 95% of the contiguous USA! To see if you're in their delivery zone, click "Get Started" on their homepage and enter your zip code and email address. If they don't currently deliver to your region, they're working on it!
DAILY HARVEST SMOOTHIES PREPARATION
Once you get your order, you just need to put it in your freezer and you can blend any package anytime you wish. It's especially convenient in the morning when everyone's rushing to get to work or go to school.
For smoothies, just add a liquid base (I LOVE vanilla coconut milk or homemade milk), blend, pour back into the cup and GO!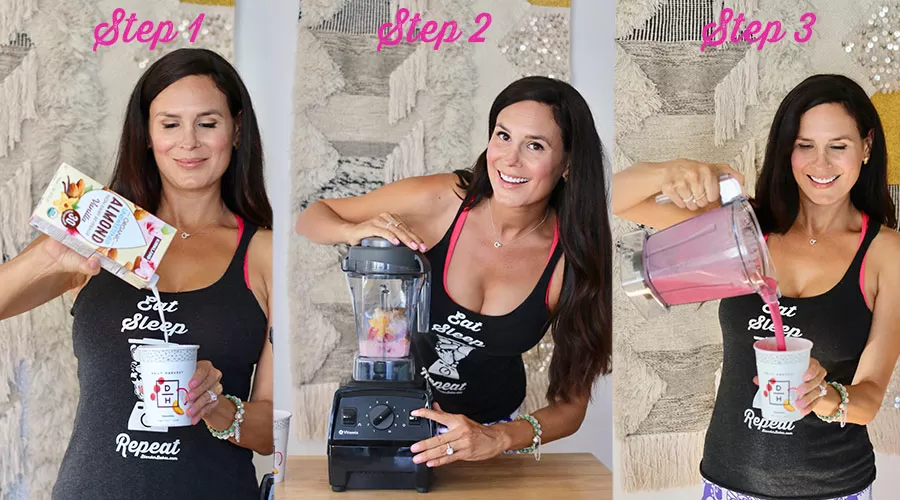 Since these smoothies and superfood cups come in their own packages, you can even bring them to the office – or what I've done is quickly blend and add to my Blender Bottle or mason jar to take on the go.
FINAL THOUGHTS
I loved this delivery service so much and feel the value of this service is so great, that Blender Babes has partnered with Daily Harvest! Remember – Receive $25-$40 OFF the price of your 1st box with our March 2023 Daily Harvest Promo Code "BlenderBabes3"! 🙂

Daily Harvest perfectly matches the Blender Babes commitment in spreading the word about the amazing benefits of good blenders and nutritious smoothies.
♥ Follow me on Instagram!