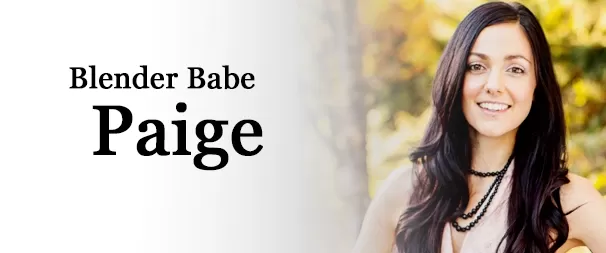 Health student, dancer and cook Paige Snyder brings her expertise to the Blender Babes team. This beautiful Vega ambassador is dedicated to a health and wellness lifestyle ditching any unhealthy food along the way. There is nothing she doesn't do! Her only vice … green smoothies and raw vegan cheesecake.
Name: Paige Snyder
Hair: Brown
Eyes: Brown
Zodiac sign: Aries
Birthplace: Pittsburg, KS
Favorite Food: Root Vegetable Tacos from Sage Vegan Bistro
Hobbies: Dance, reading studies about nutrition, cooking, making raw vegan desserts.
Favorite Travel Destination: Hawaii, Alaska, and Europe. Places I want to go: Bali, Italy, Australia, and Peru.
Goal(s): Finish my Master's in nutrition. Open a wellness clinic. Host a show on health and wellness. Obtain a doctorate in nutrition.
Favorite Movie(s): Love Actually.
Role Model(s): There are so many amazing inspirational women out there to look up to but I also think it's important to be a self-motivator and not compare yourself to others.
Favorite Book(s): Ishmael.
Favorite Music: I grew up on punk, pop punk and hardcore, it still holds a special place in my heart. Currently I'm listening to anything that makes me want to dance which is a large range of artists and sounds. Loving Ed Sheeran and Banks right now.
Beauty Secret(s): Healthy Eating and Toni Balfour.
Favorite swimsuit line(s): In search of one!
Favorite activewear line(s): Lulu Lemon. Elisabetta Rogiani. Bad Kitty USA.
What do you do to get ready for bathing suit season? To me health and wellness should be year round. If you are taking care of yourself, eating right and being active you'll always be ready for a bathing suit, the red carpet, wedding day or any other time you want to look your best.
What do you love to eat that is "healthy"? Green smoothies and raw vegan cheesecake.
What is something no one knows about you? I don't think there is anything. I've got nothing to hide!
What advice would you give your 12 year old self? Know that you are always good enough. Don't take anything too personally. Focus on your own happiness.
What are your vices? Not sure I have any, I don't drink alcohol, do drugs, smoke, eat fried food or refined sugar. What's left? Haha
What is your favorite way to de-stress? Deep breathing with lavender or rosemary oil.
What is the most adventurous thing you have ever done? Tour managed for 7 years, living on the road.
When are you the happiest? When I'm in love.
Find Paige: