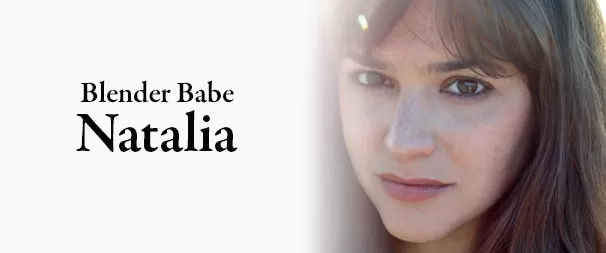 Singer, dancer and actress Natalia Baron has brought her talents to the Blender Babes team. This vegan (mainly), latin beauty is dedicated to her family and friends, teaching them the many benefits of a healthy, delicious and nutritious lifestyle.
Name: Natalia Baron
Hair: Brown
Eyes: Brown
Zodiac sign: Aquarius
Birthplace: Miami, FL
Favorite Food: Oooh! Depends on my mood. 🙂
Hobbies: Dancing, running, yoga and hiking.
Favorite Travel Destination: Already gone: Miami, NYC, South of France, Vienna and Spain. I want to go: Portofino, Bali and Berlin.
Goal(s): To continue to work with amazingly talented and creative people. To star on another fantastic series, sing and dance in a Broadway show, be in a Woody Allen movie and one day be interviewed on The Actor's Studio. I would also like to buy my mami an apartment in Paris, promised her that a long while ago. 😉
Favorite Movie(s): Anything Audrey Hepburn or Amoldovar. I also like Cary Grant, Paul Neuman and Vicky Cristina Barcelona.
Role Model(s): My mother and my brother. I love them so much and am so blessed they are my family!
Favorite Book(s): Ask and It Is Given, Love Poems Rumi, Eloise at The Plaza, Emily The Strange, The Beautiful and The Damned.
Favorite Music: My tastes are all over the map but to name a few… Led Zeppelin, Rolling Stones, David Bowie, Coltrane, Thelonious Monk, Depeche Mode, Gypsy Kings, John Legend, and Portishead.
Beauty Secret(s): Sunscreen, moisturizer. My mother has always sworn by Elizabeth Arden's "8-hour Cream." It's amazing as a night cream, hand cream, eye cream and lip balm.
Favorite swimsuit line(s): Eres, D&G and H&M.
What do you do to get bikini ready? I run, hike, practice yoga, and go to dance school. I drink lots of water & stick to a fresh mostly vegan diet with some salmon & seafood thrown in. I stay away from processed foods, gluten & refined sugar.
If you were to design a bathing suit, what would it look like? Something "Vargas-esqe" like a navy bikini with white little polka dots. The bandeu top would have a center tie & and the low cut bottoms would have side ties.
What do you love to eat that is "healthy"? I am crazy about broccolini; love it sauteed with chili flakes on top. I also love grilled salmon and frozen strawberries and blueberries are a yummy dessert. Kelp noodles are a new favorite of mine.
What is something no one knows about you? Oooh, I'll never tell. 😉
What advice would you give your 12 year old self? Be brave. Be kind. Believe in yourself and work hard. Enjoy.
What are your vices? Dark chocolate & Pinot Noir. Luckily those are now deemed good for you in moderation.
What is your favorite way to de-stress? Run, hike and dance.
When are you the happiest? When I am laughing with my family, dancing with my friends, or collaborating on set/ performing.
Find Natalia: