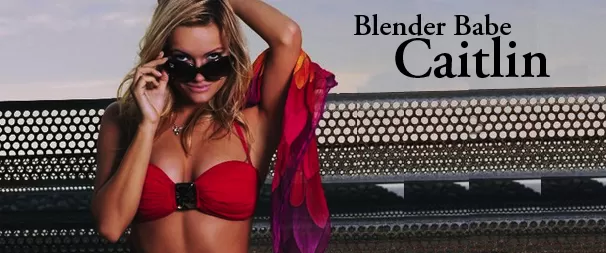 Our stunningly beautiful, sweet, and down-to-earth Ms. Caitlin O'Connor – was Maxim magazine's Hometown Hotties 2013 Finalist. She is a model & actress and we see bright stars and shining lights in store for this Blender Babe!
Name: Caitlin O'Connor
Hair: Blonde
Eyes: Hazel
Zodiac sign: Leo
Birthplace: Los Angeles
Favorite Food: Sushi
Hobbies: I love to travel and I watch a lot of television. Is cuddling a hobby?
Favorite Travel Destination: Kauai, Hawaii
Goal(s): I would to write, produce and star in my own network comedy series …i.e. 30 Rock!!!
Favorite Movie(s): Casablanca, Vanilla Sky
Role Model(s): Charlize Theron, Olivia Munn, Audrey Hepburn, and so many other classy, beautiful, strong women out there in my industry
Favorite Book: On The Road, Jack Kerouac
Favorite Music: Hiphop and Rock
Beauty Secret(s): Moisturizer at night, and organic facials whenever you can fit them into your schedule!
Favorite swimsuit line(s): Syrup Swimwear!!
What do you do to get bikini ready? Exercise three times a week, run on the beach, resistance bands at home, and I am a trained dancer …I really enjoy jazz and ballet to this day
If you were to design a bathing suit, what would it look like? It would be a two piece swimsuit with an old Hollywood flavor to it
What do you love to eat that is "healthy"? I love going to juice bars in Santa Monica
What is something no one knows about you? I can walk on stilts and my secret celebrity crush is Jason Kennedy.
What advice would you give your 12 year old self? Stop over-achieving and enjoy life a little!
What are your vices? I love to sleep in and I eat way too much chocolate!
What is your favorite way to de-stress? Yoga and meditations
What is the most adventurous thing you have ever done? That is something I'm still looking to do and when I do it I'll let you know!
When are you the happiest? When I'm home in pajamas watching crime dramas on TV!