PANERA COPYCAT SOUP: CREAM OF BROCCOLI CHEDDAR SOUP RECIPE

The whole family will love this healthier Panera copycat soup recipe.
If you have been looking for a cream of broccoli cheddar soup that both your spouse AND your kids will eat: This. Is. It! This is a gluten-free soup recipe, however if you are not worried about gluten you can easily use regular flour instead of potato flour, and serve it in a bread bowl or with a crusty bread for dipping! It can also be prepared vegetarian with vegetable stock or you can use chicken stock. Though it is a
cheese
soup, it is not very thick and, thus, not as heavy as most. The flavor is fantastic with the combination of the roasted veggies and extra-sharp cheddar cheese – a nice balance between a cheese soup and a veggie soup.
Use a high speed blender, like a Blendtec or Vitamix for the best consistency, and join our community for more nutritious soup recipes from Blender Babes! If you try this, be sure to let people know by rating it in the comments. HAPPY BLENDING!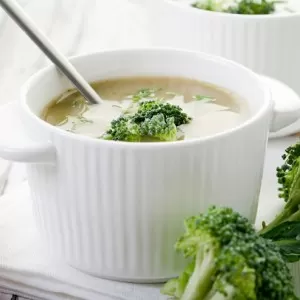 Panera Copycat Recipe: Roasted Broccoli Cheese Soup
Ingredients
2

tablespoons

extra-virgin olive oil or butter-flavored extra-virgin olive oil

1

medium yellow onion

cut into 8 pieces

3

cups

broccoli florets

1

medium carrot

cut into one-inch chunks

2

cups

vegetable or chicken broth

¼

cup

potato flour*

1½

cups

full-fat milk

½

teaspoon

freshly ground black pepper

1

teaspoon

Dijon mustard

½

teaspoon

Paprika

A pinch of cayenne pepper

4

oz

extra-sharp cheddar cheese

chopped or shredded

Sea salt to taste and additional cayenne pepper

optional
Instructions
Place the chopped onion, broccoli florets, and chunked carrot into a large, stainless steel skillet. Drizzle with the olive oil, and then toss/stir to coat the vegetables throughout.

Place in a 400F degree oven and roast for 20 minutes, until the vegetables are tender.

While the vegetables are roasting, chop the 4 oz. of cheddar cheese in your blender. Using a 64 oz. wet

Vitamix

container, place half of the cheese in the container at a time, pulsing** four or five times at Variable 3, until the pieces are pellet-like. Set the chopped cheese aside. In a

Blendtec

, place the cheese in a Fourside or Wildside container, and pulse for one second three or four times.

Remove vegetables from the oven, and place them in a dish, covering to keep warm.

Sprinkle the potato flour* into the same pan, and add ½ cup of the milk. Stir to incorporate over medium low heat.

As the mixture thickens, gradually add the rest of the milk, and 1 cup of the chicken or vegetable broth. This mixture will become thicker as it cooks.

Put the remaining cup of broth in the same Vitamix or Blendtec container, followed by the hot, thickened milk and broth mixture, Dijon mustard, paprika, cayenne pepper, and freshly-ground black pepper.

For

Vitaimx

: Start the machine at Variable Speed 1, slowly increase to Variable Speed 10/High, and process for two minutes, until the mixture is hot throughout.

For

Blendtec

: Use the Soup setting one or two times OR blend on a High speed for 90-180 seconds, until hot throughout.

Add the cheese and secure lid, reserving enough to garnish the bowls of soup.

For

Vitamix

: Start the machine at Variable Speed 1, slowly increase to Variable Speed 10/High for 20 seconds.

For

Blendtec

: Blend on Speed 3 for 20 seconds

Taste for seasoning, and if desired, salt to taste, and add additional cayenne (if you want to give it some kick).

Blend on Speed Low for 10 seconds to incorporate.

Place half of the roasted vegetables in the container with the mixture.

For

Vitamix

: Pulse** at Variable Speed 3 five or six times.

For

Blendtec

: Pulse four or five times, one second each.

Place the remaining vegetables in your container and pulse three or four more times, until you have small chunks or reach your desired consistency.

Serve the soup in a bowl or in a (gluten-free) bread bowl and sprinkle with remaining cheese.

All done! Enjoy!! Now take a photo, rate it, and share your accomplishments! 🙂 Tag @BlenderBabes & #BlenderBabes
Notes
* If you don't have potato flour, you can use regular all purpose flour but it won't be a gluten-free soup.
** If your Vitamix does not have a pulse feature, turn to desired variable speed and turn on and off to equal 1 pulse.
Nutrition
Serving:
2
g
Calories:
329
kcal
Carbohydrates:
19.3
g
Protein:
9.1
g
Fat:
16.3
g
Saturated Fat:
7
g
Polyunsaturated Fat:
1.1
g
Trans Fat:
5
g
Cholesterol:
30
mg
Sodium:
762.4
mg
Fiber:
3.9
g
Sugar:
5.7
g
HEALTH BENEFITS BROCCOLI
Broccoli is a hearty and tasty vegetable rich in dozens of nutrients. It is said to pack the most nutritional punch of any vegetable. Here are just a few of the benefits of broccoli: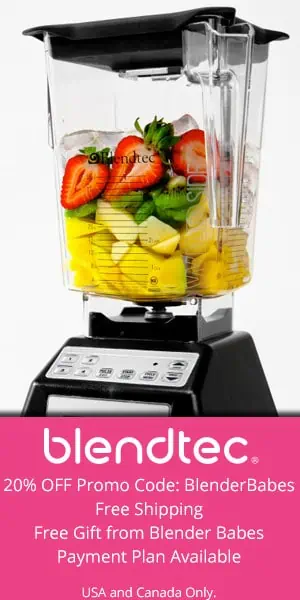 1.Cancer prevention: Like other cruciferous vegetables cauliflower, Brussels sprouts, and cabbage, broccoli has been shown to kill cancer stem cells, striking the root of the tumor growth.
2. Cholesterol reduction: Like many whole foods, broccoli is packed with soluble fiber that draws cholesterol out of your body.
3. Powerful antioxidant: Of all the cruciferous vegetables, broccoli stands out as the most concentrated source of vitamin C, plus the flavonoids necessary for vitamin C to recycle effectively. Also concentrated in broccoli are the carotenoids lutein, zeaxanthin and beta-carotene, other powerful antioxidants.