PALEO BLUEBERRY ROSEMARY ICE CREAM RECIPE

This paleo ice cream recipe from The Paleo Kitchen Cookbook received high scores with our recipe testers.
Most blueberry ice creams in the grocery store freezer case are so overly sweet and fat-laden that you're buying a guilt trip along with the ice cream! 
Your guests will be impressed with the beautiful violet hue!
With has a dash of rosemary, nutritious blueberries and healthy coconut milk, your friends will want to know where you bought it, and when they find out that you MADE it, they will want the recipe!
If you are looking for amazing Paleo recipes, make sure to check out The Paleo Kitchen.
You can use a food processor and ice cream maker for this paleo ice cream recipe, but of course we adapted it to use with a high speed blender, such as a Blendtec or Vitamix!
Be sure to join our community for more paleo recipes from Blender Babes and our friends!
HEALTH BENEFITS OF BLUEBERRIES
It's time to add "Eat More Blueberries!" to your to do list! Blueberries can lower your risk of type 2 diabetes by as much as 23%.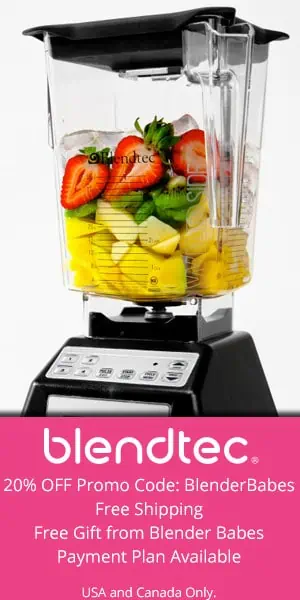 Blueberries can also dilate your arteries to ease high blood pressure, which reduces your risk of a heart attack!
Antioxidants in blueberries pump up your immune system and reduce inflammation in brain cells. And best of all, they're delicious!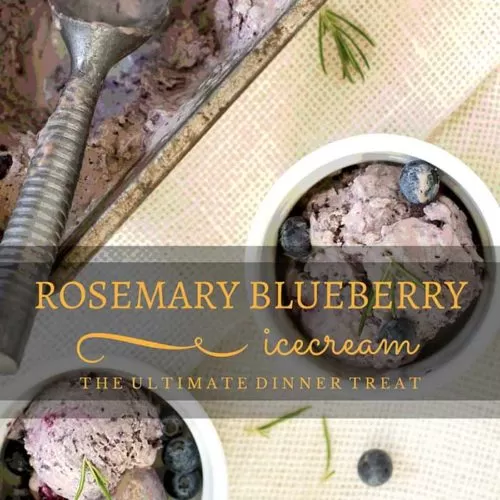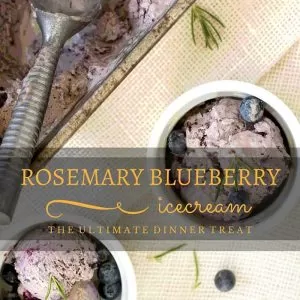 Blueberry Rosemary Ice Cream
Ingredients
1

14-ounce can full-fat coconut milk

1

cup

fresh blueberries

2

tablespoons

organic honey

1

teaspoon

minced fresh rosemary

1

teaspoon

lemon extract

2

large egg yolks

whisked
Instructions
Combine the coconut milk, blueberries, honey, rosemary, lemon extract, and egg yolks in either a blender or food processor. Blend until everything is well incorporated.

For Vitamix: Start on Speed 1. Turn machine on and slowly increase to Variable Speed 10/High for one minute.

For Blendtec: Blend on Speed 7 or Med High for 40 seconds.

Pour the mixture into a saucepan, and heat gradually, whisking constantly, over low heat. This takes roughly 15 minutes. When the mixture is steaming, and coats the back of a spoon, remove the pan from the heat and let cool.



If You DO NOT Have An Ice Cream Maker (The Blender Method)

Pour two thirds of the mixture into an ice cube tray, reserving one third in the refrigerator. Allow the mixture to freeze overnight.

The next day, pour the liquid portion and frozen ice cubes into your blender container.

For Vitamix: Start on Variable Speed 1. Turn the machine on and slowly increase to Variable Speed 10/High. Use the tamper to push the material into the blades, for one minute or until four peaks form.

For the Blendtec: With the Twister Jar, blend on Speed 7 or Med High for one minute, turning the lid counterclockwise to push the material into the blades. With the other blender jars, you may need to stop the machine and use a spatula to scrap the ingredients towards the blade and repeat until blended.



If You Have An Ice Cream Maker

Transfer the mixture to a mixing bowl and cover with plastic wrap. Refrigerate for a minimum of 2 hours or overnight.

Place the cooled mixture in an ice cream maker and churn, following the manufacturer's directions, until the desired consistency is reached. Immediately scoop the ice cream out of the ice cream maker so it doesn't freeze to the sides of the bowl. Serve immediately or store, covered, in the freezer for up to 3 weeks.

All done! Enjoy!! Now take a photo, rate it, and share your accomplishments to enter our

weekly photo contest

! 🙂 Tag @BlenderBabes & #BlenderBabes
Notes
1. If you don't have an ice cream maker, once the mixture is chilled, transfer it to a bowl or bread pan and stick it in the freezer for 2 hours. Once frozen, just remove it from the freezer 15 minutes before serving to allow it to soften to a scoopable consistency. Scoop and serve.
Nutrition
Serving:
1
g
Calories:
302
kcal
Carbohydrates:
20.7
g
Protein:
3.8
g
Fat:
22.5
g
Saturated Fat:
14.8
g
Polyunsaturated Fat:
0.7
g
Trans Fat:
2.1
g
Cholesterol:
122.7
mg
Sodium:
25.8
mg
Fiber:
1.3
g
Sugar:
17.8
g
BLENDER BABES RECIPE TESTER NOTES
"This would be just as yummy prepared with vanilla extract as with lemon.
I know, because I tested it again and used vanilla!" and "I enjoyed the way the flavors melded together so well, and how bright and refreshing this dessert turned out to be."
Excerpt and image with permission from The Paleo Kitchen by Juli Bauer and George Bryant. Published by Victoria Belt Publishing.