Disclaimer: The Vitamix 780 was provided to Blender Babes to test and review, however all results and opinions are our own.
Vitamix 780 vs 750 Review: Is the touchscreen worth it?
I'm excited to fill you in on the new Vitamix 780 – their first-ever blender with a touchscreen display!

The Vitamix 780 is almost identical to the Vitamix 750 in terms of features and performance, but there are a few differences. Before I walk you through my comparison, here are my thoughts on the touchscreen as many of you have asked for my input.
You will notice right away that the new 780 has a beautiful, modern aesthetic; it feels high-tech. But is it worth the extra money??
I like to use the analogy of smartphones. I used to swear I would use my beloved Blackberry forever, even as I watched friends and family make the switch to "smart" touchscreen phones.
Eventually I wound up with an iPhone (peer pressure?) and at first, using the touchscreen was way out of my comfort zone.
But, I got used to it. Now – like so many iPhone devotees – I am hooked on my newer phone and I can't imagine going back to pressing all those buttons! The touchscreen just feels more modern and efficient.
That being said: when we compare the Vitamix 780 to the Vitamix 750 model, BOTH are excellent choices that will supremely outperform a "regular" blender! It just comes down to how interested you are in having the brand new technology.
MORE ABOUT THE VITAMIX 780
Of all the G-Series (aka Next Generation) models, the Vitamix 780 is the only Vitamix (for now) that is 100% touchscreen. That means no knobs or buttons sticking out. Oh, and the smooth display is made of hardened glass, a material that is nearly impossible to crack or scratch. If only my iPhone was made of the same thing…
You control the speed, pulsing, and all the presets with this screen, which lights up when you touch it.
VITAMIX 780 vs 750 REVIEW – COST
The Vitamix 780 retails for $719, with a less expensive refurbished Vitamix 780 for only $399.
A new Vitamix 750 retails for less at $599, however you can also purchase (which I use and highly recommend!) a refurbished Vitamix 750 for $499.
When I look at the Vitamix 780 vs 750 cost, in general both models are an investment.
However, I find that the long life of these machines is well worth the price.Cheaper, less powerful blenders simply can't handle the wear and tear and need to be replaced much more often.
Because of this, the cost ends up being about the same in the long run… and of course you have the added bonus of owning a much more versatile, professional grade blender!
And I won't go into detail here on how much you might save on health costs and doctors visits…
Benefits of Purchasing Through Blender Babes

Blender Babes is proud to be an affiliate of Vitamix Blenders. At no additional cost to you, we earn a small commission for sales made using the links from this website (and many times we can offer special deals just for our tribe!). It's how we keep creating content you love and we're so grateful for your support! ♥

1) FREE GIFTS: You will receive EXCLUSIVE FREE GIFTS* for purchasing from Blender Babes using our Vitamix Promotion Code 06-007974 (that goes for new & refurbished Vitamix blender models). Learn More about our current free gifts offer.

*Make sure to forward your purchase confirmation email to FreeGift@Blenderbabes.com to redeem your free gifts!

2) FREE SHIPPING: You will receive free shipping for purchases made using our Vitamix Promotion Code 06-007974.

3) SAVE BIG: You can purchase less expensive refurbished Vitamix blenders.

4) PAYMENT PLANS: Access to Payment Plans: Vitamix offers up to 18 month Easy Pay INTEREST FREE Financing through Paypal to the USA and CANADA at checkout. Note: Payment plans also qualify for our free gifts offer!

* Most Refurbished Vitamix are ONLY available to the USA. There are Refurbished Vitamix Canada options available only to Canada. However if you can arrange a US address to ship to, call Vitamix at 1-800-848-2649 to place your order from an option below and give them our free shipping Vitamix promo code 06-007974. See above for free gift redemption.
VITAMIX 780 vs 750 REVIEW – NOISE
I was really curious to compare these blenders after hearing that the new Vitamix 780 is less noisy (despite the fact that both models have the same motor).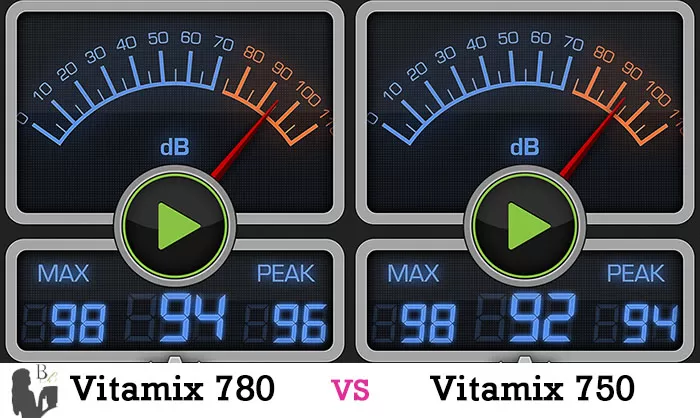 Regarding the Vitamix 780: Actually, I noticed that it is a little bit louder, not quieter. That could be due to the hardened glass. You can see the difference in decibel reading (thanks to the app on my iPhone), however the difference in volume that you actually hear is subtle and in my opinion, not a huge deal – I wouldn't make your decision based on this.
Vitamix 780 vs 750 note: Both have the same improved, more efficient motor, which cuts down on the noise in general vs. earlier models. But, we're talking about a 2.2 HP motor! So…expect to hear some noise. 🙂
VITAMIX 780 vs 750 REVIEW – DESIGN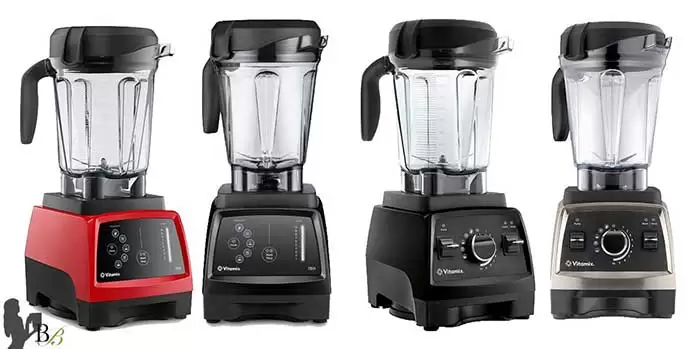 THE VITAMIX 780 VS 750 ARE ALMOST IDENTICAL IN TERMS OF FEATURES
DESIGN SIMILARITIES
POWER: They have the same motor – 2.2 horsepower (which is more powerful yet quieter than earlier models, due to improved technology). Blades can hit a staggering 240 mph!
SIZE: Both are only 17 ½ inches tall with the Next Generation 64 oz Low Profile Container – this is a desirable feature in the Next Generation G-series models because they will fit easily under most kitchen cabinets.
WEIGHT: Both weigh 12 ½ pounds (to help stabilize your blender, especially when you're mixing up heavy ingredients us)
CORD: They both have a 6-foot power cord which can be wrapped underneath the base to your desired length, hiding any additional cord.
CONTROLS & USER FRIENDLINESS:
♥ Vitamix 780 vs 750 both have a Pulse feature and 5 pre-programmed, automatic settings located on the left side of the control panel: The settings listed from top to bottom are Smoothie, Frozen Dessert, Soup, Purée, and the ever-popular CLEAN setting (yup, they basically clean themselves!!)
♥ Their control panels both light up when powered on and in use. They each have a master power switch on the side of the base to completely turn off at night.
♥ For both the Vitamix 780 and Vitamix 750 – you will choose the pre-programmed setting or manual speed you desire, then press the START/STOP feature to begin. The pre-programmed settings are automatic, meaning they will speed up, slow down and stop after a set time. If using the manual speed you will need to again press the START/STOP feature to manually stop the machine.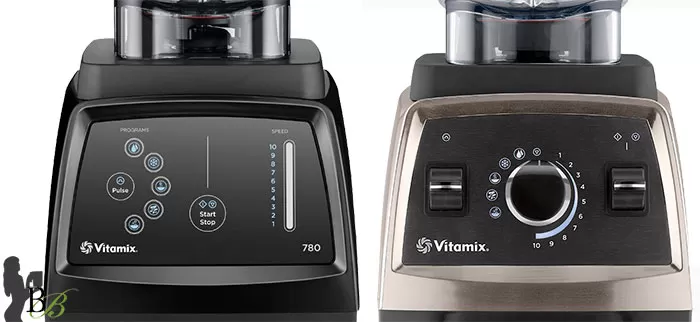 DESIGN DIFFERENCES
CONTROLS & USER FRIENDLINESS: The Vitamix 780 is the first ever Vitamix with an LED touchscreen control panel. The manual 10 Speeds are located on the right side of the control panel, to use you will slide your finger up and down the variable speed selector. During our Vitamix 780 unboxing and while testing, I did notice that if you try to use the slider from the side or from the back of the blender (which a user would probably not normally do!) the manual slider was not AS responsive as when you stand directly in front of the blender. I also tested this with water on my finger and it was still responsive.
Bottom Line: It takes a little getting used to (just like a touchscreen smart phone) but it's doesn't take long before you're using it like a Pro!
COLORS: The Vitamix 780 currently is only available in BLACK & RED and the Vitamix 750 is available in BLACK, RED and BRUSHED STAINLESS
BLENDING CONTAINERS/JARS
COMPATIBLE JARS: Both the Vitamix 780 and Vitamix 750 come with the Next Generation 64 ounce low profile compact jar. Like all Next Generation blenders, other jars they are compatible with include the 48 oz jar and 32 oz jar and special 32 oz dry goods jar. It is NOT recommended to use the Standard 64 oz tall jar (the one that comes with many C-Series blenders) and it cannot be used with the S-Series personal blender jars.
I highly recommend getting either a 48oz jar or 32oz jar if you want to blend smaller portions. The Next Generation Low Profile Compact Jar is great in many ways, however it does have a 4 inch wide base so you sometimes need to create bigger blends in order to work properly. Salad dressings, single portions of ice cream, nut butters, etc. it's much easier with a smaller jar. I have found Vitamix jars for less on Amazon.
Important: Vitamix jars are designed to keep leaks away from the motor base, which is a huge advantage. This kind of leak is the #1 reason regular blenders die!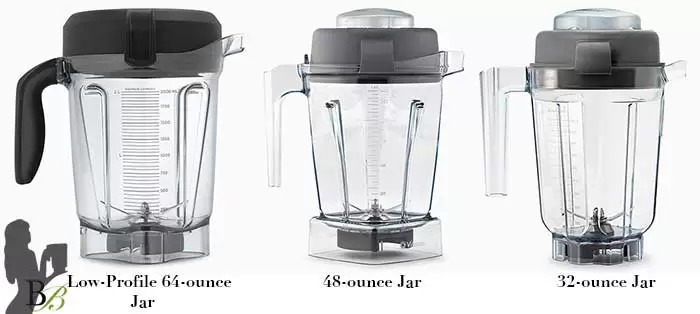 PERFORMANCE
Our Vitamix 780 vs 750 review is super straightforward in terms of performance.
Good news! Both of these models will yield perfect texture and consistency when creating smoothies, juices, soups, ice creams, and nut butters. These professional grade machines will yield flawless results and ensure heavy use (and tough-to-blend ingredients) for many years to come. If you want more particulars regarding Vitamix performance, see our comprehensive Blendtec vs Vitamix review.
CLEAN UP
In terms of cleaning, both have the same great features but there is 1 small difference that gives the Vitamix 780 an advantage. Since it's a touchscreen with no knobs, buttons or dials, all you have to do is wipe down the screen with a damp sponge. The new smooth surface means no more little crevices where gunk can build up.
FYI, Vitamix blenders in general are easy to clean for 2 reasons:
♥ No separate parts to dismantle (container is 1 solid piece with the blades permanently attached)
♥ Self-cleaning. If you've never owned a Vitamix, the "clean preset" makes it SUPER EASY!!
♥ Literally just add warm water and a few drops of dish soap, press the button, and in a few minutes it's sparkling clean.
♥ Clean right after blending and NEVER put containers in the dishwasher.
WARRANTY & DURABILITY
Vitamix has one of the best warranties in the business. All new Vitamix blenders come with a 7-Year Full-Use Warranty and high quality made-in-the-USA construction. Though past owners with older models have reported at least 15 years of use without any issues, new Vitamix Next Generation models have not been around long enough to stand the test of time. However with at least 7 years to back it you are already way ahead of "regular" blenders with 1-2 year warranties.
Vitamix's warranty stipulates that if their blenders fail within seven (7) years from the date of purchase due to material or workmanship defect resulting from normal wear and tear, VITAMIX WILL REPAIR the BLENDER for FREE!
If they can't fix it, Vitamix will replace it for free or refund your money.
IMPORTANT NOTE: In order to qualify for Vitamix's 7-Year Warranty, blenders must be purchased from one of their authorized dealers or Vitamix directly. 3-Year Extended Warranties are also available for an additional cost; refurbished Vitamix blenders come with 5-Year Warranties.
RISK-FREE 30 DAY IN-HOME TRIAL
I'm a huge fan of the way Vitamix stands behind their products and I always point out their 30 day guarantee to our community members who are still unsure. Vitamix will let you try out any of their blenders, at home, for 30 days! If you're unhappy with it for any reason, just return it within 30 days for a full refund – and here is where they stand out above any other brand – THEY WILL PAY FOR RETURN SHIPPING TOO! To me this is risk free.
FINAL THOUGHTS
In a nutshell, here are the main differences pointed out throughout this Vitamix 780 vs 750 Review.
1) The Vitamix 780 is slightly louder than the Vitamix 750
2) The Vitamix 780 features an LED capacitive touchscreen control panel
3) The Vitamix 780 and 750 have slightly different color options
4) The Vitamix 780 is easier to clean
5) The Vitamix 780 is more expensive
6) The Vitamix 750 has a refurbished option
That said – the Vitamix Next Generation models continue to improve upon the older C-Series models. Features that are desired by consumers such as pre-programmed automatic settings, pulse feature, shorter jars, etc. make owning a Next Generation Vitamix a more costly investment. You can achieve all of the same performance with their classic Vitamix 5200 (standard) C-Series models, so if cost is an issue (which it IS for most of us) you cannot go wrong with an older Vitamix model. Just like I could text the exact same thing in the same amount of time with my Blackberry… and if I hadn't made the switch because I needed more high tech features I would still be using it! But… I sure do love my iPhone! 🙂
Additional Questions
We're Here to Help. If you still have questions, please let us know in the Comments Section Below or Contact Us! 🙂
And as always, Happy Blending!