NUT-FREE CHERRY CHOCOLATE HONEY MANDELBROT RECIPE
This remix of a traditional holiday treat is particularly favored by those of Jewish faith due to its use of oil instead of butter — which means it's also dairy-free! Like biscotti, this crumbly cake-like bread is perfect for dipping and sharing at gatherings – just sweet and chocolaty enough to serve as a tea-time snack, dessert, or even breakfast! This nut-free version is allergy friendly and has more variable flavor, but you can try raisins, walnuts, and other nut and fruit combinations to fit your gathering, diet preferences, and flavor profile. We left this classic recipe as is, but you can healthify it with different oil and/or flour to suit your needs. Simply pulse the ingredients together in your Blendtec or Vitamix or regular blender until combined, fold into dry ingredients, bake, and serve.
Be sure to join our community for more baking recipes and let us know YOUR favorite holiday recipe in the comments! If you try this one at home we'd love to get your rating as well!x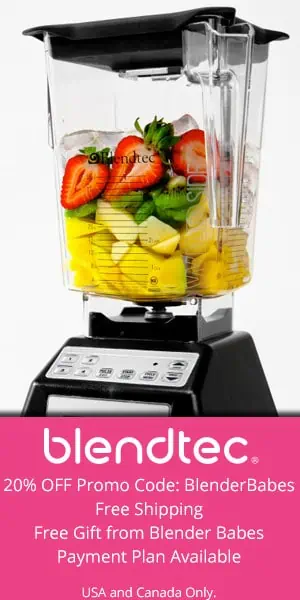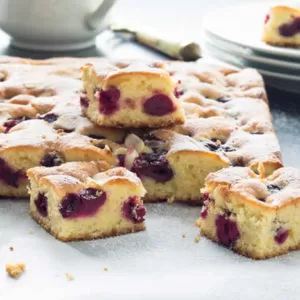 Dairy Free, Nut Free Cherry Chocolate Honey Mandelbrot
Ingredients
For the Mandelbrot
3

eggs

1/2

cup

vegetable or canola oil

1 1/2

teaspoons

vanilla extract

1

tespoon orange extract

2

tablespoons

pomegranate juice

5

tablespoons

honey

3

cups

flour

1 1/2

teaspoons

baking powder

1/4

teaspoon

salt

1

cup

mini chocolate chips

1

cup

dried cherries
For the topping
1

egg white

Cinnamon sugar

from grinder if available
Instructions
Preheat oven to 350ºF (176ºC) degrees.

Place wet ingredients (eggs, oil, vanilla extract, orange extract, honey, and pomegranate juice) into your blender jar.

For

Vitamix

: Set to Speed 10 and turn off and on to PULSE until combined.

Hand mix dry ingredients of flour, sugar, salt, baking powder together.

In a large bowl place wet ingredients, slowly mix dry ingredients together with wet. Once well blended, fold in chocolate chips & cherries.

Split dough in half and place each half as a log on parchment paper. Approx 8x4 logs. Cover each log with egg white wash and then cinnamon sugar.

Bake the logs for 25 - 30 minutes, until golden on top.

Take logs out and turn oven to 300 degrees.

Cut each log into 12 pieces, place them back on parchment paper cooking EACH side for 7 - 10 minutes to achieve browned, crisp edges.

Take out and cool.

All done! Enjoy!! Now take a photo, rate it, and share your accomplishments! 🙂 Tag @BlenderBabes & #BlenderBabes
Nutrition
Serving:
1
g
Calories:
155.5
kcal
Carbohydrates:
22.3
g
Protein:
2.9
g
Fat:
6.1
g
Saturated Fat:
1
g
Polyunsaturated Fat:
4.5
g
Cholesterol:
33.8
mg
Sodium:
69.4
mg
Fiber:
0.7
g
Sugar:
8.8
g
HEALTH BENEFITS OF CHERRIES
Cherries, especially the tart cherries they use for dried cherries, are so underrated! Those who add cherries to their diet experience less weight gain that those who do not. If you work out a lot, incorporating cherry juice into your recovery regimen has proven to reduce post-workout pain and soreness. Cherries can also treat and cure gout, reduce the risk of stroke or heart attack, stave off osteoarthritis symptoms, and help you have a better night's sleep!